The Top 4 have now got a big break on the other two teams fighting to get into the semifinals, but there remains just a hair's breath between for the home playoff spots as the favourites all picked up wins on Saturday.
Black Bull Liquor Pirates climbed out of the dangerzone as they just held off Dave Hoskin Carriers Marist 27-25 in a classic Spriggens Park derby, creating an eight point spread between fourth and fifth.
Fighting to stay in playoff contention, Marist led by a conversion at halftime, scoring all three of their tries through Simon Dibben, who moved from the wing to fullback, centre Josaia Bogileka and lock-turned-flanker Sam Madams.
However, Pirates added ten more points in the second half, compared to Marist's two penalties by first-five Ashton Coates, as the forwards who crossed were prop Raymond Salu, flanker George Foster, No8 and captain Lasa Ulukuta, while Junior Ainea switched from fullback to the wing and also got a try.
Fa'alele Iosea started off the bench and took over the goalkicking to add a crucial conversion and penalty.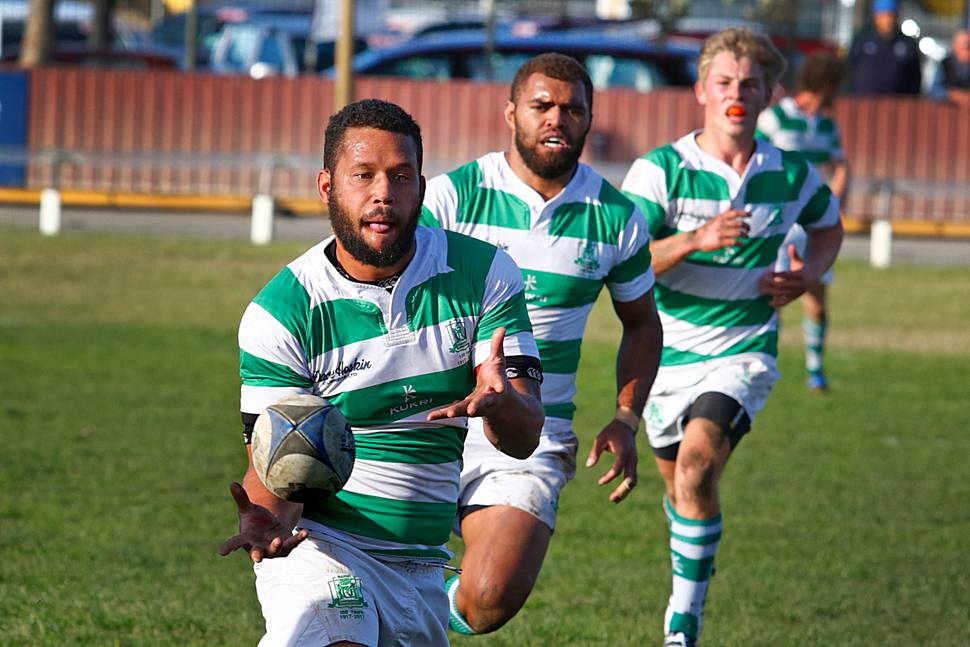 Wanganui Car Centre Kaierau's brave three week run against the top teams closed out with a tough 50-31 loss to Waverley Harvesting Border in a tryscoring shootout at Dallison Park.
After tight matches with McCarthy's Transport Ruapehu and Pirates, the injury-depleted Kaierau met a Border team smarting from losing the Grand Hotel Challenge Shield to Byford's Readimix Taihape, and back on their home track they opened it up, scoring eight tries to five.
Fullback Nick Harding had a 20 point haul from two tries and five conversions, while the rest of the lightning quick backline in Kaveni Dabenaise and the Symes brothers – Harry and Tom – also dotted down.
Kaierau flanker Cade Robinson came back from injury to score a double, while fullback Shandon Scott added a try and two conversions.
Their solitary bonus point, however, now leaves Kaierau in-must win mode from all their remaining four games, while hoping other results swing their way, as they are 14 points back from fourth spot.
Leaders Byford's Readimix Taihape stay on top of the table for another week as they picked up a 47-10 win on the long trip up the Waitotara Valley to meet Settler's Honey Ngamatapouri.
The win erased the disappointment of Taihape's injury-time loss on their first visit up the valley in April last year, with outside back Jaye Flaws reaping the benefits as he scored four of his team's six tries.
As it was last year, Ngamatapouri were still very much in the match at halftime, trailing 13-10 after tries by Jim Seruwalu and Sheldon Pakinga-Manhire, but with limited numbers this season they have struggled in the back end of games and this time Taihape put 34 unanswered points on them.
It was the first weekend of the separate Senior competitions and in the Championship grade, Speirs Food Marton brought Bennett's Taihape back down to reality with a 45-7 hammering at Marton Park.
Two weeks ago, Taihape had upset Marton 37-20 at Memorial Park to qualify for the Top 6 at the last gasp, but with the points tables now reset, Marton wanted to re-establish themselves in the hunt for back-to-back titles.
Kelso Hunterville have been the dominant side so far this campaign, but got a fright from Border as they just hung on for a 15-14 win at Dallison Park.
Hunterville's second half penalty kick was key as Border added a second converted try.
It was nearly Hunterville's second defeat this year, and the Counties team which had beaten them had to surrender their Stihl Shop Wanganui Challenge Shield on Saturday, as the other title contender Marist Celtic picked up an important 33-7 win at Spriggens Park, pulling away in the second half with 20 points.
In the Senior Consolation round, Pirates went a long way to setting themselves up to be top qualifier as they avenged their five point loss in May by beating Utiku Old Boys 14-12 on the Wanganui Racecourse ground.
Pirates scored two converted tries to come from behind at halftime for the win.
In the cross-town derby, Kaierau also got payback from a loss in the first round of games, as they beat Marist Buffalo's 23-7 at the Country Club.
Results, June 9.
Tasman Tanning Premier, Week 10.
Black Bull Liquor Pirates 27 (Raymond Salu, Junior Ainea, George Forster, Lasa Ulukuta tries; Fa'alele Iosea pen, con, Soonalote Tauialoto con) bt Dave Hoskin Carriers Marist 25 (Simon Dibben, Josaia Bogileka, Sam Madams tries; Austin Coates 2 pen, 2 con). HT: 19-17 Marist.
Waverley Harvesting Border 50 (Kaveni Dabenaise 2, Nick Harding 2, Harry Symes, Dylan Pearce, Tom Symes, Tom Matthews; Harding 5 con) bt Wanganui Car Centre Kaierau 31 (Cade Robinson 2, Tai Pulemafaga, Penani Vui, Shandon Scott tries; Scott 2 con). HT: 24-12.
McCarthy Transport Ruapehu 52 (Corey Carmichael 2, Shaquille Waara, Josh Fifita, William King, Campbell Hart, Roman Tutauha, Mitchell Millar tries; Craig Clare 6 con) bt Harvey Round Motors Ratana 7 (Shade Tuaine-Whanau try; Onewa Tai con). HT: 19-7.
Grand Hotel Challenge Shield – Byford's Readimix Taihape 47 (Jaye Flaws 4, Matt Brown, Ra Broughton, Lennox Shanks tries; Te Rangi Tapu McLeod 2 pen, 2 con, Dane Whale con) bt Settlers Honey Ngamatapouri 10 (Jim Seruwalu, Sheldon Pakinga-Manhire tries). HT: 13-10.
Senior Championship, Round 1.
At Spriggens Park - Stihl Shop Wanganui Challenge Shield: Marist Celtic bt Counties 33-7. HT: 13-7.
At Dallison Park: Kelso Hunterville bt Border 15-14. HT: 12-7.
At Marton Park: Speirs Food Marton bt Bennett's Taihape 45-7. HT: 12-0.
Senior Consolation, Round 1.
At Racecourse: Pirates bt Utiku OB 14-12. HT: 12-0 Utiku OB.
At Kaierau CC: Kaierau bt Marist Buffalo's 23-7. HT: 13-7.
Bye: Ruapehu.