Russell Simpson talks with Zaryd Wilson about his career, sense of adventure and his multi-agency plan to improve health outcomes in Whanganui
Russell Simpson would rather you didn't stay a night in his hospital.
Not that he doesn't want you there, in fact, if you need to be, you better be.
Don't miss that appointment.
Simpson just prefers people get to stay in their home, be cared for in the community or, even better, not get sick at all.
"Really, the philosophy that the best bed for a person is their own one rings true for many people," he says.
Simpson is four months into his job as chief executive of the Whanganui District Health Board, the district's largest employer with 1100 staff or contractors.
People forget that the DHB is more than just Whanganui Hospital, he says.
"Our funding split is almost 50/50 between hospital and community and for me the big focus is on ensuring our services are serving our population and our population can access those services.
"The hospital is not necessarily a place they access."
Simpson finds himself in Whanganui – the city his wife was born – with roles in both the clinic and the back office on his CV.
He's a Hutt Valley boy, schooled at Taita College and, no, he wasn't that interested in health back then.
"I wanted to be a yacht designer," he says.
"Through school I was right into the Whitbread Round the World Yacht Race [now the Volvo Ocean Race], and concept and technical drawing. I enjoyed the design aspect and I enjoy sailing myself.
"The technology that allows you to sail faster than the wind speed - that's what I'm interested in."
But he's not sitting in Auckland plotting Team New Zealand's America's Cup defence.
Instead he's up in the Admin Block at the Whanganui Hospital campus working out how to get the best health outcomes on an always limited budget.
When he set a goal six years ago of becoming a chief executive he had to knuckle down and learn about the business side of health, having spent much of his career on the shop floor.
"I learnt a huge amount about finances, profit loss statements, auditing, accreditation … that's something that's not intuitive to a clinician."
He hasn't lost his sense of adventure though.
Right now he's in Nepal running a charity marathon through the Himalayas.
Last year he sailed to Fiji. He's climbed most mountains in New Zealand.
"The views and the isolation that you get from that really makes you appreciate what you've got," Simpson said.
"I want to challenge myself, mentally, physically and emotionally.
"For me the ability to challenge your brain and your body stands you in good stead for everyday life.
"Problems in everyday life seem quite insignificant when you set big challenges."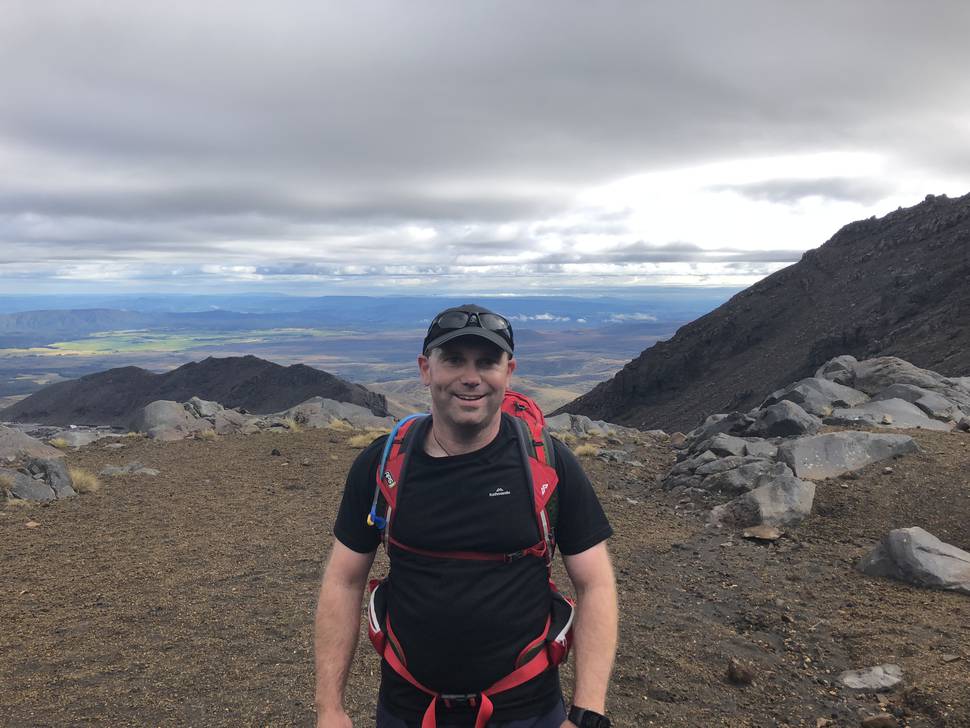 Simpson's career in health began in his last year at school when he enjoyed science, particularly biology and chemistry.
When he left he went to study health science at Otago for two years then headed to Melbourne to specialise in physiology before returning to New Zealand to complete a masters in health science with a focus on rehabilitation.

The nervous system and neurophysiology was his thing.

From being an intern at Hutt Hospital in the vocational rehab programme, he's gone on to work as a clinician in the chronic pain service at Hutt, then as the clinical lead.

There was a stint at the New Zealand Institute of Sport where he lectured in anatomy and physiology and ran the national tertiary programme.

But health is his passion and he returned to physiology at Hutt Hospital working his way to executive director overseeing 42 clinical professions.
"I found the transition from clinical to management quite tricky," Simpson says.

"People who were once my colleagues, I then became their boss and that was a bit of a challenge.

"But what I enjoyed about the executive role was the ability to influence clinical governance and work with colleagues to actually make some positive changes."
His most recent role before shifting to Whanganui was as the national group manager of Health Care NZ.

Public or private? He enjoys both.
"I don't think I could pick one over the other. I'm there to serve the community irrespective of whether I'm in a public or private role," he says
"There's strengths in both of the sectors. There's a place for the private sector in the New Zealand health system, and that's absolutely fundamental.
"They have similar challenges around maintaining the best services with the resources available."
So how will he do that in Whanganui?
"Health is often a byproduct of other social factors, such as poor housing, poor education which leads to health issues," Simpson says.
To that end the DHB needs to work with other organisations and agencies.
The Ministry of Social Development, police, housing organisations, education, councils and iwi are all example he gives because they can all have an impact on health.
"We're all funded to deliver specific outcomes and … our outcomes are not too dissimilar," he says.
"But the way we're funded and structured doesn't afford that cross sector relationship. We're all working very well for our people but we're doing it in isolation."
Simpson is looking at creating some form of over-arching governance and believes he can get local organisations on board.
"We're all custodians of the taxpayer dollar and our role is to work with the community to ensure that services are provided in the right place and hospital is not always the right place."
Whanganui has unique health challenges.
Rurality is one, Simpson says.
"Any district that has a big geographic region it is a challenge to make sure we deliver services and don't require everybody to come into Whanganui.

"Some of the other concerns is our social deprivation. We have a very socio-economically deprived community. I think we're ranked about fifth in the country in terms of deprivation."

Housing is another.

"We have a lot of cold, damp houses in the district and they sit on the river. River floors are notorious for respiratory conditions."
Another area which needs addressing is people not attending specialist appointments.
This is also where the DHB can work with other agencies, even employers, Simpson says.

"If you've got a 40 per cent did not attend rate, well we can send them all back to their GP but the questions I would be asking is why?

"First they have to come into a hospital and for a lot of people they're scary places.
"Secondly, for kids, it's not the kids on turning up, it's the parents not bringing them.

"You need to get to the root cause. And a lot of it was a fear of taking time off work and losing money.
"There are so many social determinants that impact on someone's health, often we focus on the health aspect but don't necessarily pay attention to a number of the other factors that cause health issues."
Does he want more funding?
It's a redundant question really because of course he does, any DHB would.
"My concern is that a number haven't filled in their Census responses so therefore our funding will be based on data which is not accurate and that's my concern," he says.

"The growth in this region in terms of people coming into town – I'm wanting to ascertain is that people coming from the district into Whanganui or is that people coming from out of the district?

"If we have a population that is two or three thousand more than what Census captures, that is a lot of additional services and support we need to provide to a lot of people that we're not funded for.
"People don't appreciate the importance of those Census forms for many government agencies' funding."
Simpson says the public needs to have confidence in the system.
"And I am concerned at the moment around the negative publicity that district health boards are getting across the country.

"... because what we do is exceptional, for the funding that we get and the size of our district.

"The more we continue to beat up on DHBs, the public confidence will diminish in DHBs and that will lead to more complexity for ourselves.
"We serve 62,000 people. There will be people who will be unhappy for various reasons.
"That may be around access to service or they may have been declined surgery … but there's legitimate reasons why they're not eligible.

"As a district I believe we serve our community very well [but] I'll stand up and own that if I do believe that we've let our community down.

"In five years' time if I can reflect in our population understanding a bit more about health but also having more self-control over their health that would be a big aspiration for me."