It is that time of year again - time for the famous Mangaweka Fakes and Forgeries Exhibition.
The competition, organised by Mangaweka's Yellow Church Gallery owner Richard Aslett, is now in its 10th year.
"Entries close on October 30 and the exhibition will open on November 4," said Aslett.
He will clear the gallery of the current collection which includes past Fakes and Forgeries entries including Peter McDermott's 2011 Moona Lisa entry and Marty Laughnan's forgery of a forgery, Tame iti Tuhoe.
The painting is derived from Karl Feoder Sim's forgery of Charles F Goldie's 1905 painting Te Aho-o-te-Rangi Wharepu, Ngati Mahuta.
Mangaweka born Karl Sim was the first New Zealander ever convicted of forgery in 1985 after he was caught selling his convincing copies of Rita Angus, Charles F Goldie, Francis Hodgkins, Colin McMahon and Petrus van der Velden paintings and signing their names to his work.
Aslett started the Fakes and Forgeries competition in honour of Sim who was fined $1000 for his deceptions and later changed his name to Carl Feoder Goldie, so he could sign pictures as CF Goldie.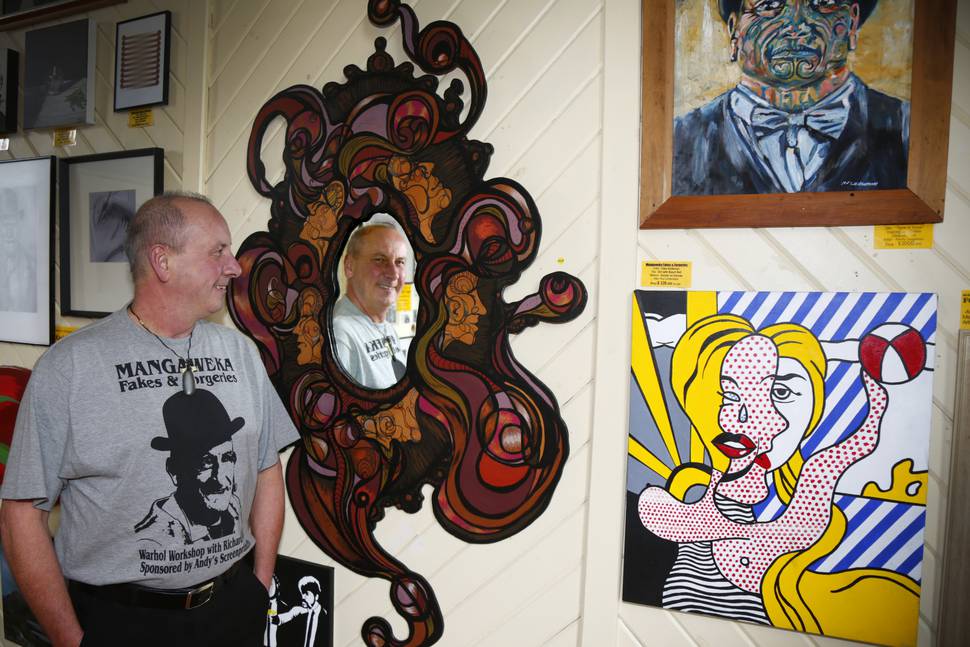 Known as a "lovable rogue" and a very good painter, Sim/Goldie was guest of honour at the inaugural Fakes and Forgeries opening in 2007 and appeared again as a prize presenter in 2011.
He died aged 89 in October 2013 but his work lives on at the Yellow Church Gallery alongside other forgeries and genuine originals from other artists.
"I have received a couple of physical entries so far," says Aslett.
"We have averaged around 100 entries the past couple of years and I have a feeling there will be more this year."
Entries have come from Australia, London and the US in previous years and more international entries are expected this year.
"I have been told to expect a large, three-dimensional, Andy Warhol soup can," says Aslett.
Local schools are on board with entries for the children's fakes and forgeries competition that will run alongside the main competition.
The exhibition opens on Saturday, November 4 and there will also be a market - Mangaweka Christmas Fayre - in the village hall along with a Mexican Art Exhibition on the same day.
Entry forms for Fakes and Forgeries are available at the Mangaweka Yellow Church Gallery website or call Richard Aslett 027 52 666 12.