When Ben McIntyre decided to move back to Whanganui after 17 years living in London he chose to take the journey by motorbike. He tells Zaryd Wilson about his two year trip.
There were a few pit stops along Ben McIntyre's two-year trip home to Whanganui.
A night on the floor of a police station in Pakistan. A date with an Indian court. Armed escort.
McIntyre left London on September 2015 and by the time he touched ground in New Zealand he'd covered 48,000km on his bike, been through three sets of tyres and passed through 22 countries.
It had taken just a week short of two years.
"It was absolutely fantastic."
McIntyre first left Whanganui in 1988 spending time in Tauranga and Auckland before heading over to the UK where he spent much of his time as the owner of the Pirtek franchise in London.
"I was coming to the end of the 10 year lease," he says.
"And was sort of starting to think of what else I could do in life."
Combining a love on motorcycles and travel he decided to take the long way home on his 2007 Moto Guzzi Griso 1100.
From where he was living in West London he planned out a trip which took him through Europe, the Middle East, Asia and home.
He took it slow, sometimes stopping in places for days or weeks, only hurried in the first three months having left with a visa to enter Iran which he needed to activate within 90 days.
"I got there with about two days to spare actually."
The first part of his trip was a two and a half month jaunt through France, the Mediterranean, Italy, the old Yugoslav area, Turkey, Georgia and Armenia till he got to Iran, the friendliest country of the trip.
"I was the only Westerner there, there was no one at the border. I'd be riding along on my bike, people would pull up beside me, tell me to pull over, and they'd just want to give me fruit.
"I'd go into burger bars and they wouldn't want to take any money. I went into a bakery and said 'I'll have one of those, one of those' - wouldn't take any money. They were just so happy I was there."
As if McIntyre needed a reminder he was riding through fairly volatile territory. The border between Iran, Afghanistan and Pakistan is fraught with danger.
"From when I entered Pakistan I was under 24-hour armed guard for about six days."
He says Pakistan's President has decreed that no foreigners be at risk and it's not as though the area is flooded with tourists.
"The first night I stayed in a police compound and ended up sitting on the floor having mutton curry and naan bread with the police guys then slept on the carpet in their office."
From the border he was headed for Quetta, a town known for car bombs and being a "melting pot" of Isis.
"I'd be riding my bike and there'd quite often be two guys on motorcycles with the AKs or it'd be a Toyota Hilux," McIntyre says.
"The first hotel I stayed at there were four police guys who came and stayed at the hotel with me just because I was there."

It's hardly a beaten tourist track.
"At one of the police checkpoints in the hut while they weren't looking I went through the ledger that they keep of all the travelers going through," McIntyre says.
"There's probably about two a week. The last New Zealander to go through was about eight months beforehand."
McIntyre was not phased by all of this.
"No, it was good fun," he says. "There's no doubt that Pakistan has got troubles that they're sorting through.
"(But) they're getting on with life."
The next stop was through to India but his trip took a brief pause while he flew back to New Zealand for two weeks to attend his dad's 80th in Whanganui.
"Dad has booked me in three years before."
When he got back to India two weeks later he returned to his bike which he'd parked up at a hotel and continued on.
"I was going to head east but it got up to 44 degrees and I thought, this is just too hot so I ended up going into the Himalayas where it's cooler," he says.
There he went to McLeod Ganj where the Dali Lama is in exile. But he was out, a note on the door as if he'd nipped out to the dairy.
"Bit of an A4 sheet typed out 'apologies but he Dalai lama is away'.
"He's usually there," McIntyre says.
While up in the mountains he ran into a legal battle over headlights which he eventually won.
His European bike has headlights which are always on and the police didn't like it.
"And I was forever getting people telling me to turn the headlights off. I mean, 20 times a day."
"I said 'I can't they wired on'."
Eventually he got fined, about NZ$2 for refusing to turn his headlights off during the day.
McIntyre refused to pay it on principal.
"There's about half a dozen police there. I said 'I don't know what you're going to do but I'm not paying the fine'.
"I was prepared to go to jail for the night, to be honest. I was sick of it. I was sick of people telling me to turn my lights off. I'd had enough."
Five days later he was in court.
"It's all part of it, you know, get involved with the community."
With about half an hour research online he came up with a defence.
He argued about European Union regulations, that it was safety thing, that it was about other motorists.
"And then I said 'and also the Indian Government is looking at bringing in daytime driving lights next year'.
"The judge came back and said 'well I can't vouch for any other jurisdiction but in the court your case is dismissed'."
Next came three months in Nepal including a month in Kathmandu before flying to Kuala Lumpur for three months and on to Indonesia.
"Indonesia was just mad," he says.
"The two most dangerous places for riding motorcycles is parts of India and parts of Indonesia.
"I nearly had a head on with one car in India. He was behind a bus and he pulls out to gave a look, sees me, goes back in and then he just pulls out again into my lane, straight for me.
"I would've been a hood ornament."
The final leg of the trip took McIntyre through East Timor across Darwin and around Australia before flying with his bike to New Zealand and home to Whanganui.
"And here I am. I'm pretty sure this is where I'll be living for the rest of my life, so to speak.
"I really like the place. It's changed so much since I left. The city looks healthy and prosperous. I love the heritage buildings. The place looks really tidy."
But before he settles he's got a few more bike trips planned including one from Canada to Argentina.
He loves the minimalist lifestyle of being on the road.
"You aren't buying anything because you've got no room for it," he says.
It's all about traveling as light as possible because there's less to pack in and pack in and the lighter the bike is the better it handles.
"All you're looking at is petrol, food, drinks, that's really it, and accommodation of course.
"It's a nice simple lifestyle. No other bills."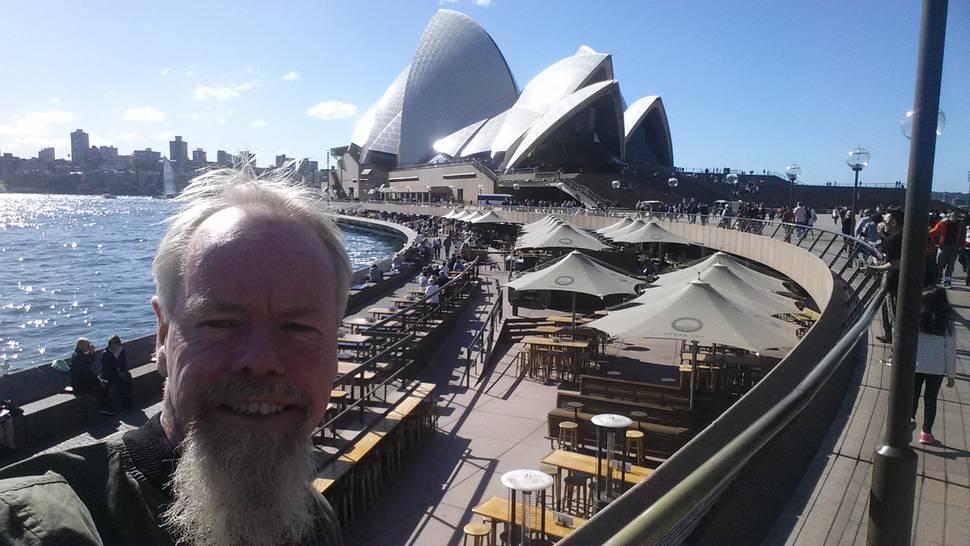 And he encourages anyone to do such a trip.
"People thought I was mad to travel through Pakistan, by myself, on a motorbike, and I thought I was a bit mad too.
"But I knew I'd be alright because I'd done my research. Everyone that has done these trips says 'you'll be fine'."
In what feels like a divided time in international relations and global politics, McIntyre says he has arrived home feeling optimistic.
"The world is a really friendly place," he says.
"I never felt under threat once. All I met was just generosity and friendliness every single day without fail.
"So it really annoys me when I see all this rhetoric coming out, especially from Trump.
"Everyone's the same the world over. We all want to look after our family and have enough to eat and a roof over our head, no matter what nationality, what religion.
"They all want peace."