This week commemorations were held on both sides of the Tasman remembering New Zealand and Australian involvement in the Vietnam War. In August 50 years ago the first Kiwi troops arrived in Vietnam. Their involvement was both controversial and condemned but for the troops it was a matter of duty. Reporter JOHN MASLIN talks to one of the vets.
Wayne John "Mac" McCallion was a career soldier, joining the NZ Army in 1964 as a wet-behind-the-ears 17-year-old. If you'd asked him then where Vietnam was he wouldn't have had a clue.
Two years later he'd seen service in Borneo and Malaya with the 1st Battalion of the Royal New Zealand Infantry Regiment and then he and 181 colleagues in a rifle company were deployed to Vietnam.
"At that stage (in Malaya) we got briefed about what was going. We thought we were going to be attached to the Australians and we all thought 'Christ, what's going on here'.
"Guys were going off to church, sending letters home to their mums and dads. We thought if the Aussies were getting it we were going to whacked too."
That was just after the Aussies had fought the Battle of Long Tran. It was cover fire provided by the gunners of the Kiwis 161 Battery that played a major role in helping the Aussies in that fire fight: "Really our Kiwi forward observers got the Australians out of the shit. They contributed a great deal," he said.
McCallion and his mates saw front line action in Vietnam and fortunately didn't get "whacked".
"I was there for six months. We'd already done a tour to Borneo and Malaya so our two year tour of duty was up."
Back home, he and his comrades soon found that serving in Vietnam didn't bring thanks or accolades. In fact they were vilified by a public adamantly opposed to NZ's involvement.
For McCallion and his mates that fallout still rankles.
"I've always said throughout all these years successive governments have been in absolute denial about that war.
"There are screeds of evidence to say the governments have been wrong in all their determinations about veterans of that war. There simply was no support for the vets.
Some of these blokes were dying at 45, cancer-related stuff and mental health issues but they had no support.
"In recent years Veterans Affairs have got their act together and things have improved but it remains a long, hard road to get recognition for certain conditions these vets have suffered. Even now there's still little consultation and communication. They procrastinate on every little issue and that's a concern."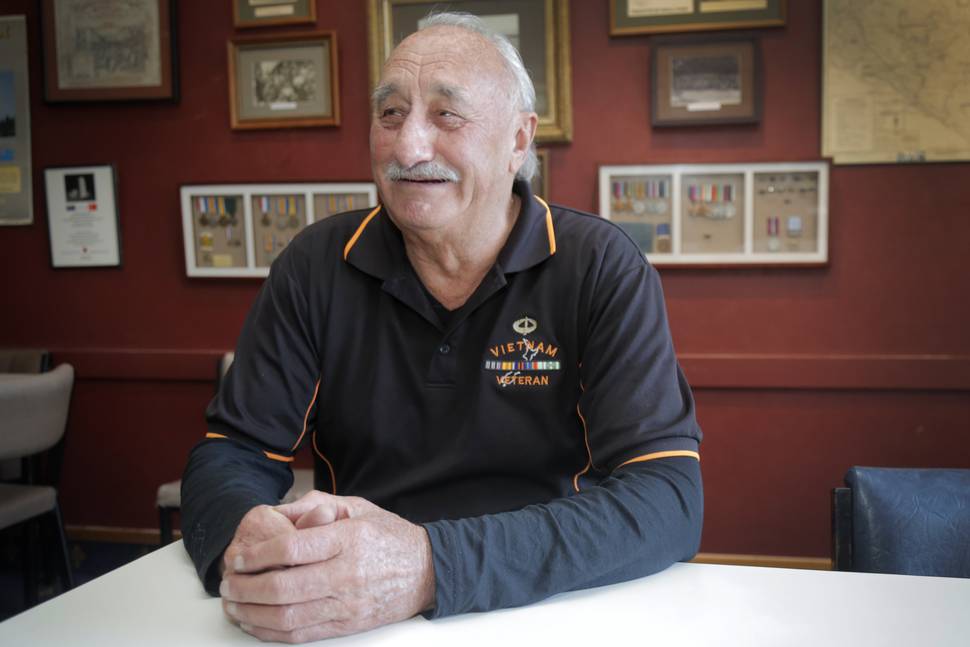 McCallion firmly believes if the nation had a better understanding of the Vietnam war and how NZ got involved in it a lot of the problems veterans faced - and continue to face - would have evaporated.
"People simply didn't know what was going on at that stage. Couple that with governments continually in denial and it's taken years to get acceptance."
A professional soldier for more than 20 year he said he was shielded from a lot of the abuse his colleagues ran into.
"There were guys who were only in the army for four or five years and the criticism fired at them when they came home was terrible and totally unwarranted.
"It was a war on our backdoor step and brought into our homes every night with television coverage. I know people who left NZ to live overseas because of the abuse they got. It was like the whole country came down on top of some of these poor bastards."
He said compounding the problem for the vets was the misconception that those who went to Vietnam were all volunteers.
"That's not absolutely correct. Sure, we were volunteers to join the army but no one volunteered to go to Vietnam. I joined the Army to make it a career and a lot did this.
"But there were others who got caught up in the excitement of the prospect of going to war and enlisted. They were the short termers but were the ones who copped the flak when they came home. Those of us who served longer came home to camps at Waiouru,
Linton and Burnham so we were shielded from a lot of that."
In 2007 he recorded his army experiences and says what he said nine years ago reflects his feelings today - a lack of recognition by the Government and a lack of support.
He's been through two marriages and relationships because he couldn't settle down. Now he says he's now much more tolerant.
"I can relate directly with a lot of my peer group but my civilian friends are a little bit different to understand. I recall my daughter saying to me recently 'Dad, tell us about your military life.' But it's very difficult to express yourself to anyone who hasn't shared a uniform, what happened when you went to Borneo, Malaya or Vietnam.
"They have no idea of what it was like and that's why you tend to connect strongly to those in the service."
He reckons there are just over 20 Vietnam vets still living in Whanganui and anniversaries like the one this week remain important to the veterans.
There are other "anniversaries" too. They happen every time he and his colleagues gather to farewell another of their fallen mates. He says he usually attends 40-50 funerals a year.
Of his comrades who went to Vietnam, about 1500-1800 survive; slightly over a third of the troops who saw service in that theatre.
"Many of us are nearing our 70th birthdays and we're thankful we've made it this far. We talk about being around for another 10 years. But some things are still hard to take especially when you're dealing with a government departments who continue to hedge.
They could make some lives a lot easier."
NZ's Vietnam vets had to adjust to the consequences of fighting in an unpopular war.
There was the perception of official and public indifference to the physical and psychological problems experienced by so many veterans due to exposure to Agent Orange and post-traumatic stress disorder.
Another source of bitterness was the sense that, unlike World War 2 veterans, they didn't receive adequate recognition for their part in a demanding war.
In 2006, the Government signed a memorandum of understanding with Vietnam veterans and their families. It included a trust to support veterans' children, a national reunion and official "welcome home" parade and a formal apology for successive governments' failure to address veterans' concerns.
"Mac" McCallion wasn't celebrating the 50th anniversary in Whanganui last Thursday. He was in Kawhia with other vets to see medals presented to the family of another fallen comrade.
But it didn't matter where he was that particular day because "Mac" McCallion was with his mates. And mates matter.
THE CONFLICT
* In May 1965, Prime Minister Keith Holyoake announced a Kiwi combat unit would join the US-led coalition in Vietnam. Six years later the last of the Kiwi troops were gone.
* More than 3000 Kiwi military and civilian personnel served in Vietnam between 1963 and 1975. At its peak (in 1968) our military force numbered only 548.
* 37 men died while on active service and 187 were wounded. Two civilians serving with the surgical and Red Cross teams also lost their lives.
* The Vietnam War lasted from about 1960 until 1975, fought between the communist Democratic Republic of Vietnam (North Vietnam) and the US-backed Republic of Vietnam in the south. It ended with the defeat of South Vietnam in April 1975.
* More than 1 million soldiers and perhaps 2 million civilians died during the war.+