An exciting new event is scheduled for Whanganui next year ... The question is: What will it be?
The call went out earlier this year from Whanganui and Partners marketing manager Lyn Cheyne for ideas, and the creative juices flowed as various projects were put forward.
The field has been narrowed down to six finalists bidding for $15,000 worth of support and expertise and the chance to put their event on in 2017. Those six bright sparks will face the Den of Dragons, a judging panel with serious events and marketing experience, at the War Memorial Centre on Wednesday evening when Whanganui's next big thing will be chosen.
John Maslin took a look at the six finalists, so check them out and let us know what idea you think will put Whanganui on the map. Send your feedback by email to: editor@wanganuichronicle.co.nz; orwrite to The Editor, Wanganui Chronicle, 100 Guyton Street, PO Box 433, Wanganui 4500.
GARDEN GURUS: Frances Taylor (left) and friend Margi Keys are looking forward to Whanganui's special gardens being showcased in spring next year.
Springtime idea germinates
Tapping into Whanganui's rich gardening heritage is an idea Frances Taylor hopes will earn her the major prize in Whanganui's inaugural Den of Dragons.
Spring into Whanganui is one of the six finalists in the competition organised by Whanganui and Partners promotion and marketing manager Lyn Cheyne and Whanganui Events Trust chief executive Kathy Cunningham.
Ms Taylor, a gardener and nursery owner at Papaiti, said her idea was about attracting locals and visitors to special gardens in and around Whanganui in springtime.
"Whanganui's diverse collection includes heritage, cottage, themed, water, bush, permaculture, organic, native bush, and zany gardens which feature driftwood and/or objets trouves," she said. "If we win, we will be looking for all sorts of gardens, including school gardens."
Her concept sees spin-offs for local businesses, artists and educators which could include garden art and crafts, locally grown plants and produce, food and drinks.
She has roped in her friend Margi Keys to help with the application.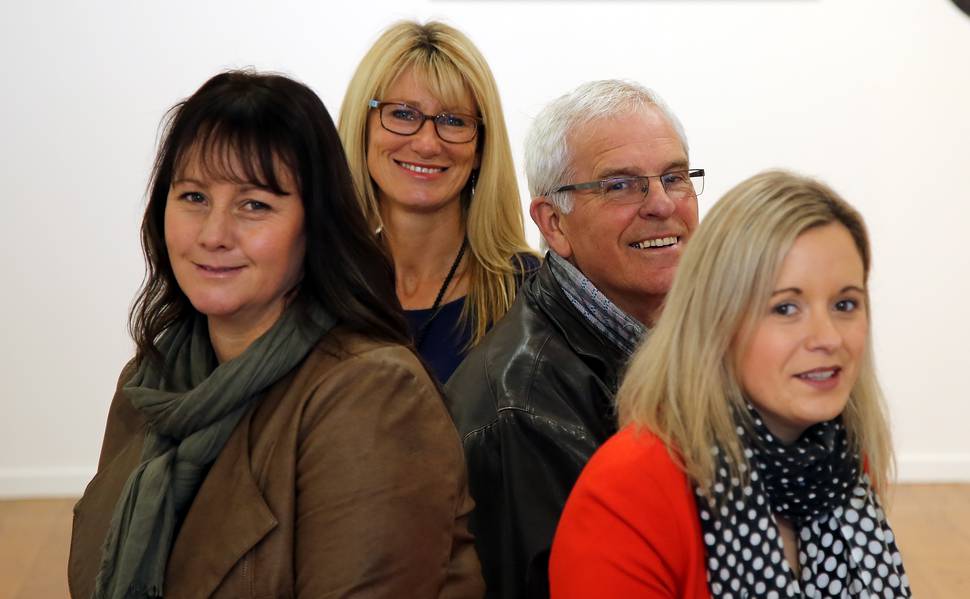 FOR ART'S SAKE: Marie Grice, Jane Toy, Craig Hooker and Alys Davdison, have high hopes for their visual arts symposium.PHOTO/ STUART MUNRO
Passion to showcase arts
Fine Arts Whanganui wants to showcase its Whanganui Visual Art Symposium next year.
The group includes Alys Davidson, Marie Grice, Jane Toy and Craig Hooker and their intention is to demonstrate that Whanganui is truly a leading arts centre of New Zealand.
Ms Davidson said the main focus will be to provide high-quality learning opportunities to all who have an interest in the visual arts, whether they are established or emerging artists, hobbyists, art collectors or curators.
"Our aim is to make a broad range of visual arts experts from around New Zealand available to speak in a conference setting on a large variety of relevant topics."
This will run concurrently with skilled and recognised artists giving demonstrations. As well as a trade show of visual arts products and services running alongside these events in the same conference centre.
CLASSICS CALLING: Grant Rivers says the Road Rodders event would attract machinery of all sorts to the city.PHOTO/ STUART MUNRO
Big event has charity spin
The Wanganui Road Rodders "big idea" that made it through to the Den of Dragons final is the River City Park Up.
The club said its weekend event will showcase a diverse range of vehicles including vintage, classic, hot rods, competition vehicles and bikes.
At the same time the Park Up would support local charities by donating proceeds from the event and providing opportunities for fundraising within the event.
Their two-day programme starts on Saturday with the inaugural Ian Hooper Memorial Rally taking cars around the city and district in memory of Ian Hooper, a founding life member of the club who died earlier this year.
The River City Park Up and charity auto show is the main event on Sunday and the club reckons it will attract upwards of 500 vehicles from across the North Island. It will include a diverse collection of vehicles not normally seen in one place.
ART ON WHEELS: Robert Cochrane wants to showcase local talent and skills. PHOTO/ BEVAN CONLEY
Toast to art, music, machines
Robert Cochrane's entry is all about showcasing Whanganui. He is promoting the Art Blues and Chrome Festival which is a three-day festival highlighting art, design, music and machines.
"A key focus of the event is to bring the community together to celebrate all that is great about art, music and design, especially around the iconic and classic styles of the 1950s,'60s and'70s with furniture, cars and motorcycles," he said.
"For example, chrome plating for decoration and protection was used lavishly by manufacturers in some years and from that Kiwis took to customising with a passion."
His event aims to harness local talent and skills and bring them together as a showcase for Whanganui. With more than 400 artists working in Whanganui, he's confident a number will be keen to be part of the event planned for next April.
"There will be an art exhibition in the main hall interwoven with iconic classic and custom motorcycles and unique furniture items, while on the forecourt today's retro brands like Harley Davidson, Indian, Triumph, Ducati, Moto Guzzi will blend nicely with a range of pristine European and American cars."
IN FOCUS: Alex Falkner wants people to connect with film, television and media-making.
Concept zooms in on film
Connecting with the creative film, television and media-making process is the intent behind FilmCraft - from concept to execution.
It's the brainchild of the Phoenix Collective and another to make the final of the Den of Dragons contest.
Spokesman Alex Falkner said FilmCraft would run for two to three days, from initial scripting and collaborating, to concepts and designs, right through to the manufacture of sets, costumes, make-up and props.
"We'll be organising an incredibly talented group of people from across the film and television spectrum to compose a series of lectures, displays, and exhibitions," Mr Falkner said. "This will give the participants an opportunity to hear the stories, watch the techniques and work side by side with these individuals, to get a real idea of what the processes are like, and the lengths required to get things done."
He said their goal was to provide an interactive "behind the scenes" experience, to show participants what the industry is really like, how challenging and frustrating it can be "but also incredibly fulfilling".
Mr Falkner said alongside the symposium they are proposing an exhibition to give people an insight of the talent there is in the industry.
FILLING A GAP: Andrew Lock (left) and Dilan Raj of DnA Events believe Year 9 and 10 student numbers offer huge potential for their event.PHOTO/ STUART MUNRO
Event to boost school sport
Witnessing a marked decline in sport activity among Year 9 and 10 secondary school students was the prompt Dilan Raj and Andrew Lock needed to get involved in the Den of Dragons. DnA Events is one of six finalists with an event based in part on the highly successful Masters Games principles.
"Basically our event will be a junior Masters Games based on participation, camaraderie, self-development and school pride," Mr Raj said.
Both he and Mr Lock have had long involvement in sports and at school level but have been saddened with the marked decline in participation. Their event philosophy is "participate, enjoy, develop".
There's no other event like it in the country and they said they already had interest from across the Whanganui and Manawatu region.
Mr Raj said they reckon on more than 1500 participants at their first event.