I felt like a fraud. An interloper.
It was obvious to the guy by the river. "A bit of media coverage is all right," he said to his friend.
"As long as it's not splashed all over the Herald or something."
The notepad and pen gave me away, and the shirt and jeans. I'd come to Kiwiburn. But in the role of a reporter instead of a burner, it was going to be difficult to have an honest Kiwiburn experience.
Kiwiburn is the New Zealand version of the Burning Man festival held each year in Nevada. Our Black Rock Desert is Hunterville farmland alongside the Rangitikei River.
It's a temporary community which practices principles including radical inclusion, self-reliance and self-expression. Gifting and decommodification are key to Kiwiburn and when it's all over the community vanishes without a trace.
I met Kiwiburn media liaison Shelley Watson at the gate in Cooks Rd and hopped into her car, one of the few allowed on the festival's paddocks. Media are welcome, but only on a guided tour.
The gravel road winds its way down towards the Rangitikei River until the Kiwiburn site comes into view, a smattering of vibrant colour against the greenish brown grass.
This year just over 1400 people have come, well up on the 985 the previous year. It's the first time Kiwiburn has sold out. And there's more on top of that because a computer glitch pumped out a few more tickets than intended. The festival has been growing each year since it began in the south of Waikato. This is the 13th Kiwiburn, the third in Rangitikei.
Organisers have been conscious to control its growth, capping numbers for the first time this year.
"We need to make sure that philosophy gets through," Shelley told me earlier. "So if we allowed for extra it would probably lose what makes it special."
The forest was the first stop. Shelley said there was a wedding at 2:15pm and we hopped out of the car to a roar and clapping. Marla and Buckie had just been pronounced husband and wife and been mobbed by fellow burners who has come to the ceremony.
Buckie reckoned he only knew about 10 per cent of them. "But they're not really strangers, because that's Kiwiburn," he said.
This is Shelley's 10th year at Kiwiburn. Enough time to make a lot of friends and many stop and hug her as we walk through the site. Past the Official Unofficial Camp, the sauna constructed on the riverbank, the woman hula hooping, the group covering themselves in mud and sand.
Someone had set up a library. There was a postal system where you could address mail to, say, the blue tent, first on the right past the big tree.
It was going to be difficult for me to experience Kiwiburn in an hour without really participating.
Jake Everson and Marion Martinez were sitting on some sort of wooden construction under the trees.
"We're just painting hearts and just enjoying the day," Jake said to me.
"We'll paint your finger then you can do a dot. Then you've contributed."
That was my token involvement.
To experience Kiwiburn it needs to be your sole focus. Much better to get the story from a burner. So I talked to Peter Vosper, an Aucklander and a Kiwiburn first-timer, who for a day job runs company which puts on neon dance shows.
"I knew about the gift economy and I knew it was in a paddock," he said from his Auckland home, tired after five days in the paddock.
"I knew they had parties and there'd be music."
He was not quite sure how it all worked. Peter usually gets paid to go to festivals and perform but for Kiwiburn he paid for his ticket. He worried how the gifting and sharing would all work. Would people put in the same effort he did?
"I took my costumes and didn't promise anything," he said. "Just in case I felt like it."
He'd overprepared. There's no money exchanged on site (except to buy ice) and leaving the site for supplies is discouraged. The economy of the event is meant to be self-sustaining from beginning to end.
"I was a bit worried. Like, what would happen if I ran of food or water? I packed so many supplies and so much food," Peter said.
But his worries were not necessary and the gifting and sharing economy worked.
"You still have to look after yourself for sure but people are really generous," he said. "Everyone wants to share and it's a snowball effect. Trying to get anywhere is so slow because you'd end up interacting with so many people."
There are events within Kiwiburn in areas of arts, crafts and entertainment, to cater for a range of people. Just on the Friday there was traditional leather-crafting, a drumming workshop, acrobatics, yoga, a pub quiz and the annual white party with fire dancing, music and a vodka punch bowl. They're all put on by burners, for free.
And Peter's first impressions of the event?
"There's something about the freedom you feel when you're there. The ability to express yourself just shows up all the time. Everyone's just really happy letting their wacky side out. I guess it's sort of the permission and the safety of it.
"On the paddock it's just the fact that everyone else is obviously dressing up and obviously into creating humour and goodwill."
AND PERHAPS what makes this all work is what concerned him earlier on.
"Maybe because there's no money. It's a gifting economy."
Early last year when Peter bought his ticket, he didn't really know anyone else who was going. But there's an online community planning events and camps and various activities throughout the year.
"I just got more and more excited because I was connected to people who were putting on things there," he said. "These are total strangers. A lot them will never meet again."
Photo Gallery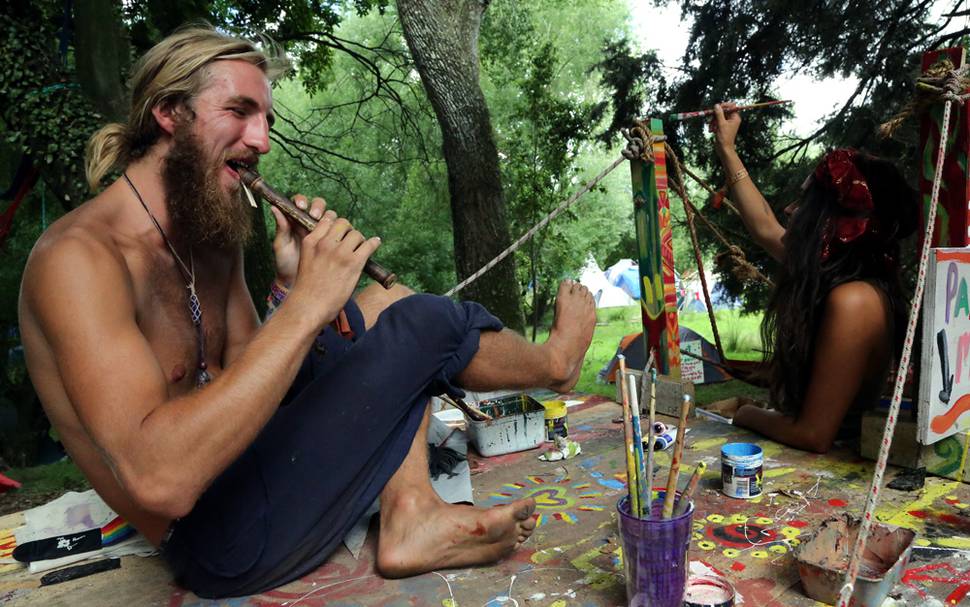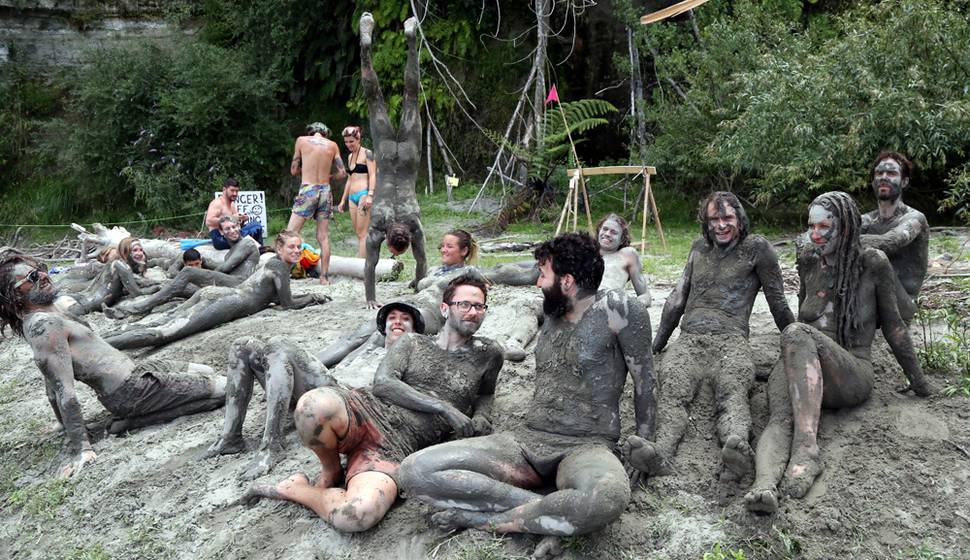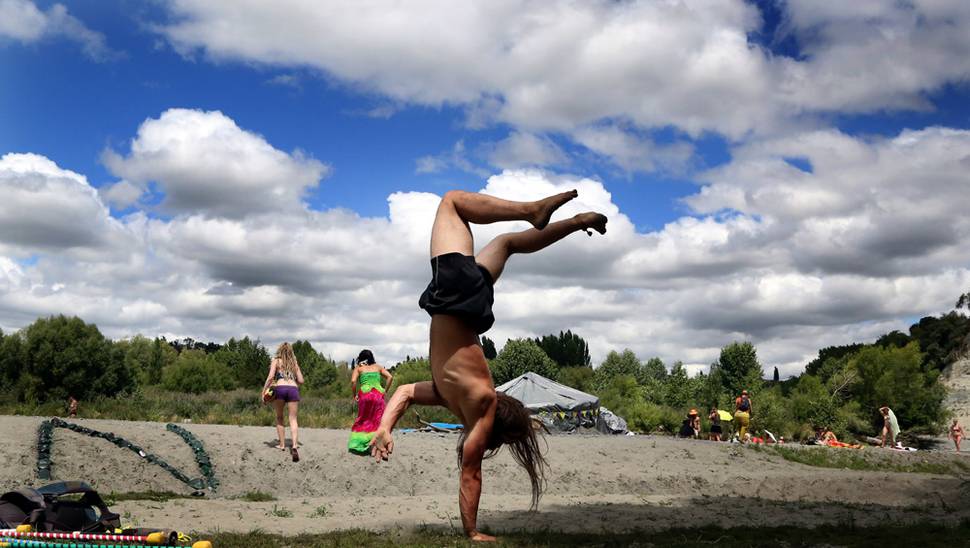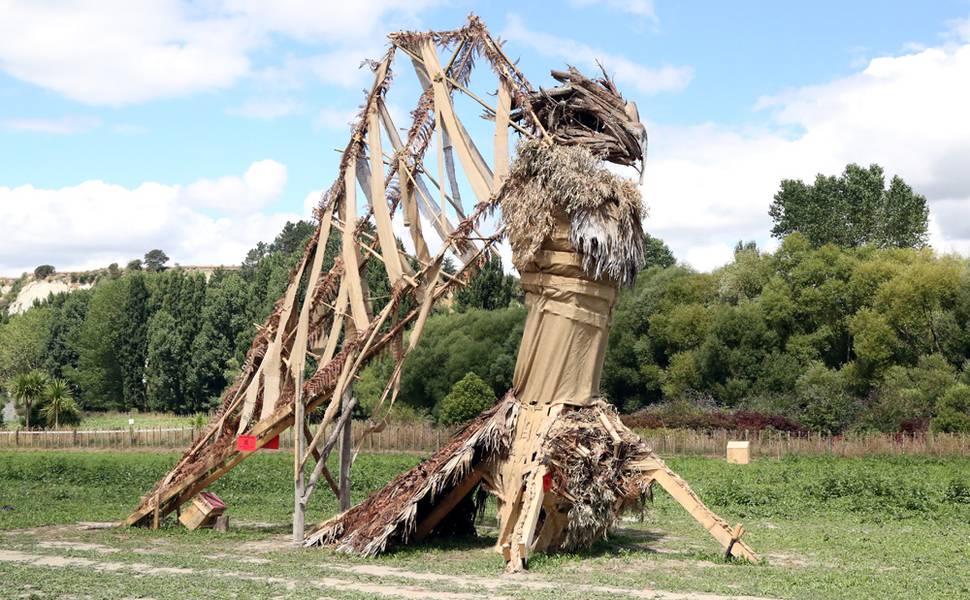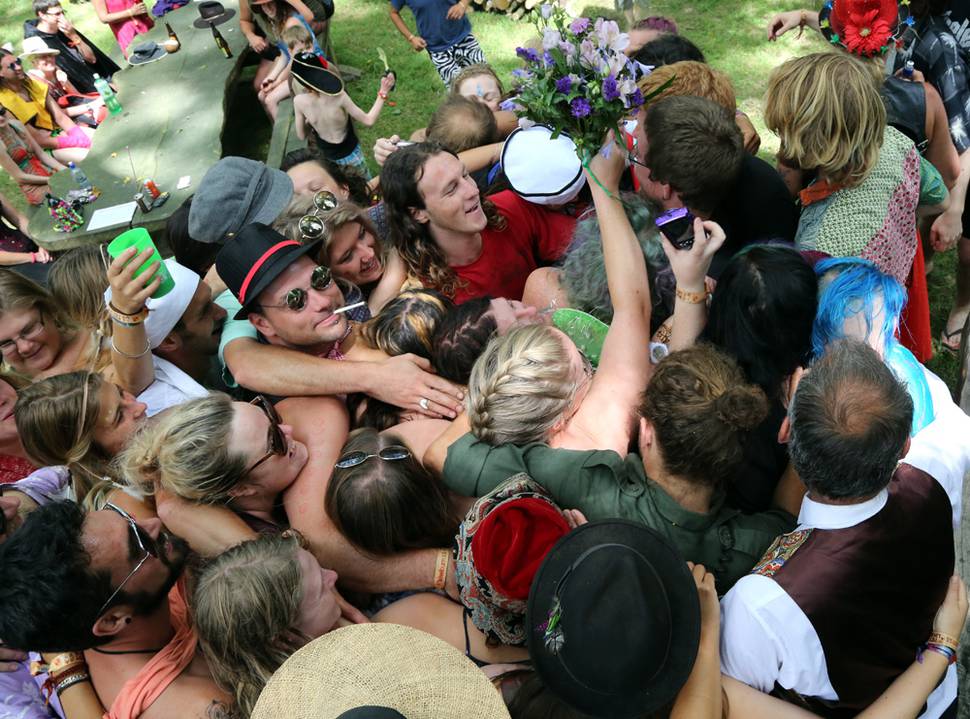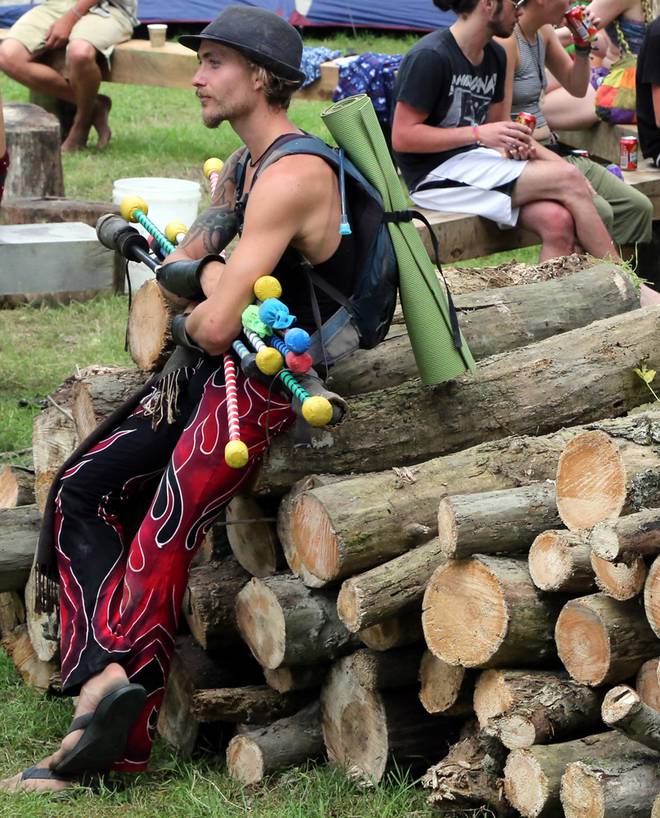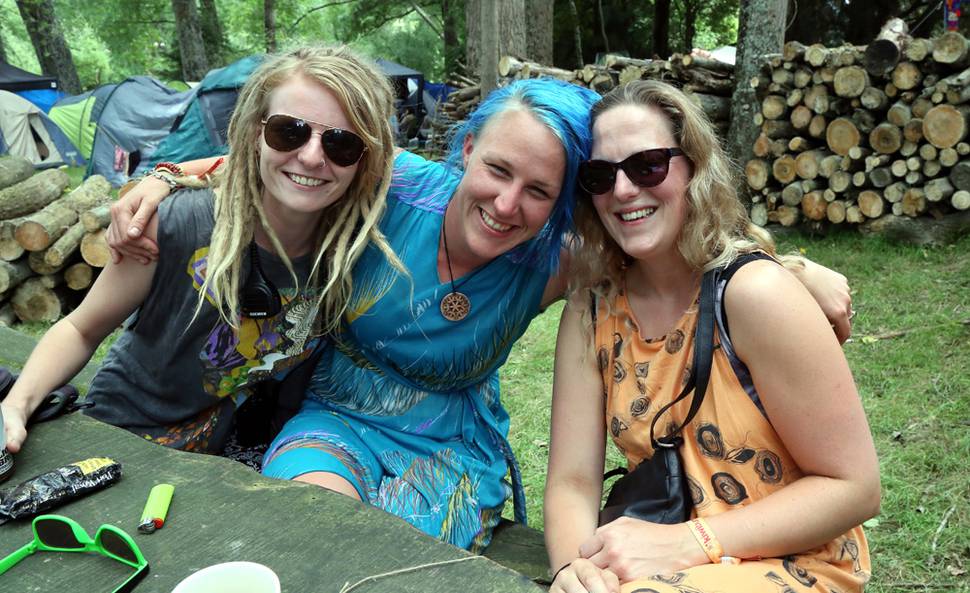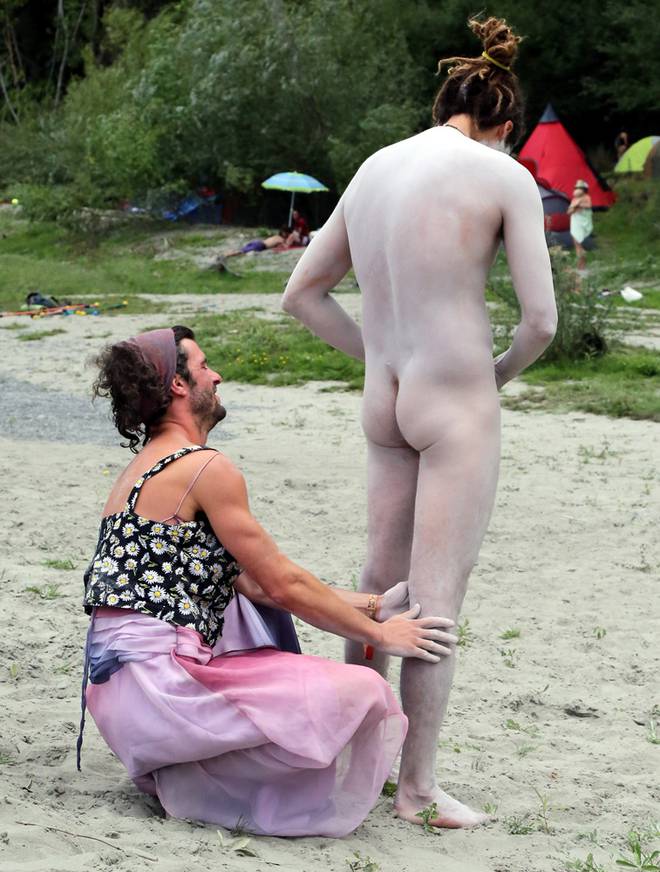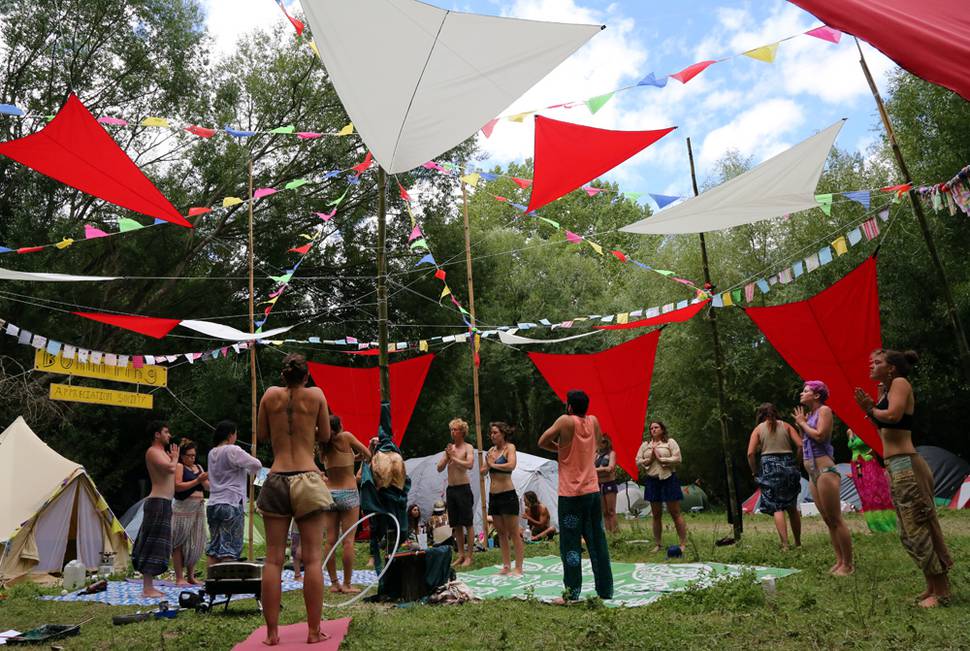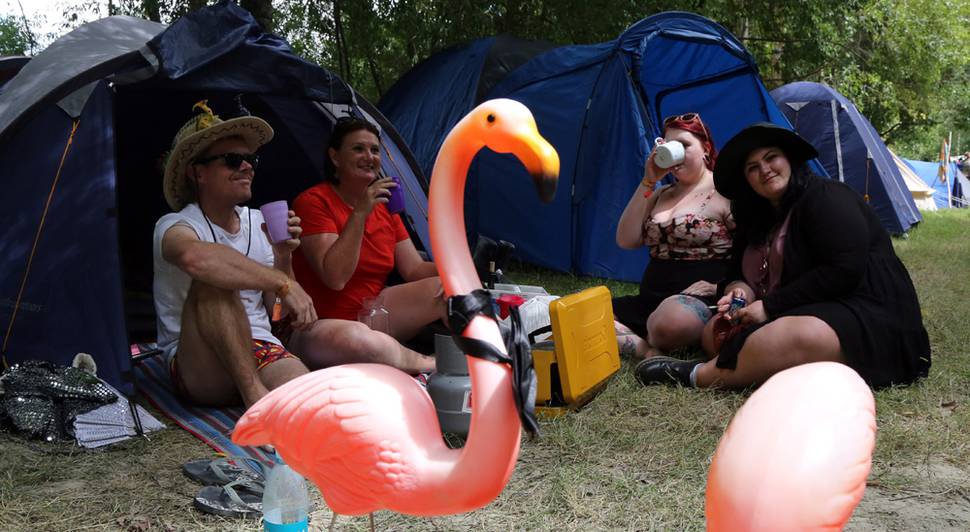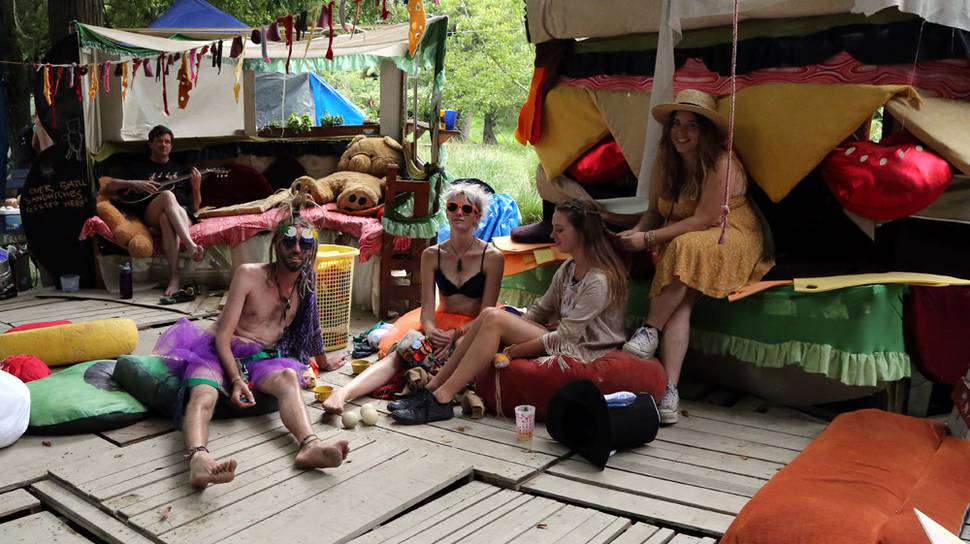 The centrepiece of Kiwiburn is the effigy. A huge wooden structure which is lit on the Saturday night of the festival. This year's effigy was a bird based on Maori mythology, a first for Kiwiburn. Last year it was a woman, another first. It stands as the climax of the five days, with all the burners crowded around and a festive atmosphere which rolls on until dawn.
Shelley said: "For a lot of people it's a release of the year and starting fresh."
For first-timer Peter it was a highlight.
"It's pretty amazing," he said. "Everyone had this huge build-up of energy and everyone's excited. I definitely got carried away and danced till dawn."
On Sunday, the temple containing messages written by burners throughout the festival, is set alight. It's a more reverent and reflective occasion.
On waking the next morning it's time to pack up and leave. Everything brought to the paddock must be taken back. The festival often has a big impact on people and Peter left with "a bit more faith in humanity".
"Just the fact that people can be generous," he said. "Everyone's there to help out. When I left I felt a lot less judgmental about people. You kind of don't want to put those filters back on. It's hard to tell if Kiwiburn creates that or whether the people that go to Kiwiburn are like that anyway."
And when you're so consumed by a radically different community for five days, suddenly perspectives have shifted.
It was "definitely strange" to leave, Peter said. "Really strange hearing advertising again. That's a real shock. Seeing all the headlines."
"I just had some toast and an espresso - pretty amazing to have electricity again.