In her early 30s Lyneke Onderwater set out for a world bicycle tour with a man she hardly knew. She tells Laurel Stowell about it.
Lyneke Onderwater decided to take a world trip rather than buying a car - and she chose to do it on a bicycle.
In 1995 Lyneke, originally from the Netherlands, was living and working in Hamilton and at a turning point. She was tired of her job and her relationship had just ended.
She bought a house and had $5000 left over - for either a car or a world trip.
"A car was kind of boring, so I never bought that," says Lyneke, who moved to Whanganui three years ago where she has revived the Whanganui Bicycle Users' Group.
She had a maximum of four years away from New Zealand without losing her resident status and so started planning a trip.
Then through friends she met a Dutchman who was already months into a three-year world trip on a bicycle. Bas was "quite a charmer" and she was a fit young woman. He invited her to cycle through Africa with him.
Realising she probably wouldn't be brave enough to go to Africa by herself, she agreed. But she also didn't want to be just someone's buddy and use Bas as a combined protector and mechanic. So, she struck out on her own, to find out if she could handle cycle touring.
Lyneke took a mountain bike - slower than a road bike but better able to handle rough roads. Loaded with gear it weighed 40kg. She cycled the Heaphy Track and down the South Island's West Coast in 1995, staying in backpackers, campgrounds and with organic farm exchange hosts and contacts. Satisfied she could do it on her own, she hitchhiked to Auckland, flew to Vancouver and pedalled south down the United States coastline to San Diego. It was an easy ride, pushed along by the predominant tail wind. People there were worried she was on her own.
"People would ask me: 'Do you have a gun? You should have a gun'."
The coast was beautiful, especially foggy Oregon, and was a known cycle route. People invited her to stay the night, and she sometimes "camped wild".
Thoroughly broken-in, she flew to Amsterdam to meet Bas. He had just cycled Asia, and wanted to check her bike could handle Africa.
They didn't like each other much on the second meeting, but that changed.
He arrived in Nairobi ahead of her and they initially stayed with some expats on a pineapple plantation. It was a colonial lifestyle, with maids and gardeners.
Africa was warm and chaotic and Lyneke had never been anywhere like it. Bas wrote stories for World Wildlife magazine and had letters of introduction that got them into national parks. They headed south through Uganda and Tanzania, taking in the parks and sometimes travelling on boats or trains. The landscape was sparse, with rough roads and acacia thorns that could puncture tyres. Most of the wildlife was only in parks.
Cycling made them hungry and they bought food mainly at little markets.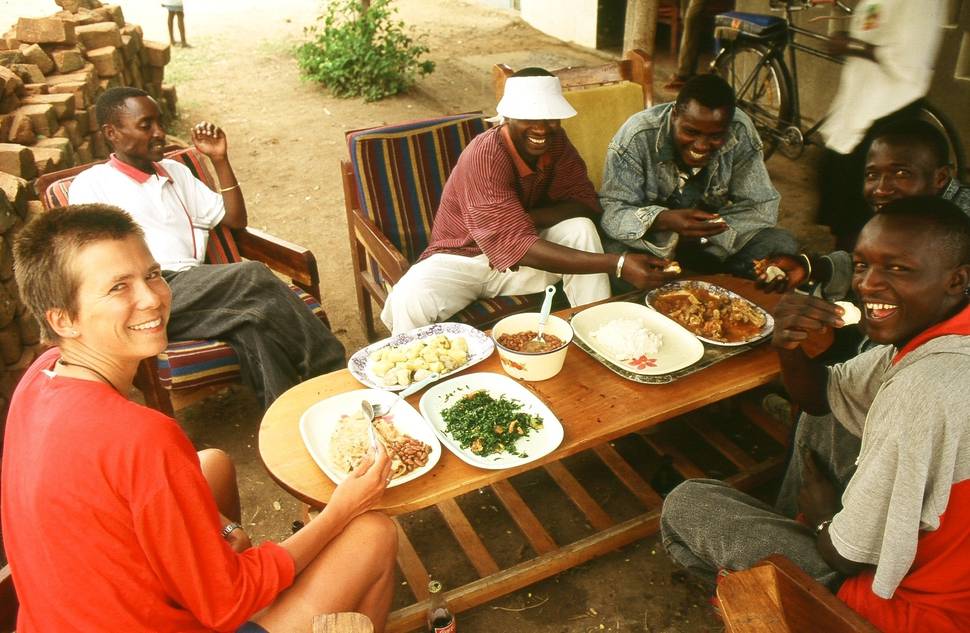 "We usually managed to find some bread, most of it enriched with fat and sugar. We ate a lot of biscuits, chocolate and chips. We would just stop and eat a whole packet of biscuits."
In Africa men rode bicycles and women didn't. Men didn't like being passed by Lyneke and were very competitive.
She felt physically safe but said the men were always trying to get their money, sometimes by providing a service and then asking for a higher price than agreed. Women were helpful and never wanted anything in return.
The heat was bearable while cycling, because movement created a breeze. They progressed through Malawi, Botswana and Mozambique and bought sleeping bags in Zimbabwe when the weather got colder. Sometimes they camped wild and sometimes stayed with members of the expatriate community, who always seemed to know they were coming.
They liked Zimbabwe, because there was less begging there.
"When you're tired at the end of the day and all you want is a place to camp and some food you don't want to be hassled by people," Lyneke said.
Both she and Bas got malaria, with fevers, sweating and chills. Bas was delirious and nearly died, but recovered quickly. Unknown to her at the time, Lyneke also picked up bilharzia, a disease caused by freshwater parasites that can cause itching, abdominal pain and fever.
"I probably got it by swimming in infected lakes. You're warned about it but it's warm and you see lots of other people in the water."
In South Africa it was wintry, with wind, rain and cold. After a break back in the Netherlands, Lyneke and Bas cycled a southern loop there.
South America was next. They flew to Buenos Aires and cycled south. But there was a headwind and the landscape was flattish and scrubby. They decided not to continue toward the southern tip of the continent.
"We didn't want to go to the ends of the world like a lot of people do. We wanted it to be fun and if it's not fun we wouldn't do it."
They bused to Chile and headed back into the mountains of northwest Argentina, then Bolivia. Reaching 3000m above sea level they paused for a day, to let their bodies adjust to the height.
Lyneke and Bas toured a salt lake in a car, then got a ride in another vehicle on the most dangerous road in the world. At one moment they saw one of its wheels hanging over the edge of a 500m drop.
They loved the mountains but cycling them was very tiring. They headed seaward to the sandy coast of Peru for a break, then took a tour to the Inca city of Machu Picchu. They hired gear for a five-day tramp in Peru's Cordillera Blanca range and then went on to Ecuador, where it was the rainy season.
Cycling was okay because it only rained after 4pm every day, when they could be off the road, but the views were often obscured by cloud. In Colombia they were offered drugs but said no, because they had been told there were many undercover police. Lyneke did try coca leaf tea, said to help with altitude sickness, but can't remember any effect.
They flew with their bikes to Central America and spent Christmas 1997 in Panama. It was winter, so not too hot. They found Costa Rica easy because it was very western. Guatemala was politically unstable and they cycled main roads with another couple for safety.
Then they headed north through Mexico. It was very beautiful but the roads were scary.
"The roads that did lead somewhere were busy and the drivers were probably about as bad as New Zealand, or worse."
They carried on north through the central United States, taking in the Grand Canyon and famous parks like Yellowstone and Grand Teton. In Utah it snowed in the middle of summer.
"Utah was so stunningly beautiful that you got tired of red rocks after a while. Sometimes it's good to have a little bit of not-so-stunning in between," Lyneke said.
Across the border in Canada they took a kayak trip in Wells Gray Provincial Park.
Heading back toward New Zealand they did a bit of cycling on the island of Bali. That was especially exhausting because of the heat and because they avoided the busy coastline and pedalled inland where it was steep. A two-month circuit in Australia around the New South Wales and Queensland border was a bit monotonous and rounded out Lyneke's four-year journey.
She said it was an amazing experience overall.
"There were hard times, quite a lot of them. But there were also a lot of really good times, like reaching a summit in South America."
Being back home took a bit of adjustment.
"It felt quite weird getting furniture, because you're so used to being able to pack everything up every day. For a long time I had a problem with planning ahead, because we were always so used to planning day to day."
She got a job as a postie, so was able to keep bikingand has done one big European cycle trip, but it wasn't as much fun on her own. Lyneke's not pining to do it all again but does get flickers of nostalgia when hosting touring cyclists as part of the Warm Showers network.
"When they tell me their stories and I tell them my stories, then I do get a little bit excited again."