Opportunity has been elusive for Bevan Small in making a case for higher cricketing honours but not because he failed to recognise it dressed in overalls.
That's because Small isn't allergic to hard work. It's simply because injury has plagued the Manawatu cricketer's on-again-off-again career since he entered the realm of domestic cricket in the summer of 2011-12.
"In the past, as much as other young bowlers do, I've had my fair share of injuries," says the 26-year-old Central Districts player before he helps the Stags resume their unblemished campaign against the Canterbury Kings in round two of the one-day Ford trophy campaign at Pukekura Park, New Plymouth, tomorrow.
Hopefully, Small will be able to maintain an injury-free season after staying in the Heinrich Malan-coached fold since early this year.
"The body is starting to come good and, hopefully, there's a few good years left yet," says the right-arm, medium-fast merchant who has been based in Napier for the past 18 months to work with the stable of coaches and trainers to rebuild his constitution.
His last appointment with a surgeon was in the summer of 2016-17 when he underwent a shoulder reconstruction.
The Freyberg Cricket Club premier player lives with a group of Stags at the home of former captain William Young, who is on the NZ A tour of the United Arab Emirates with Malan.
Small has been around the domestic block a few times and does feel like a veteran with the recent influx of youngsters.
"We have quite a few fresh faces in the group now and all the older guys I started off with when I was a teenager have now all moved on," he says with a laugh.
The rash of CD players on Black Caps and NZ A duties has paved the way for the young and restless to slot in nicely.
"Everyone backs their abilities and their skills set so they seem to be doing their jobs nicely so far."
Small doesn't see the progression from domestic to higher echelons as a rite of passage simply because he was in the New Zealand under-19 team.
"Dane's been a standout player in domestic cricket for the last few seasons and earned his call-up so you've just got to keep putting on consistent form out there," he says of first-choice wicketkeeper Dane Cleaver, who this week was called to the NZ A tour as back up for injured Tom Blundell.
"So all those guys who are out there with him have been consistent performers for years now and have earned their trips away so, hopefully, they'll take their opportunities to do well."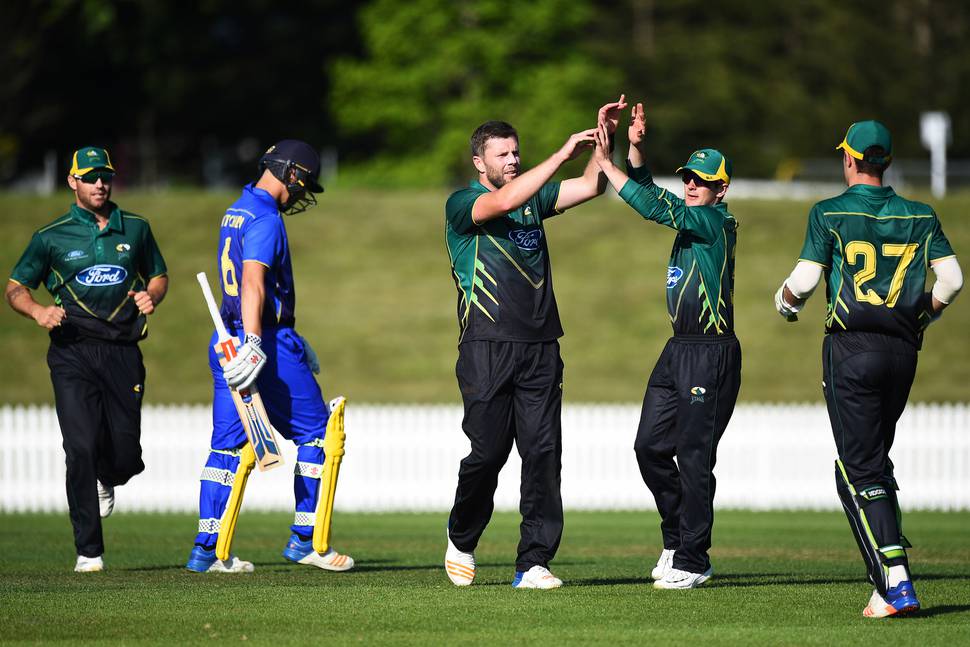 Those who have earned their stripes include Cleaver, Young, George Worker, Blair Tickner, Tom Bruce, Seth Rance, Adam Milne and test debutant-in-waiting Ajaz Patel.
For Small, it has been a career of frustration and setbacks in a quest to string games with a body that hasn't played ball.
He doesn't have to look too far for inspiration in the mould of swing bowler Rance, who has exorcised his share of injury demons to be proudly still representing the Black Caps at 31.
"He's bowling better than ever, so 26 is still bloody young and you still have plenty of years left to perform," Small says.
"Bowling hasn't come easy as it did back in the day but I'm always working on it."
He expects the likes of Andrew Ellis to give the visitors more oomph.
The quaint but picturesque Puke Park remains seductive for CD with its dimensions for home advantage.
The weather gods also seem to promise to deliver.