As arrogant as it may come across, the result of the basketball match against the Auckland franchise team was never in doubt for the Hawks in Napier tonight.
Predictably the Taylor Corporation-sponsored Hawke's Bay flagship side appeared to toy with the 2 Cheap Cars Super City Rangers before grinding them down 92-68 at the Pettigrew-Green Arena, Taradale, in week 13 of the Sal's Pizza National Basketball League encounter.
For perhaps Final Four reasons, it wasn't easy to draw too many conclusions from the game, which came across almost in the mould of a mid-week scrimmage but, promisingly, in favour of the Hawks.
The fourth-placed Hawks appeared to be playing a cat-and-mouse game where the boys were rolled on and off after chancing their arms without breaking too much into a sweat.
For that reason, near 10-point margins scores were whittled down to five or six in a yo-yo affair although some credit must go to the Jeff Green-coached Rangers for not dropping their shoulders throughout the game.
"We have to try to improve every game for the playoffs ... when we reach that point we're playing our best basketball," said veteran guard Everard Bartlett who scored 15 points for his troops.
"We blew it out there at the end but we were only up by 10 throughout the game so we were sort of turning over the ball. So we need to tidy that up, we'll show signs of a championship team and that'll be good."
The Hawks are now nine wins and six defeats as they hope to secure a playoffs berth for the first time since 2014.
Bartlett agreed it was a good sign that several players were posting double-figure statistics and that's what would make the Hawks a difficult team to stop.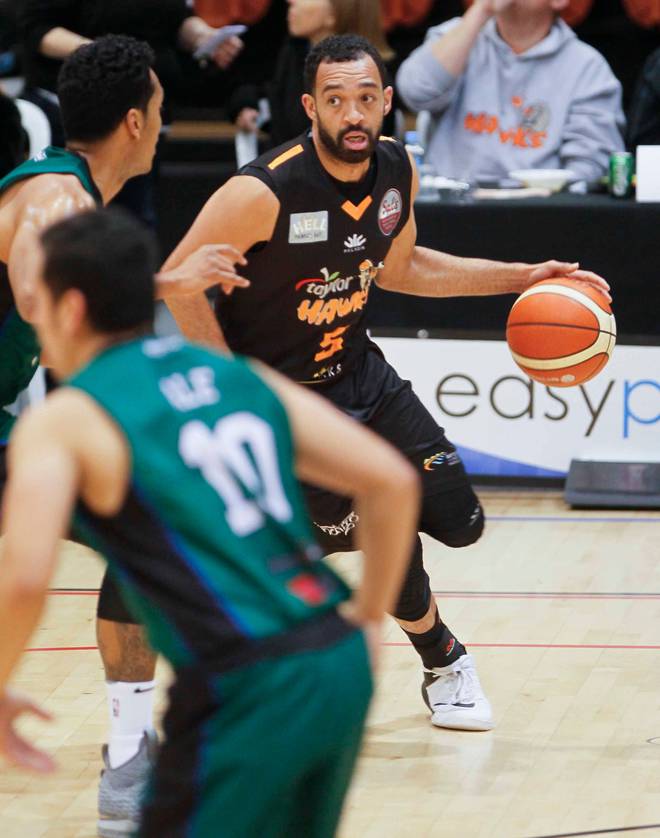 Rangers small forward Marcel Jones scored a match-high 25 points and added 18 rebounds for a double-double while Hawks centre Angus Brandt carried on his habit with 11 points and 10 rebounds.
Rangers forward Dominique Kelman-Poto, who is touted as the NBL rookie of the year, added 20 points.
The Zico Coronel-coached Hawks host the Go Media Manawatu Jets at the PG Arena on Sunday in this week's double header.
Celebrating his 60th birthday (players were welcome to wish him a good bash but not mention any numbers), Green said the Hawks weren't good enough to win the NBL crown.
"They'll make the Final Four but they won't win because they won't be good enough," he said, adding Cigna Saints or SIT Zerofees Southland Sharks will snip the nets off the rims.
The Dillon Boucher-skippered Rangers started with a hiss and a roar, streaking to a 6-2 lead before a timeout call saw the hosts regather to return for a blitzkrieg that saw them leapfrog the Rangers to 13-6 before the Hawks closed the account with a 21-14 statement.
That Coronel elected to rest captain/point guard Jarrod Kenny spoke volumes.
Ominously the second spell started with US import Jamie Skeen dropping a bomb from downtown after swingman Ethan Rusbatch crawled like a commando to regather possession in the attacking circle.
Veteran point guard Lindsay Tait shook his head after animated discussions with the umpires on matters of interpretation pertaining to their calls.
The Aucklanders came back strongly to narrow the score to a single-digit deficit but
Hawks veteran shooting guard Bartlett sank a three-pointer on the buzzer as the fans counted down the dying seconds for a 44-37 lead into the locker rooms.
However, the teams shared the spoils, 23-23, in the second quarter although Coronel wasn't shy to go four-deep to his bench.
With 4:16 to go, the Hawks led 34-25 as both sides huddled for another white-board session.
Noticeably Hyrum Harris and Mitchell Newton got more game time tonight after Tall Blacks coach Paul Henare named them, with Rusbatch, in the New Zealand Select team to tour China. The pair certainly endorsed their coach and team's confidence to justify their selection.
The third and final quarters went through the same ebbs and flows with diminutive bench player Nick Fee conspicuous in his court time of five minutes and six points.
Jarrod Kenny, Rusbatch, Skeen, Harris and Newton all got into double figures for the collective cause.
Green said it was a disappointing season for the Rangers defensively and that was obvious tonight.
"Once again we showed we can be in the game but we have defensive lapses and that's sad because we have someone like Dillon who's such a defensive expert he's frustrated the other guys aren't good enough to stay with it mentally," he said after their third loss to the Hawks this season.
The Rangers, he said, lacked quality because of a conscious decision to save money.
"You get what you pay for and that's what we've done and that's a fact of life."
Green said he had a rapport with Boucher and Tait, who recently won a battle over cancer, from the time they were young and together as NZ Breakers.
"It's sad for them to go out on a note like this but that's the way the sport is."
Bartlett said he had had the honour to play alongside Tait and Boucher in Tall Black singlets.
"Their careers speak for themselves. I believe they'll be going down the path of becoming hall of famers in the sport for what they have done not only on the court but off it as well," he said, pleased to see the pair forging respectable careers in coaching and management roles.
Result: Hawks 92 (Everard Bartlett 15pts; Jarrod Kenny 12pts, 6 ast; Angus Brandt 11pts, 10 reb; Ethan Rusbatch 11pts, 8 reb; Jamie Skeen 10pts, 7 reb; Hyrum Harris 10pts, 5 reb; Mitchell Newton 10pts) Rangers 68 (Marcel Jones 24pts, 18reb; Dominique Kelman-Poto 20pts, 6 reb; Lindsay Tait 11pts, 5 reb).
Quarters (Hawks first): 1st 21-14. 2nd 44-37 (23-23). 3rd 60-50 (16-13). 4th 92-68 (32-18).