So what comes first for the Havelock North Wanderers - goals or first points?
After three rounds in Ultra Central League, the Building King-sponsored villagers are still in the hunt for their maiden goal and points in their debut season.
Unlike fellow winless newcomers Integration Works Waterside Karori, who have found the net six times, the youthful Ethan Dent-captained Wanderers are patiently waiting for the drought to break in the premier winter soccer league.
Read more: Football: Napier City Rovers recruit outside province to bolster player base for winter
Football: Western Suburbs burst Napier City Rovers bubble in Park Island sizzler
Football: Rovers life member Colin Stone ties knot with Dr Alison Day under goal posts
"I think last weekend we played quite well but, unfortunately, we just haven't been able to put the ball in the back of the net to date," says Dent before they face Lower Hutt City FC in a 2.30pm kick off at Fraser Park Turf, Wellington today.
Last-placed Havelock North, who gained promotion as Lotto Federation League losing finalists after Team Taranaki after bailed out due to a lack of players, fought gallantly against Miramar Rangers at Guthrie Park in the village last Sunday but lost 2-0 despite several opportunities to at least score.
Dent reckons they probably need to be more clinical at the coal face and embrace a sense of selfishness as a collective.
"A number of people have had half chances and got opportunities to score so, as a team, we probably need to be a bit more selfish in and around the 18-yard box and, hopefully, that elusive goal will come."
The 28-year-old marketing co-ordinator with Unison sees the goals or points first as a chicken-and-egg argument, considering a scoreless stalemate will eke out a point.
"Obviously football is about scoring goals and if you're not doing that then you won't win games but to get a point on the board we do need to start scoring."
He reiterates his post-match remarks from last Sunday that if they aren't creating opportunities to score, only then will it be a matter of concern.
As a centre midfielder, Dent agrees the onus is on those who stoke the fire in the engine room to producing the sparks required to enable the foragers to score.
"We need to get a bit more forward to get underneath our centre forwards so, hopefully, they can chip in some goals eventually in the season," he says of fellow centre mid Vinnie MacKirdy, but emphasises it's a team game where anyone should deliver goals.
"I think we have that quality so it's just a matter of keeping the belief and that goal will eventually come."
Conversely, they have conceded 10 goals compared with Waterside Karori's 14, but he reveals the villagers have gone back to the drawing board each round to evaluate their defence with coach Chris Greatholder.
He thinks the defence kept its shape well against Miramar considering they were down to 10 men early in the second half.
Lower Hutt are seventh on the 10-team table with a draw, although their game against Wellington United was postponed last weekend.
Dent says the hosts aren't the force of yesteryear so coming away with something will be high on the agenda today.
"We'll go down there thinking we should get three points if we play well," he says, although it'll be their first game on an artificial turf.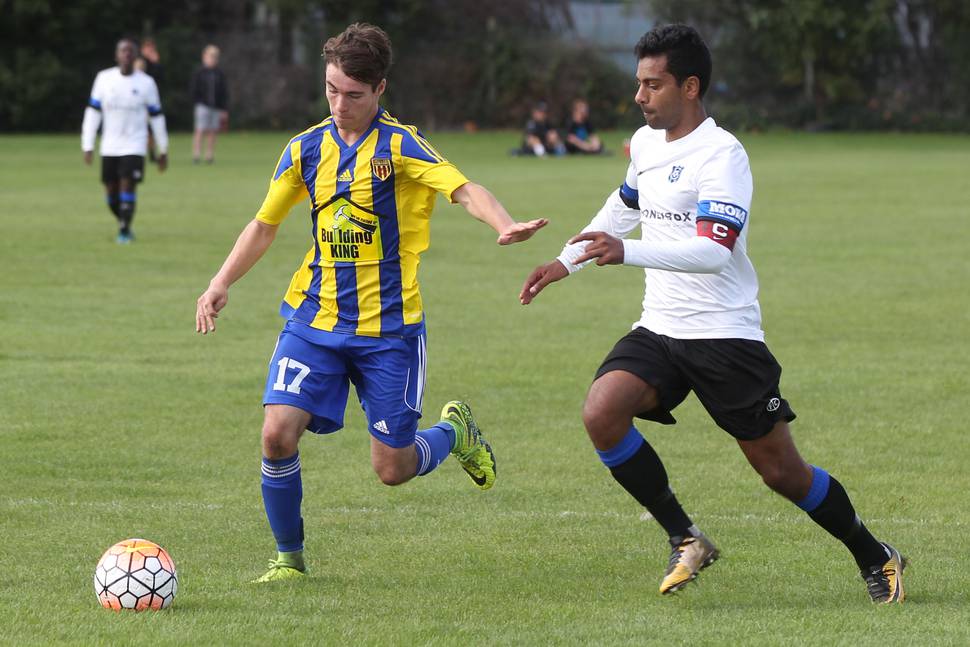 Havelock North, he says, are looking to promote young talent in the mould of Liam Shackleton as well as Guy Reeves who has stepped up to the level when asked with aplomb.
"James Barclay is putting up better performances each week so, yes, just keep the faith a little bit.
"We haven't got results just yet but we're a pretty proud group and we're gpoing quite well and we're excited to be in this league."
It is imperative for fans, he stresses, to keep believing in them and not write them off just yet.
Dent says the Wanderers have a few points to prove but mindful they have come from a league where they dominated to a higher echelon where it can be brutal.
"If you're not prepared to roll with the punches and back up game after game then you'll be left behind so we're certainly on a learning curve but we're enjoying the ride.
"For us it's all about the journey and experiencing the top level one can play in winter."
He says Havelock North will be there or thereabouts at the end of the season.
■ WANDERERS: 1 Shaun Peta (GK), 2 Chris Greatholder, 4 Campbell Whitworth, 5 Guy Reeves, 6 Vinnie MacKirdy, 7 James Barclay, 8 Ethan Dent (c), 10 Ben Foxall, 11 Harry Fautley, 12 Kenneth Willox, 13 Oliver Chapman, 14 Kurtis Maney, 15 Sam Waddington, 16 Jackson Ralph, 17 Liam Shackleton, 18 Stefan Kitching-Nicholson, 22 William Kimber (RGK).
Coach: Chris Greatholder.
Asst coaches: Dion Adams, Bruce Barclay.