Wellington Scottish have made it three titles in a row in the senior men's relay at the New Zealand Road Relay Championships, while North Harbour Bays women made it two in a row.

It was a dominant display by the Scottish team in Rotorua on Saturday, with Olympic 1500m representative Hamish Carson taking the lead on the first leg of seven and the next six team members defending the it to the finish.

Nick Horspool, winner of the 2016 Rotorua marathon, bought the team home in 3 hours, 21 minutes and 23 seconds, more than three minutes ahead of Pakuranga and with Wellington Harrier Athletic in third place, another four minutes back.

It was the Scottish club's eighth senior men's title since they won their first in 1999. Carson, Daniel Jones and Horspool had the fastest lap times for Scottish.
Horspool said he was "absolutely ecstatic" about the result.
"It's nice to keep up the winning streak. I was team captain and with the anchor leg there's always a bit of pressure to maintain the lead, but everyone else did the hard work on the other six laps and I just had to hold it.
"It's a great course, I won the Rotorua Marathon in 2016 so I'm familiar with the course and I have good memories here. It's got a bit of everything, some flat, some hills, so you have to think about your lap selection and put runners for their strengths on each different lap," Horspool said.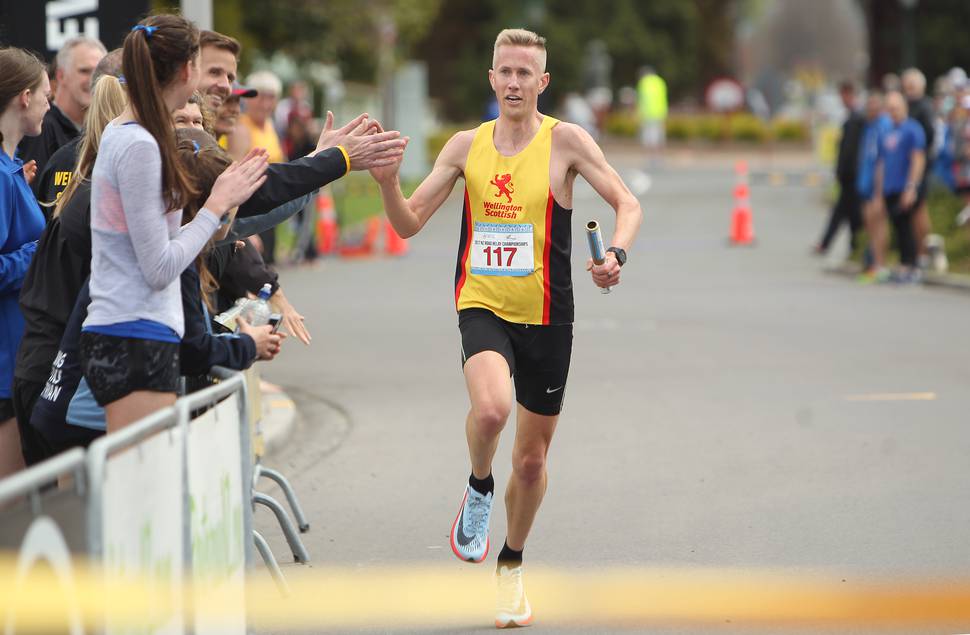 North Harbour Bays repeated their win from last year in the women's race capturing their ninth senior title. Such was their dominance, that six of the seven runners had the fastest laps for the grade.

Bays won from the Hamilton City Hawks team by a big margin while University of Canterbury faded at the end to finish third.
Lydia O'Donnell, who ran the final leg for North Harbour, said she was not a part of the team that won last year, so it was nice to return and help get the win.
"It's the first time I've done it on this course - there was a bit of pressure, we obviously always want to win gold.
"I loved [the course], I've run in Akaroa down in Christchurch every year, so being up here is different, a different course, and it's actually beautiful, we were lucky to get the sunshine. It's probably one of the best club running events of the year, it's always good fun, it's a good social event and it's run really well," O'Donnell said.
Papanui Toc-H junior men's team from Christchurch were another team to retain their title, with strong runs from Mitchell Small and Goitem Gebremedihin. North Harbour Bays and Auckland City Athletics filled the minor placings.

Hamilton City Hawks were clear winners in the junior women's relay with the fastest lap times coming from Aimee Ferguson, Grace Ritchie, Samantha Corbett and Emerson Deverell. Wellington Harrier Athletics finished eight minutes back and Auckland City Athletics were third.

Hawks last won the junior women's title in 2000, and the victory was a fitting result for manager Don Willoughby who guided the team 17 years earlier.

Hamilton City Hawks took out the overall top club title thanks in large to their outstanding showing with the women's relays, winning the junior and masters races and finishing second in the senior race. Wellington Harrier Athletic and Wellington Scottish were the next best clubs at the championships.

New Zealand Road Relay Championships results
Senior Men, 7 lap, 62.5km:
1 Wellington Scottish 3:21:23, 2 Pakuranga 3:25:14, 3 Wellington Harrier Athletic 3:29:18.
Senior Women, 7 lap, 62.5km:
1 North Harbour Bays 3:56:57, 2 Hamilton City Hawks 4:09:23, University of Canterbury 4:13:32.
Junior Men, 6 lap, 46.3km:
1 Papanui Toc-H 2:29:21, 2 North Harbour Bays 2:31:19, 3 Auckland City Athletic 2:31:52.
Junior Women, 6 lap, 46.3km:
1 Hamilton City Hawks 2:56:50, 2 Wellington Harrier Athletic 3:04:03, 3 Auckland City Athletic 3:11:58.
Masters Men 40+, 7 lap, 62.5km:
1 Wellington Scottish 3:41:22, 2 Wellington Harrier Athletic 3:44:14, 3 New Brighton Olympic 3:45:16.
Masters Women, 7 lap, 62.5km:
1 Hamilton City Hawks 4:35:51, 2 Wellington Harrier Athletic 4:4:41:58, 3 Olympic Harriers 4:42:43.
Open Masters 50+, 7 lap, 62.5km:
1 Wellington Harrier Athletic 3:57:26, 2 Auckland City Athletics 4:06:54, 3 Hamilton City Hawks 4:08:02.
Open Masters 60+, 6 lap, 46.3km:
1 Nelson 3:10:04, 2 Auckland University 3:25:09, 3 Wellington Harrier Athletic 3:27:13.

Top Overall Club:
1 Hamilton City Hawks