The Waioeka Gorge is expected to be closed for the rest of the week and there is no firm date for its reopening after a rockfall blocked the vital East Coast route.
The slip cuts off vehicles heading north on SH2 from Gisborne unless they take State Highway 35, a five or six hour journey around the East Coast to Opotiki, or head south via Napier — which can add up to three hours to get to the Napier-Taupo turn-off alone.
Contractors will use helicopters with monsoon buckets to try to shift loose material on the slip face.
If that does not work, then explosives could be used.
This is the exact approach used in early 2012 when the gorge was closed for a month.
The NZ Transport Agency's Mark Owen said crews were doing everything they could to re-open the road but it was a difficult environment.
"Particularly in this area, where there's a long gorge, lots of high, steep mountains or hills next to the road or river — it's a very challenging road environment," he said.
Owen said safety of the crews removing the material and that of the public was paramount.
Building a new road in the area would be a challenge, given the length of the network and terrain, he said.
LeaderBrand CEO Richard Burke, whose company needs the route to get fresh produce out of the region, said the bigger issue was infrastructure.
"I'm not having a go at anyone but we have to take some leadership and understand how important this link is.
"What if what happened in the Manawatu Gorge happens here and it becomes impassable?"
"What's the effect on Gisborne? We've got to show some leadership."
Burke said if Gisborne as a region wanted to prosper, the basic infrastructure had to be right first.
"This medium and short-term plan of fixing slips and monitoring them is too destructive for businesses and people.
"If you want Gisborne to be successful, you've got to show it a bit of love."
Burke said the repeated closures affected business "quite a lot".
"It's not about cash — it's about the impact on people. We have commitments to customers to meet.
"The alternative route on SH35 is not really possible, so we've got the Napier-Taupo connection.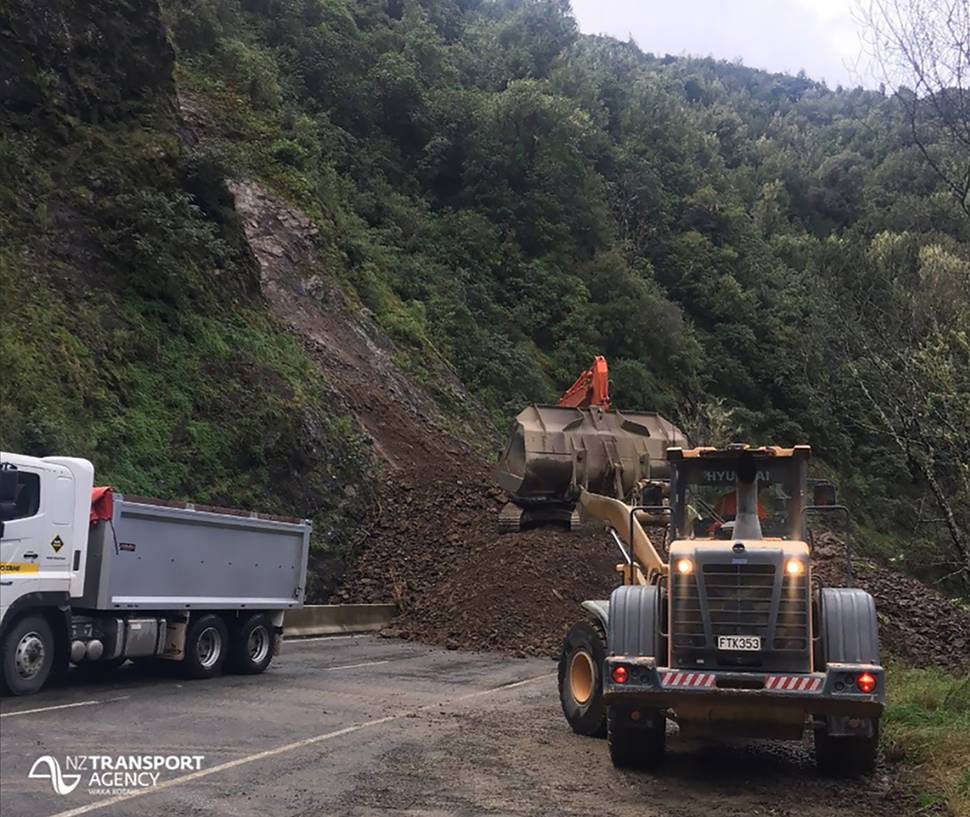 "It creates a lot of disruption for a start and has quite an effect on people's lives.
"We will carry on doing business, we won't stop, but we've got to alter the business plan."
The gorge closed for a month in March 2012, and for nine days last year.
Freight company powner Steve Weatherell said the closures affected his truck company "hugely. It's thousands of dollars a day and a whole lot of kilometres."
Having SH35 as an alternative route was "almost laughable" for trucks.
"That's an extra five to six hours."
Weatherell said the only alternative was going via Napier, which added at least three hours and a whole lot of kilometres.
"It wouldn't take much of a weather event to have problems south on SH2 as well."
As a freight company owner, all Weatherell wants is a road network to be reliable.
"That's all we can ask for, the thing to stay open. That's what we want."
In the good old days, Weatherell said a dozer would drive over the slip and keep the road open — but for the past 10 years it was all about health and safety.
"I was driving on Friday before lunchtime going north. You could see it was about to go, and I thought 'this is going to go again shortly'."
It did, and Weatherell had to drive via Napier to get home.
Former director of the New Zealand Geological Survey, Ian Speden, said in 2012 that the Waioeka Gorge was always going to be prone to large slips, especially after heavy rainfall.
"The rain penetrates the cracks, adds weight to the overlying material, lubricates the joints and once a section becomes saturated, it just shears away. "
Bay of Plenty NZTA systems manager Rob Campbell said there was no clear idea about when the gorge would reopen.
"Around 7000m3 of material needs to be removed and there is still a lot of smaller rock falling. Geotechnical engineers are assessing the stability of the site and contractors are working as hard as they can get to remove all the fallen debris as soon as possible.
"Until further assessments are completed, it is too early to predict when the road will be able to re-open to the public. "
- Gisborne Herald