The contestants of Junior Master Chef cooked up a storm in the weekend and made it a tough job for the judges, with four teams ending up in the final instead of just two.
The winners were announced at an awards ceremony on the Lakeland Queen on Sunday night, with Tom Parry and Leo Schweizer (Burnt Toast) taking out the winning spot.
The other three teams in the final were The Kumara Gods, The IncrEdibles and MJ's Kitchen, with Olivia Schweizer, 13, and Skye du Plessis, 13, of The Kumara Gods being the runners-up.
The winners received a Junior Master Chef Rotorua trophy and a $2000 cash prize, as well as cooking one night at Giovanni's Restaurant.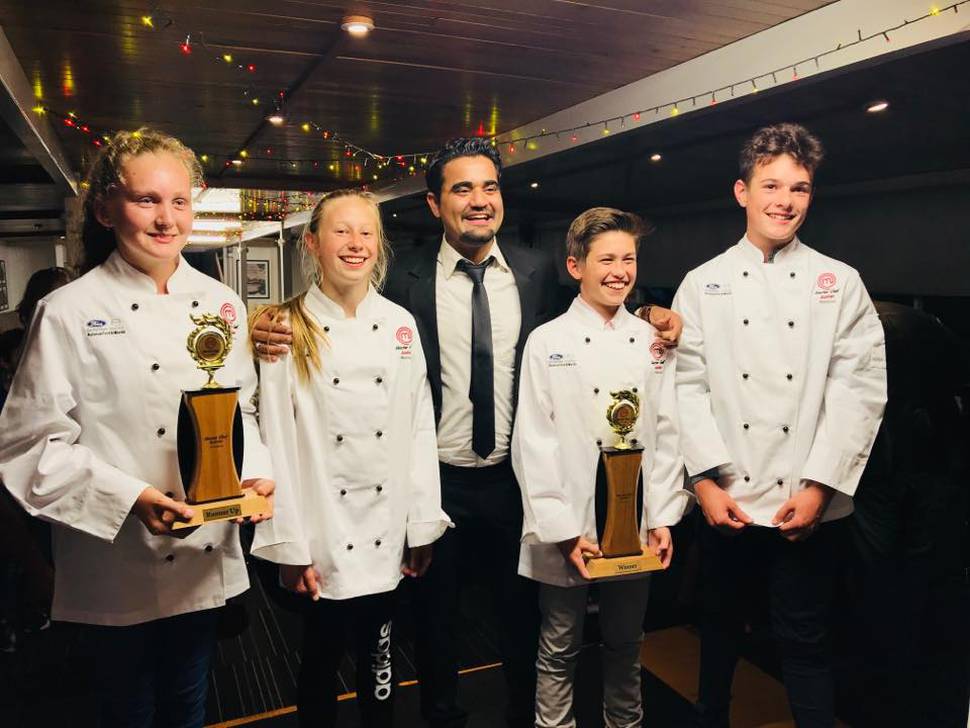 The runners-up received a trophy and a $500 cash prize and will also cook at Giovanni's Restaurant.
At the ceremony, organiser and local chef Deep Thakur also made the special announcement that the winners and runners-up would be co-authors in his next cookbook.
The competition took place from Friday to yesterday at Toi Ohomai Institute of Technology.
On Friday contestants faced a mystery box challenge and a gourmet burger challenge, then on Saturday tackled a breakfast dish and classic pasta dish.
On Sunday the finalists had to whip up a three-course meal.
The judges included Lakeland Queen owner Terry Hammond, Lakeland Queen executive chef Marcus Dietzel, and Freelance Catering owner and Wai Ora Spa former executive chef Oat Daman.
Leo Schweizer, 13, said when their name was called out as the winners he was stoked and it felt like a big relief.
He said he was looking forward to cooking in Giovanni's Restaurant, though it would be quite challenging duplicating the dishes for a large number of people.
Tom Parry, 13, said it felt amazing.
"I just can't really believe it still. I had to pinch myself."
He said this was the first of many things and cooking at Giovanni's would be "super cool".
"I can't wait to see how we do, especially with the chocolate spheres."
Mackenzie James, 11, and Jasmine McCashin, 11, of MJ's Kitchen said the competition had been challenging and fun at the same time.
Jasmine said although it had been tiring doing the competition all weekend it was a great opportunity to learn life skills.
They felt proud to be in the final, and said one of the parts they had found challenging was doing the entree for their three-course meal.
Judge Marcus Dietzel said the dishes the children had produced for them had been incredible.
"The skill level is really high of the kids."
Judge Terry Hammond said it had been an amazing journey to witness.
"Some of the food coming out of this kitchen has been astonishing. What they've produced is just amazing and it's getting harder and harder to judge."
He said a memorable moment for him was when a 10-year-old contestant said, "We need to clean our bench because we don't want cross-contamination".
Judge Oat Daman said a highlight for him had been that there was so much character in the competition.
"They help each other, they help the opposition teams to succeed and compliment each other."
Organiser and local chef Deep Thakur said they did not expect the competition to be as tough as it was.
He said he would like to do another Junior Master Chef competition, and maybe a bigger one on a Bay of Plenty scale.