Sustainability and community will be highlighted in a big way on March 23 when New Zealand's first rescued food festival will be hosted in downtown Tauranga.
The event is being held to raise awareness of waste and fundraise for local charities Good Neighbour and Te Aranui Youth Trust.
Ambassador for the event is Black Ferns Sevens rugby star and Bay local Niall Williams.
The Food for Thought Festival is being co-ordinated by Little Big Events manager Rachelle Duffy, and will be held at the container village at Our Place on Willow St.
The event sponsor is Mount Maunganui company Synergy Technologies, owned by technical consultant Andrew McKean and business analyst Rachel McKean, who as well as being technology gurus are passionate about social justice issues.
In a celebration of rescued food and our community, there will be competitive cook-offs, food stalls, market items to purchase, live music, and fun for the whole family.
The food rescue concept is simple, it is about food that is good enough to eat but not good enough to sell.
The Good Neighbour team processes about 10 tonnes of this food each week, with hundreds of volunteers helping. Although it would have been thrown away, it is worth
about $2.5 million, says trustee Lavina Good, who is co-owner of New World Brookfield.
"The food is redistributed to 55 local community organisations that support people in need."
Good says while Good Neighbour thrives on volunteers, fundraising is also vital.
"Jackie and John of Good Neighbour run a passionate team of volunteers who are all energetic and love to do what they can for the community to make Tauranga a better place, but we also need fundraisers to help the team do what they do."
The Good Neighbour Trust was started five years ago by Campbell Hill. Shortly after Jackie, John and Lavina started the Food Rescue arm of Good Neighbour.
The food comes from a variety of sources including markets, supermarkets, distributors, cafes and manufacturers.
"Not only does the food we give away feed about 6000 people a month, it also helps create community by people sharing food together. It reduces costs for the organisations as well, so they have more to spend on their core services," she says.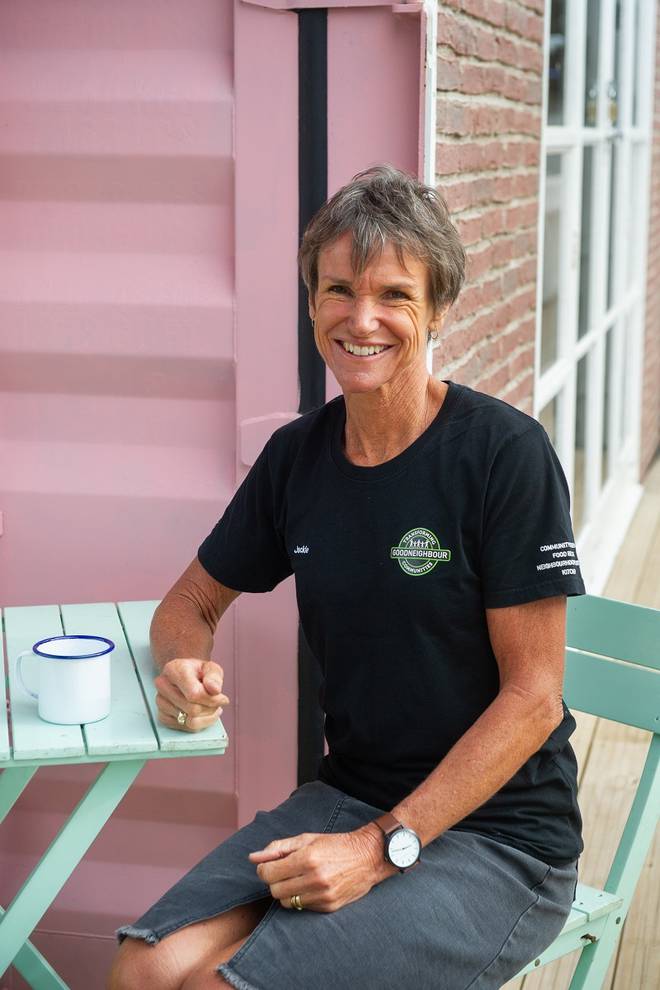 "We wanted a fundraiser that promoted the values of our two organisations. Something family-friendly, but also to challenge people to think about sustainability. It is an opportunity to showcase local talent, chefs, restaurants, and businesses as well," Paine says.
Our Place was chosen as the location for the festival because the team loves all that Rachelle and Chris Duffy have invested in the Tauranga community.
"They have changed the face of Tauranga with events that promote community-building fun. Rachelle is an amazing event organiser, so she was the obvious choice to manage our event. We loved the set-up for the coffee festival, so know that it will work as a venue."
On the day, there will be six pop-up kitchens, each sponsored by a corporate organisation whose staff will be mentored by one of Tauranga's top chefs.
Their brief is to produce a street-food item totally from rescued food, enough to feed 400 people. They will also be supported by Peter Blakeway's student chefs from Toi Ohomai.
The street food from the kitchens, smoothies, jams, chutneys and soaps can be purchased for $5.
Te Aranui chairwoman Katy Martley says she is pleased to again join forces with Good Neighbour.
"We worked great together raising $100,000 from our last venture, the annual Ladies' Long Charity Lunch. This one will be even bigger and better as it involves the whole community. Good Neighbour brings the community together, and Te Aranui is focusing on the next generation. Food for Thought is something everyone should get behind and support," she says.
Te Aranui Youth Trust
Te Aranui Youth Trust empowers young people in the Western Bay of Plenty to engage with their community and make self-aware and conscientious life choices.
Through the delivery of Te Aranui Youth Trust, Blue Light and Police Youth Development programmes, Te Aranui Youth Trust provides a pathway to ensure local youths are positive, steadfast, well-adjusted members of the community.
Te Aranui Youth Trust's aim is to build courage and resilience in these young people so they can resist negative influences and follow a positive path. In developing self-awareness and leadership potential, youths begin to thrive.
Good Neighbour Trust
Good Neighbour Trust provides practical opportunities for people to support one another so lives and neighbourhoods are transformed.
When the Food Rescue arm of Good Neighbour started it was run out of the back of Jackie Paine and her husband John's car. There was only one supermarket and two charities on board with the food rescue.
Today there are hundreds of volunteers working out of Good Neighbours headquarters in Burrows St, Tauranga, and there are 13 supermarkets in the city that provide Good Neighbour with food that was destined for the rubbish bin.
About 10 tonnes of food is processed each week, worth about $2.5 million, and given to 55 different charities to distribute throughout the community.
Food rescue is not the only focus of the trust. The team at Good Neighbour are responsible for building neighbourhood gardens and projects, collecting firewood and bagging recycling kindling to families in need.
Our Place Tauranga
Our Place is a retail and eatery precinct at 91 Willow St, Tauranga, made out of re-purposed former shipping containers.
Vendors include boutique retailers such as Paddington Store, Mane, HZP + & Co, JS Ceramics, Myah Closet and Artstori.
Food vendors include Morepork BBQ, Japanese Quarter, Johney's Dumpling House, East Coast Icecream and Hello Espresso Bar.
The village is part of the revitalisation of Downtown Tauranga, and runs free events, wellbeing, art and music gigs for the community.
It was established by the owners of Little Big Events, Christopher and Rachelle Duffy, who organise events in the Bay of Plenty