The detective at the head of an investigation that dismantled the region's biggest drug ring has a message for those dealing methamphetamine: "You will be caught."
Detective Inspector Mike Foster's words come after the kingpin of a $2.5 million meth bust was jailed for 13 years with a minimum non-parole period of half the sentence.
Hastings man Shane Thompson, 31, was at the centre of an organised crime network taken down by a six-month police investigation coined Operation Lariat last year.
The investigation revealed he supplied 4.2kg of meth at both wholesale and retail level between November 2016 and September 2017.
With a gram of meth worth an estimated $700-$800 in Hawke's Bay, the amount he supplied could have brought in well over $3m.
Foster said police were already seeing less methamphetamine in the region as a result of the bust.
"We know, because Hawke's Bay is a reasonably small place, when there's a flood of methamphetamine out there and we haven't seen that flood since this enterprise was demolished."
Operation Lariat culminated in the arrests of 13 people after police executed search warrants at several addresses in September last year.
On top of the meth Thompson had supplied, police found a further 2.6kg for supply at the home of his right-hand man, Petera Gamlen, who stored bulk quantities of cash and meth for him.
Police also found more than $130,000 in cash at Gamlen's house and a further $41,000 at Thompson's house.
Thompson ran the operation from his two cellphones, constantly fielding texts and calls from lower level suppliers who referred to each other by nicknames and used codes for quantities and meeting places.
He arranged for others to make deliveries and receive cash, and police surveillance revealed turnover was high.
In one conversation Gamlen told Thompson he had more than a kilogram of meth ready.
In another conversation between Thompson and a second person Thompson told them he had 1.68kg ready.
It was believed Thompson sourced the drug from Auckland where he spent a lot of his time.
Last year it was revealed he was a high-stakes pro gambler who went by the name of Shane Tamihana at New Zealand's richest poker games.
At sentencing in the Napier District Court yesterday defence lawyer Eric Forster said Thompson's offending may have given him the funds to fuel his gambling habits.
"What's really striking about Mr Thompson is he's a talented individual.
"If he puts his mind to something he's focused on it and does very well. He's competed at poker playing and done particularly well."
He submitted his client's minimal criminal history, largely driving convictions, indicated he was capable of reforming.
Crown prosecutor Clayton Walker submitted a starting point of 18 years' imprisonment and said a minimum jail term was warranted given the seriousness of the offending.
Judge Geoff Rea began his sentencing by acknowledging Thompson was not addicted to the drug, and didn't even use it.
"It has to be said that the effects of the introduction of methamphetamine into this community as a result of you being at the head of this must have been significant and your overall profits would have been considerable."
He said the Crown's starting point was "generous" considering the devastation methamphetamine caused the Hawke's Bay community and those throughout the country.
"All that put together makes you at least the most comprehensive meth dealer Hawke's Bay has ever seen and it puts you well up there on a national scale in the last 10 years as well."
He sentenced him to 13 years' imprisonment with a minimum non-parole period of six and a half years.
Excited whispers erupted from the public gallery as he was sentenced; his supporters making gang hand gestures and yelling "Love you!" as he was taken away.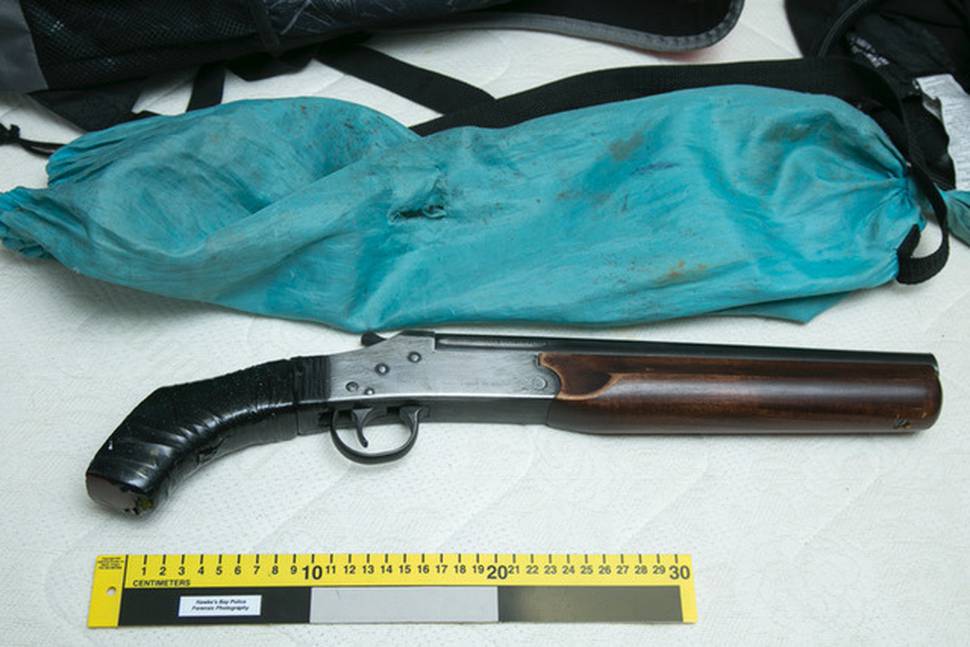 Thompson's right-hand man, 30-year-old Petera Gamlen, was also jailed yesterday.
He was sentenced to 11 years and three months with a minimum non-parole period of half the jail term after pleading guilty to supplying meth, possessing meth for supply and the unlawful possession of eight firearms.
Thompson's girlfriend Nerrisha Marie Margaret Grant, 30, narrowly escaped a jail term and was sentenced to 12 months' home detention after pleading guilty to supplying meth.
A number of others caught up in Operation Lariat are still before the court.
Foster said millions of dollars had been taken away from organised criminals and Thompson's jail term sent a clear message that meth would not be tolerated.
He had just one message for those dealing the "deplorable" drug in Hawke's Bay.
"Methamphetamine destroys people, families and has a big effect on the community.
"These people didn't care about the devastation it causes the community and my message to anybody who wants to deal in methamphetamine is you will be caught."