He thought he'd be a "shoo-in" for a position teaching English in Japan, but Elliot Copeland missed out and instead found himself in the thick of a humanity, war crimes and genocide trial.
Now a lawyer in Whanganui, from February to August 2016 Elliot worked as a United Nations intern on the Khmer Rouge Trials in Cambodia's capital Phnom Penh. The experience was an eye-opener, with a stark contrast between the often chilling work and the beauty of the country and its people.
The trials are being conducted by the Extraordinary Chambers in the Courts of Cambodia (ECCC), a special Cambodian court which receives international assistance through the United Nations Assistance to the Khmer Rouge Trials (UNAKRT).
Elliot's internship was in the Office of the Co-Investigating Judges (OCIJ) whose role is to investigate alleged war crimes, crimes against humanity and genocide in the period from April 17, 1975 to January 6, 1979 and submit a closing order stating whether or not a case will proceed to trial.
Despite being a trial for genocide, it was an exercise in balance within a legal system based on French civil law, Elliot says.
"The OCIJ sits between the defence and prosecution," Elliot said.
"They are responsible for collecting evidence as to whether facts alleged by the co-prosecutors constitute crimes within the ECCC jurisdiction and to determine whether the persons before the court were senior leaders, or people 'most responsible', for crimes committed during the Khmer Rouge regime.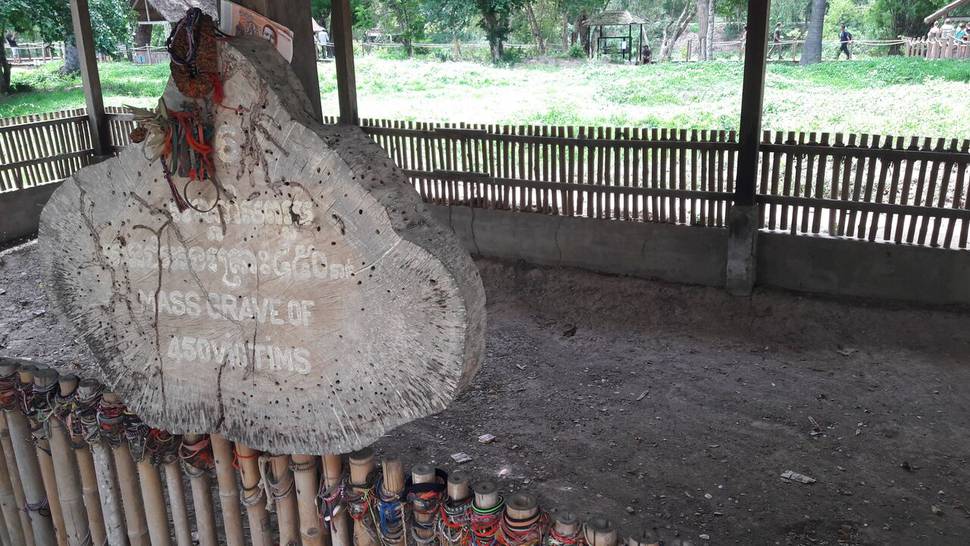 "I was in the Treatment of People Team on the international side under Judge Michael Bohlander. We interviewed both victims and perpetrators once they were tracked down. I can't talk about the details of the interviews with people because they were privately conducted but they were incredibly heartbreaking.
"Quite often they were just like any other person you would meet. That was the most upsetting thing – that regular people would do that to other people. We often think the perpetrators of these crimes must be deranged or evil but they can actually be anyone."
The "they" Elliot is talking about are some of the Khmer Rouge senior leaders that the prosecution alleged were the "most responsible" for Cambodia's genocide. The OCIJ had to determine whether the actions that occurred were ordered by these people and they were therefore "most responsible".
The work included drafting closing orders for a variety of crime sites, compiling evidence for use in charging documents, assisting in the examination of witnesses by drafting questions relevant to the investigated sites and assisting in recording and maintaining records of documents gathered in judicial investigations.
"In interviews conducted by my supervisors, we looked into the evidence of what happened to people but we couldn't use hearsay evidence. Then we wrote documents that fed back to the prosecution who would use these in court. It was interesting seeing it from a very balanced position, finding the elements and making sure they fit.
"We were not coming from the role of acting for the prosecution; we were to hold the prosecution to account and ensure the role of the defence was respected."
The trials have been going for 11 years and have cost hundreds of millions of dollars. In that time, there have been only three prosecutions, raising the question "is it all worth it?"
"It's easy to say there was a genocide and those people should be committed," Elliot says.
"The important thing was to make sure the process is followed. It's about what actually happened but also developing the jurisprudence or 'legal philosophy' about what you do when you have a country that commits genocide against its own people.
"I think it's important for it to be thorough and for us to understand, if it should happen again, what's the correct process to follow. I think they are doing a really good job and I support the trials. They are also very important because the process aims to give closure to the survivors."
Before he went to Cambodia Elliot had "heard a few things" about the country's history and seen the movie The Killing Fields but the first time that he read about it in any great depth was before he applied for the internship.
"It's not discussed in New Zealand as much as it should be and considering how recent it was. I think the Vietnam War overshadowed it and the war has a lot of relevance here. I think people don't realise there was a lot of overlap with the Vietnam War, with the United States bombing across borders into Cambodia before the Khmer Rouge took power."
A visit to S-21 prison, now the Tuol Sleng Genocide Museum, brought home some of the realities of what had happened to ordinary people in Cambodia.
"The weekend I arrived in Phnom Penh I thought I should visit S-21 because it was important to experience the places and to understand them before I started work. I felt a lot of emotions. When I came to a picture of Kerry Hamill amongst the victims it made it that much more immediate for me because he was a Kiwi and had died at the age of 27, only four years older than I was at the time. Until then I didn't know a Kiwi had died there.
"S-21 made everything worse because it was a school. You can still see the bloodstains on the floors and walls."
Elliot visited a number of crime sites near Phnom Penh as part of his work but did not get to the well-known Choeung Ek Killing Fields until the end of his internship, after he had engaged with the subject matter for five months.
War crimes trials have been in the post-election spotlight in New Zealand with the controversy over Green MP Golriz Ghahraman working as a defence lawyer.
"I do not believe that acting in the defence of anyone is denying the actions that have occurred but that in the interests of justice it's important that the prosecution should be held to account in the charges being put before the court," Elliot said.
"I think it becomes messy in scenarios that the UN courts deal with because there's a presumption of guilt attached to the undeniable evidence that there has been genocide and this colours the view of those not directly involved and brings up the age old question of 'how can you defend someone you know is guilty'."
He says the experience of working on the trials was a great opportunity.
"It was instructive in the balance between protecting the rights of the defence, respecting the interests of the victims and the role of the prosecution.
"It gave me an opportunity to expand my drafting skills, to experience a different legal system and in a broader sense it exposed me to cultures and ideas that I hadn't experienced or considered before.
"We were working with international criminal lawyers who acted as our supervisors and assigned sites to us. It's great that people will take us in and give us the opportunity to have a crack; that they would have faith in us to perform and would trust us.
"I came into contact with more than 50 interns while I was there. Some go for three months, others for six months. There's a huge turnover of interns yet the people in the offices continue to contribute the effort and time to be excellent teachers and welcoming to everyone that works there.
"It's a good stepping stone for people who want to have a career in international law. It helps you to look at things from more than one perspective. In the OCIJ you make up your own mind about stuff and it encourages critical thinking.
"It was quite an eye-opening experience. We are very fortunate to be sheltered from such atrocities in modern-day New Zealand."
While his work revolved around investigating unthinkable acts, Elliot is enthusiastic about his time in Cambodia.
"You would think people would be downtrodden as it only happened in the '70s but everyone I met in Cambodia was warm, friendly and welcoming. I lived above a doctor's house with an Australian woman and a French woman and we were almost adopted into the family, invited to their granddaughter's baby shower and brought to other family events.
"People ask why I would recommend Cambodia. It's a country with a rich, sad and fascinating history. In Phnom Penh there is sadness and loss but also growth and recovery. In Siem Reap and at Angkor Wat you experience one of the great wonders of the world. During the Khmer New Year in April, when the court shut for a week, I got my diver's licence. Cambodia is one of the cheapest places in the world you can do that.
"The country has a lot to offer. They are the most lovely people ever, it's cheap and the climate is beautiful."
****
WHAT IS...
The Khmer Rouge: Led by Pol Pot, the Communist Party of Kampuchea, also known as the Khmer Rouge, seized power in April 1975 and ruled Cambodia until January 1979. In that time, an estimated 1.5 to 2 million Cambodians (about 25 per cent of the population) died of starvation, execution, disease or overwork. In its attempt to socially engineer a classless communist society, the regime targeted intellectuals, city residents, ethnic Vietnamese, civil servants and religious leaders.
S-21: A former school was used as the notorious Security Prison 21 (S-21) where people were interrogated, tortured and executed by the Khmer Rouge. Of the 14,000 people known to have been imprisoned there, only seven are known to have survived. Now the Tuol Sleng Genocide Museum, the buildings are preserved as they were left when the Khmer Rouge was driven out in 1979. The Khmer Rouge photographed the majority of inmates. Those haunting photos are on display in the museum.
The Killing Fields: The Pol Pot regime slaughtered thousands of people and buried them in mass graves at various sites. Choeung Ek, near Phnom Penh, is the best known of The Killing Fields sites. About 17,000 people were killed there. A glass stupa at the site houses more than 8000 human skulls.
WHO IS...
Kerry Hamill: In 1978 New Zealander Kerry Hamill, with Canadian Stuart Glass and Englishman John Dewhirst, sailed into Cambodian waters where Glass was killed by the Khmer Rouge. Hamill and Dewhirst were taken to S-21, charged with being CIA spies, tortured for a few months and then killed. The quest for justice by Kerry Hamill's brother, former champion rower Rob Hamill, is the subject of the documentary Brother Number One.