Northland's primary and intermediate school teachers will vote in coming weeks on whether to accept the Government's latest offer after a second day of strike action.
The teachers, who are campaigning for better pay and working conditions, picketed in Dargaville, Kaitaia, Whangārei and Kerikeri yesterday as well as meeting in those centres to discuss the Ministry of Education's latest offer.
That offer, worth $698 million, did not move on an earlier offer to raise pay scales by 3 per cent a year for three years, but it included a new top step and the partial removal of a cap on qualifications for some teachers from 2020.
Northland joined the rest of the North Island, except Auckland and Wellington, to strike yesterday as part of nationwide rolling strikes this week. It followed a national strike on August 15.
After the meeting in Whangārei, several hundred teachers and children sang and chanted their way from Northland Events Centre to the Town Basin. Passing motorists showed their support with a chorus of toots.
Parua Bay principal Danny Jewell marched wearing a lifejacket and snorkel and mask. His sign started with "help, we're drowning".
Jewell said marching was about "ensuring the children get the best possible education they can".
He said teachers' pay was not reflecting the value the profession deserves and as a result there aren't the people looking to come into teaching. Jewell said he was finding it "increasingly difficult" to recruit staff.
But he said it's about more than just the money.
"It's about the time teachers get to plan, it's about the conditions they have ... it's about the number of students in their class, and a really important one is the special needs kids in class, the support that they get for their special needs."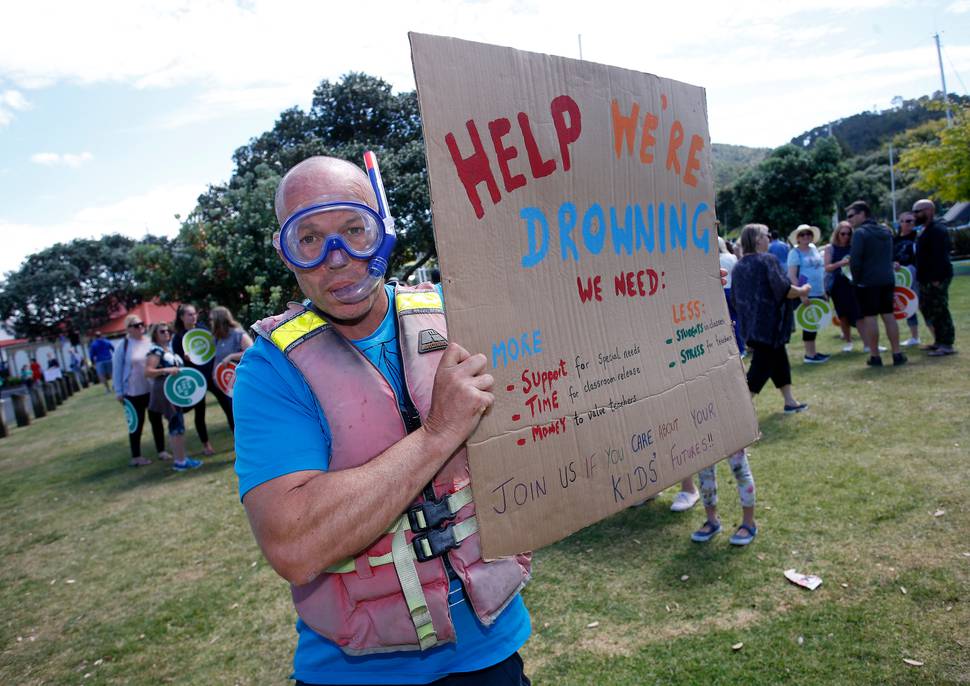 Maungatapere School teacher Tina Hodgson said the resounding feeling at the meeting was "no, it's not good enough".
She was disappointed in Education Minister Chris Hipkins and Prime Minister Jacinda Ardern because she said they knew better, and called on them to use some of the $5.5 billion surplus the Government recently posted.
"It's time to fix education in New Zealand, we are in crisis.
"Teachers need more time to teach, we need CRT [classroom release time]. I want teacher aides for the kids that need it. I'm sick of teaching classes where children need a teacher aide and there is no teacher aide, there is no intervention, there is no help, it's down to me."
Hipkins said the latest offer would give the majority of teachers a pay rise of close to $10,000 over three years.
He was disappointed the primary teachers' union had decided to go ahead with strikes this week without taking the Government's latest offer to its members.
"NZEI let their members down by not allowing them to consider the new offer before going on strike. They should stop the strike and allow a vote," he said.
NZEI president Lynda Stuart said the offers did not address union claims for smaller class sizes and more professional time.
"The question is, will this address the crisis in education and the teacher shortage. What we asked for had children at the heart; for example more time to teach and smaller class sizes. This is something that our members now need to decide," she said.
NZEI Te Tai Tokerau field officer Peter Hughes said there would be two weeks of further conversations in schools about the offer and then an electronic ballot.