The Whangārei Museum has been going through some changes recently with several new display cases being progressively installed into the exhibition hall.
Part of this installation process is the curation of completely new exhibits as well as updating previously popular displays such as the story of the Niagara sinking.
Although the wreck of the Niagara and subsequent salvage of gold bars is legendary throughout Northland, there have similarly been many more ships wrecked off Northland's coastline, and held in the Whangārei Museum archives at Kiwi North is a graphic depiction of another local disaster.
The oil on canvas artwork by John Speedy realistically portrays the blazing wreck of the 'Capitaine Bougainville' in tow behind the Whangārei-based tugboat 'Waitangi' attempting to negotiate the high seas on its return to Whangārei Harbour.
The Capitaine Bougainville, a general cargo ship, was built in 1955 and was named Balzac until 1972, when it was purchased by Sofrana Lines.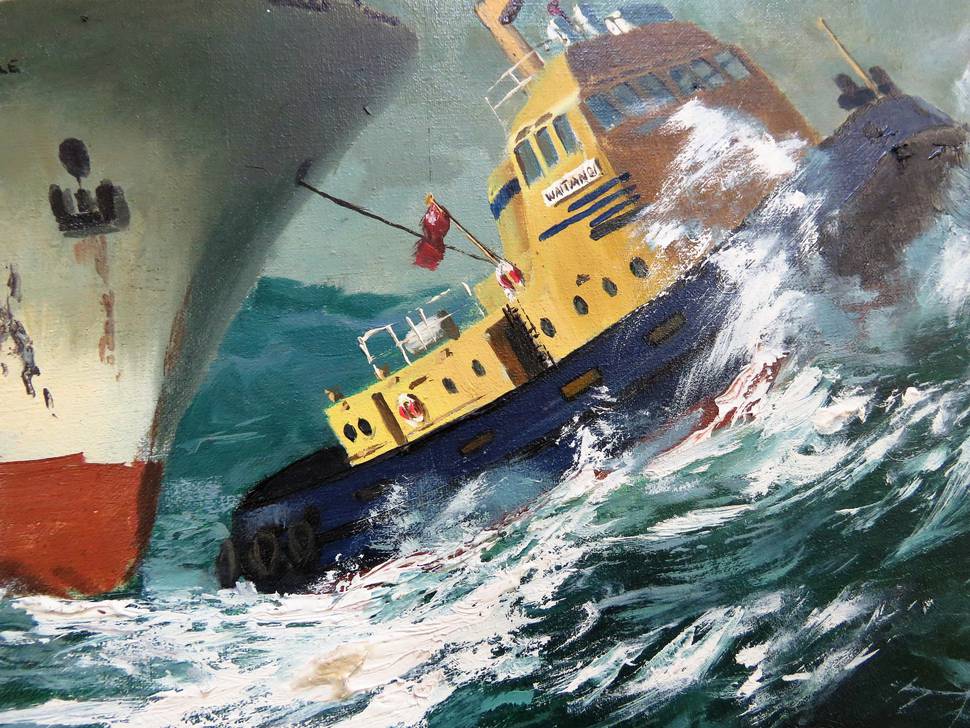 It was early on the morning of September 3, 1975, within hours of leaving port that disaster struck this freighter and her complement of 37 crew and passengers.
A fire broke out in the ship's engine room, eventually compelling those on board to abandon ship.
Carrying general and refrigerated cargo, the Capitaine Bougainville sailed from Auckland bound for Port Moresby, Papua New Guinea, with the intention of stopping at Sydney en-route.
She encountered stormy weather less than a day into the voyage, and at about 2am, when the freighter was off the Northland coast, leaking oil ignited in the engine room quickly engulfing the aft of the vessel.
Despite the crew's efforts they were unable to contain the fire, the choking smoke rendering their position untenable.
The burning vessel was caught in high winds, heavy rain and mountainous waves estimated at 12 metres.
She was also caught in a strong current, making launching the lifeboats extremely perilous and frightening.
Although all passengers and crew managed to abandon the ship safely, it was while trying to reach shore that some lifeboats were broached and capsized about 3.5km offshore from Whananaki, throwing their occupants into the raging sea.
Some managed to scramble back aboard the lifeboats but tragically not all, with the lives of 16 passengers and crew being lost including the Captain's wife and children.
A monument has since been erected on the headland at Whananaki South in memory of those who succumbed to this maritime disaster portrayed in oil by Speedy.
Involved in art all his life, Auckland born artist John Speedy trained with prominent NZ artists and left school teaching in 1973 to follow a career as a professional artist.
Being a versatile and visual artist, he has enjoyed considerable success in oils, water colours and acrylics, his subjects range from children's portraits, landscape paintings, historical canvases and maritime scenes such as the one at Kiwi North.
The oil painting, gifted to the Museum in 2016 by Benoit Marcennac, a representative from Sofrana Unilines, is only one permanent recollection of a catastrophe that occurred on our local coastline and the lives that were tragically lost as a result.
■ Natalie Brookland is collection registrar, Whangārei Museum at Kiwi North.