It was a night to remember for a group of Northland primary school girls who laced up their boots and took to the hallowed turf at Mt Smart Stadium.
The team of 11 girls from Glenbervie School made history as the first all-girl school team to play a 9-a-side curtain raiser for the Warriors on Friday night.
The girls, who ranged in age from 8 to 10 also performed a haka as the Warriors women's team and the Auckland women's teams ran on to the field.
Leading Northland rugby league referee Nick Waihi coached the team and said they loved it.
Waihi said some of the girls in the Pt England School team had a bigger physical presence than those from Glenbervie.
"We held our own, I was just so proud."
The Glenbervie team went down 12-nil in the 15 minute game.
"My girls tackled their hearts out. They were fearless," Waihi said.
He said there were some big hits, but his players got straight back on to their feet.
The team had been training for two weeks in preparation for the game.
Some of his players had never played league before and determined Talia Cooper played with a prosthetic leg.
"She's out there playing rugby league on Mt Smart Stadium."
Waihi's 8-year-old daughter Addison played and was chosen by Warriors players as the player of the day.
"They were very big and it was hard," Addison said of their opponent's and the game.
She thought the whole evening was "very fun".
The best part was "just getting to play on the field and doing the haka before the Warriors game".
Captain Aysha Murphy, 10, said she was proud of her team.
She said it was a "really awesome" night. "Not many people get to do that."
Aysha said she was inspired about the possibility of being a Warrior one day.
"I want to keep on playing rugby league and see where I go."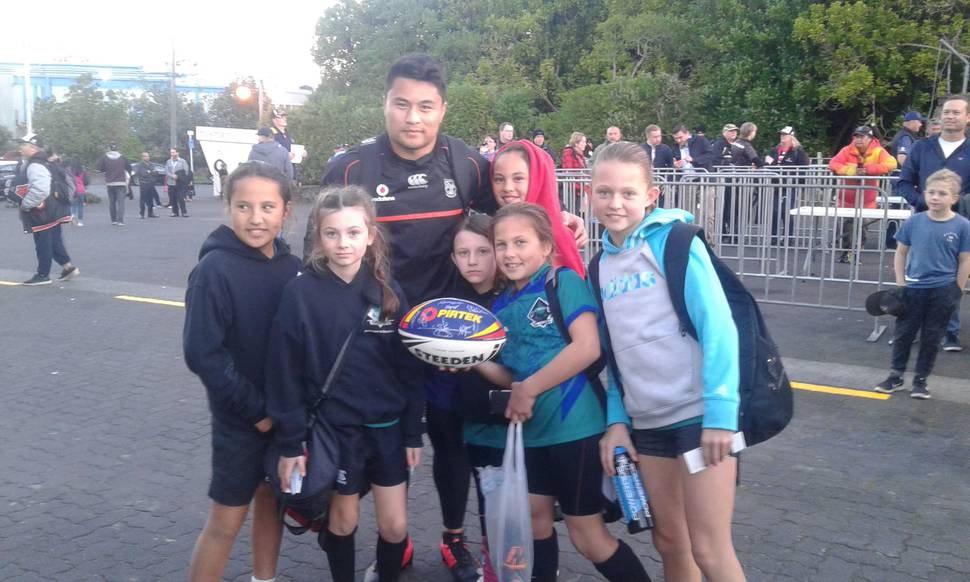 Waihi said the girls got a tour of the Rugby League Museum at New Zealand Rugby League headquarters with former Kiwis and Warriors player Nigel Vagana and Kiwi Ferns coach Kelvin Wright.
The team also got to meet warriors women's team coach Luisa Avaiki, as well as players from the Warriors men's and women's NRL sides and the Newcastle Knights.
Warriors media manager Richard Becht said it was tremendous having the all girls teams playing at the stadium on Friday night, especially because it was the Women in League round and it was the first game the Warrior women had played.