Police and Coastguard are warning boaties to check the weather forecast before weighing anchor after a spate of strandings and rescues around the Northland coast.
In the latest incident an injured woman was airlifted from an island after the yacht she and her husband were sailing was smashed into a beach in wild weather.
The drama took place late on Tuesday at the Cavalli Islands off Matauri Bay. Emergency services received a call from the couple about 5pm after their boat stranded on the southwest side of Motukawanui, the largest island in the group.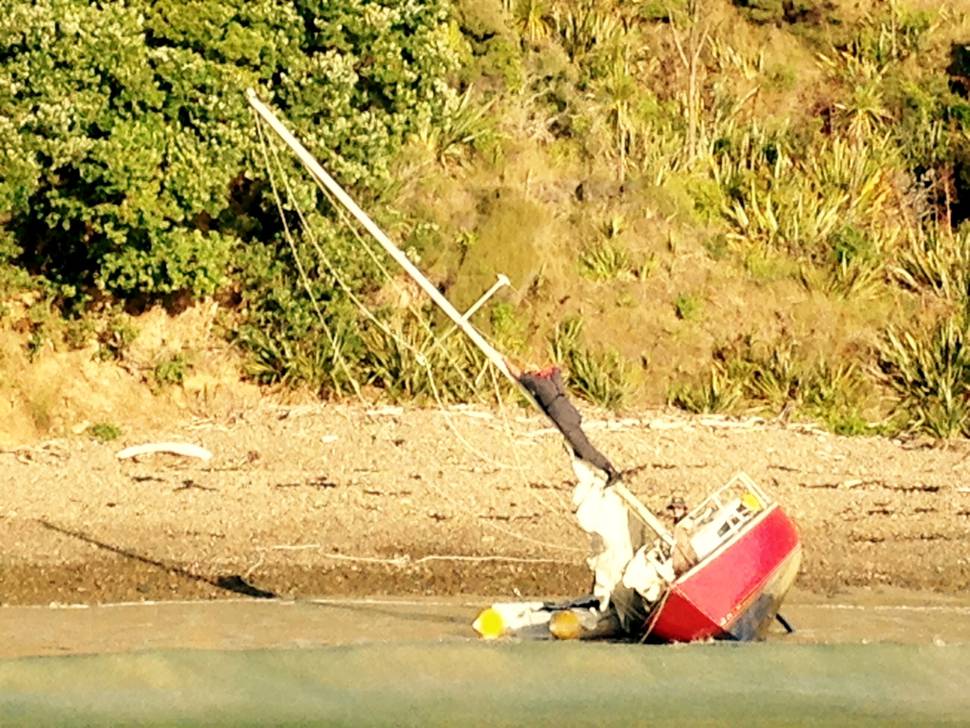 The woman suffered a back injury in the impact and was scalded by a kettle of boiling water which flew off the stove.
Constable Rhys Dempster, a Kerikeri police officer patrolling the Bay of Islands on a police boat normally based in Auckland, said the couple left Mangonui at 8am that morning intending to sail to the Bay of Islands but ran into heavy weather.
By 3pm they had only reached Motukawanui so decided to anchor on the leeward side of the island to rest.
However, the anchor dragged and their 7m yacht was blown ashore. Mr Dempster said conditions were "less than desirable" with a 25-30 knot southeasterly wind.
Police battled strong winds and heavy swells to reach them in a rigid inflatable from Auckland's maritime police unit. They attempted to pull the stranded yacht from the beach but it was stuck fast.
The sea was too rough to transport the patient by water so the Northland Electricity Rescue Helicopter was called. The chopper was able to land on the beach and flew her to Whangarei Hospital for treatment.
Despite the conditions the rescue went without incident and proved the worth of having the police boat based in the Bay of Islands during summer.
Mr Dempster said the incident was a warning to boaties to check the weather forecast before leaving. Tuesday's conditions were too rough for a boat that size, he said.
Northland Coastguard units, marine radio services and harbour officials have also been kept busy with accidents and large numbers of boats on the water.
Coastguard Northern region operations manager Daniel Pearce said it was vital to check the local marine forecast before heading out, and not rely on generic weather forecasts which gave only a rough regional overview.
"If in doubt don't go out, and know your limits. Weather can turn quickly and even experienced boaties can get into trouble."
Options for local marine updates included Coastguard's app for smart devices and a free, 24-hour "nowcasting" service on VHF radio.
Police and boaties managed to head off a costly stranding during the New Year's Eve storm when a $2.5 million, 20-metre yacht broke its anchor near Russell.
Mr Dempster said no one was on board at the time and the wind was blowing at an estimated 50 knots.
Other yachties managed to get on board and were joined by police using their rigid inflatable, while other officers went searching for the couple who were having dinner in Russell. They were located and made their way out to the yacht.
Police helped them motor the vessel to safety in the quarantine berth at Opua Marina. The boat was undamaged.
"They were very, very thankful, not only to police but also to the owners of other superyachts in the vicinity who helped avert a catastrophe," he said.
Northland Harbourmaster Jim Lyle said there had been "umpteen" strandings this summer. They include a yacht stuck on Ruakaka Beach for two weeks, due to be hauled ashore and broken up as soon as weather allows.
Neither of the boats stranded at Ruakaka or Motukawanui had wreck removal insurance, he said.
"Under the RMA you can't just leave wreckage where it is. If you're the owner you're responsible for cleaning up and all the costs involved. So check the weather and check your charts, but also have some back-up insurance. It could save a lot of pain down the road."
Removing a wreck was a costly exercise, especially in an isolated area like the Cavallis. Mr Lyle said every boatie should have a minimum of third party, wreck removal and oil pollution insurance.
The yacht stranded on Motukawanui is also still awaiting salvage.