Foxton's Main Street now has five lighting pou, symbolising Maori and Dutch cultures intertwining, in front of Te Awahou Nieuwe Stroom, leading across the road from the pools.
The pou were blessed by local kuia and kaumatua on Wednesday night and lit for the first time. The journey begins at the pools, where Tangata Whenua stands, made by Ivan Ngarotata. Its central image is a variation of the Puhoro design pattern which depicts the life and movement of the Manawatu River Loop.
Across the road stand Fields/Kavels, made by Leon van den Eijkel and Jan Ramp. This is a rectangular line and field pattern, in an homage to Dutch artist Piet Mondriaan and reflects the typical Dutch landscape.
Next is The Ranges and the River, a design by Natalie MacDonald. This sculpture shows the people's connection with the land. It depicts a woman and when the sun casts a shadow of the landscape of Horowhenua on the ground.
Then there is an another work by Leon van den Eijkel and Jan Ramp depicting tulips, which were brought to Aotearoa by Dutch immigrants.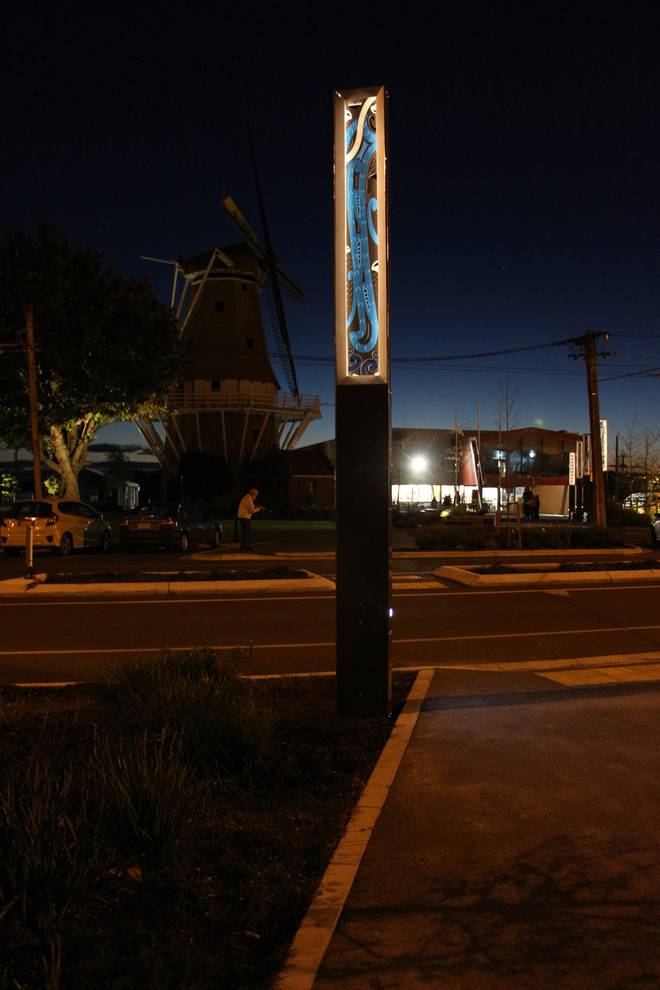 The fifth pou was made by Piri-Hira Tukapua and is called Te Rehu o te Pariki, the dust of the pariki or flounder. It talks about learning from the past while focusing on the future.
The five pou lead from the Aquatic Centre straight into Te Awahou/Nieuwe Stroom.