Finding a result against Ghana is imperative but progressing past their productive phase to create more history for New Zealand football will be on the agenda for coach Leon Birnie and his terrific teenagers in Uruguay tomorrow morning.
While the historic Fifa playoffs aren't far from the collective mind, Birnie said the other is on the final game pool game because that'll determine who they'll play in the quarter-finals.
"We won't know that until three hours before the kick off," said the 36-year-old mentor from Napier, from Montevideo yesterday, before his charges face Ghana at Montevideo in a 9am kick off tomorrow (NZ time) in their final pool A match.
The New Zealanders' prospective quarter-finals opponents are Mexico, Japan or Brazil.
The Central Football employee said Mexico would be their preference for the quarter-finals next week because they were a better match than the other two.
However, he was mindful the stars didn't always align with the moons in tourneys so he and coaching stable would prepare the team as best as they could to handle which ever opposition.
No doubt, his more immediate preoccupation was with in exploring the depth in the squad in their final pool match.
"Ghana look really good," he said. "They're very athletic, very strong and they're actually very good on the ball."
The also undefeated pool A leaders have the propensity to turn defence into attack in a blink of an eye with speedy wingers who have a nose for depositing balls into net.
"They're going to be a challenge to back up in our third game."
Birnie expected the 5pm (Tuesday, Montevideo time) kick off, forecast as a sizzling day, to add to the degree of difficulty.
"The first two games have taken a toll on our players mentally and physically so we've got to put out the players we feel who are going to make the biggest impact in that game."
Birnie intends to make a couple of changes considering three girls have collected yellow cards as well as a handful who have picked up injuries which he wasn't intending to risk with the quarter-finals beckoning.
"We're going to have to manage everyone in the squad as best as we can."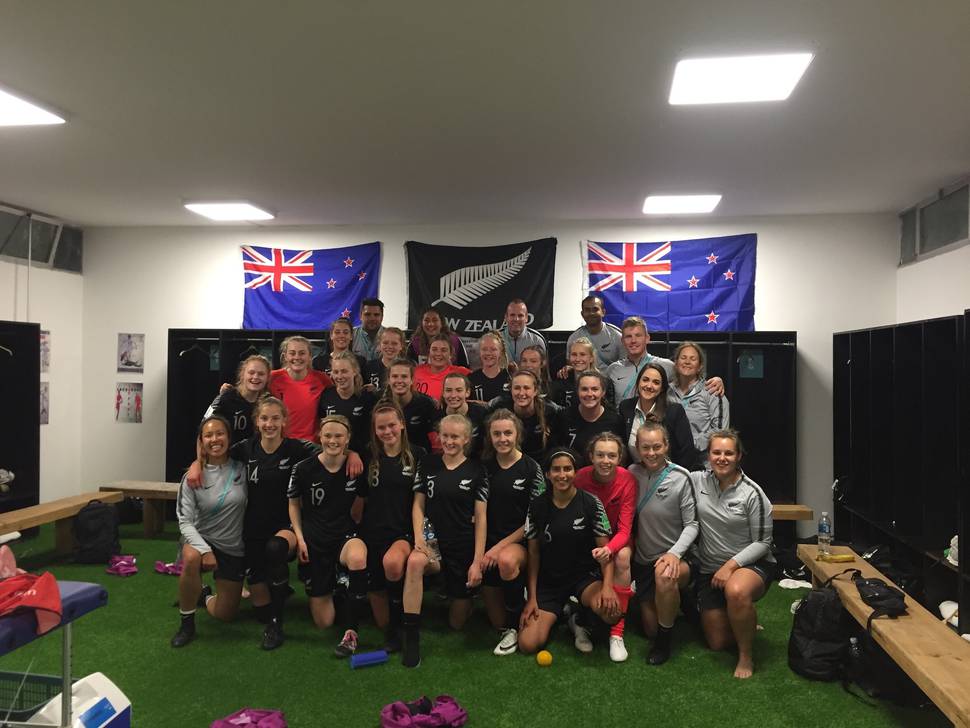 They became the first female under-17 national team to make the quarter-finals of a Fina tournament although they also became the first side in any age-group of eight previous national qualifiers to eke out two victories on the trot with a game in hand to make the playoffs.
He felt across the two games, the win over Finland first up was more satisfying because technically it was what the girls had accomplished "very, very well".
"Finland are the European champions so their qualification is one of the strongest routes to come through so to beat them 1-0 is a really impressive result," he said.
To beat Uruguay wasn't so much about structure as it was about dealing with the occasion.
It was about taking a more direct approach, lifting their physicality stakes and taking in their stride the vociferous home-crowd support.
"To go down 1-0 and be able to fight back for a 2-1 win in their backyard in front of 6000 people sort of shows the character of the girls and the drive and determination they have in the group to be successful in this tournament," he said.
For Birnie, what resonates is the willingness of everyone in the squad of 21 to buy into the collective philosophy.
"This has been one of the best squads I've been involved with where it doesn't matter whether you're No 1 and you're getting 90-plus minutes or you're No 21 and you haven't even been on the field yet.
"They are just as encouraging and just as supportive in training in driving their teammates to do better and demanding high standards," he said, mindful the players want the team to excel while pushing their envelopes for game time.
Birnie said that sort of mind set had put his girls in pivotal positions on the park.
At a personal level, he is immensely proud of one of his top coaching achievements in the past few days.
"To be able to win two games at a world cup, to create history with an under-17 side, to get out of the pool for the very first time with two wins in a row and a game in hand and also equalling the most points ever by a New Zealand team at a [Fifa] tournament, which is six points, is a really proud and special moment for myself and the work I've put in over the years and behind the scenes.
"I've sort of worked away quietly in Hawke's Bay and I didn't kind of shout from the rooftops in going about my business."
Birnie said his accomplishments yielded future opportunities. It was the way he operated and he intended to carry on in that vein in the future.