Stationary cars lined Waimarama Rd yesterday as emergency services attended to a car that had veered off the road and into a paddock.
Fire, police and a rescue helicopter were all at the scene on the rural coastal road, after a vehicle with four occupants rolled near the intersection of Lopez Lane.
The crash occurred at about 3.20pm, offering other drivers no choice but to wait patiently for the road to open.
A member of the fire service walked up the recently tarsealed road, informing individual drivers that it would be closed for at least half an hour.
It's understood the vehicle, with four people inside, had careered off the road and down a bank at least 50 metres from where it left the road.
Patient drivers and passengers got out of their cars to observe the scene as the rescue helicopter landed in the middle of the road.
"I really hope they're all okay," one woman said.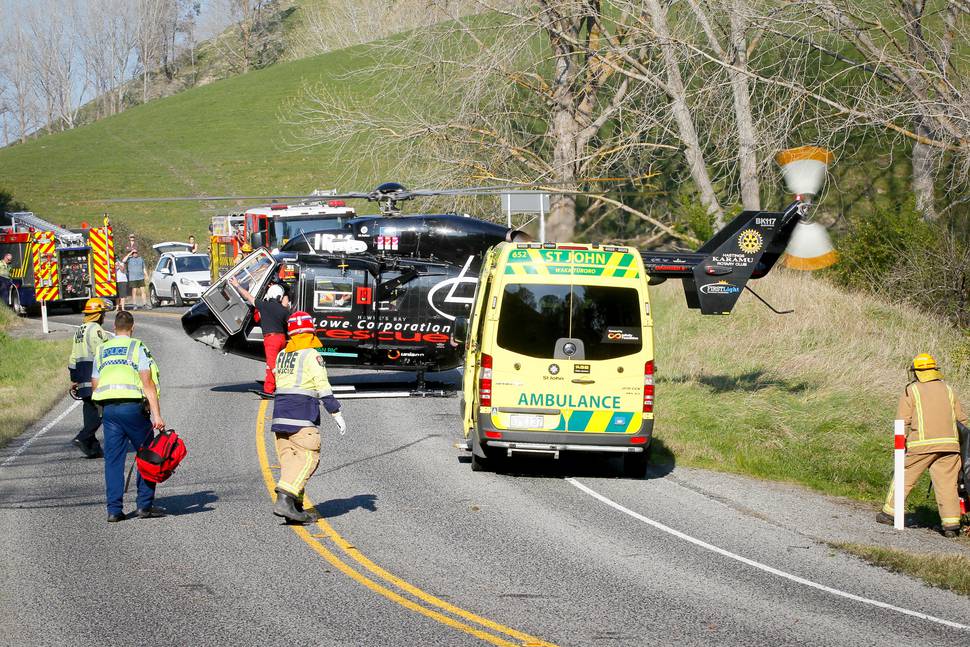 It's the second crash that has occurred in the same stretch off road in less than a week
Last Thursday a car, heading towards Waimarama Beach, veered of the road and flipped into the bushes near Lopez Lane.
The latest crash occurred 50 metres from that same spot.
A fire officer at the scene, said the driver had been heading back towards Havelock North when the car went off the road.
A Hawke's Bay District Health Board spokeswoman said three people were admitted to Hawke's Bay Hospital in a stable condition and then discharged last night.
The road was re-opened shortly after the helicopter left the scene.