Much of Hawke's Bay is underwater at the moment, and while rivers are high and some small streams have burst their banks, Civil Defence says the rivers are not a major concern at this point.
Some stormwater mixed with sewage has also spilled into Napier streets, and is being cleaned up.
Hawke's Bay Civil Defence group controller, Ian Macdonald said that while the rivers are at their annual exceedance, they are unlikely to breach or even reach stopbanks.
"Some of them will have gone outside the river channel but they'll still be within the flood planes."
"One or two are close to the stopbanks but you've got to have a lot more water before they reach the top of the stopbanks."
He said currently their main concern was surface flooding and roading, especially in the northern part of the region.
"There's a number of local roads which are closed."
They were also concerned about a wind watch, with Metservice saying winds could reach severe gale force strength, especially in exposed areas along the coast.
"We've got sodden ground, we've got the possibility of some wind tomorrow morning," Macdonald said.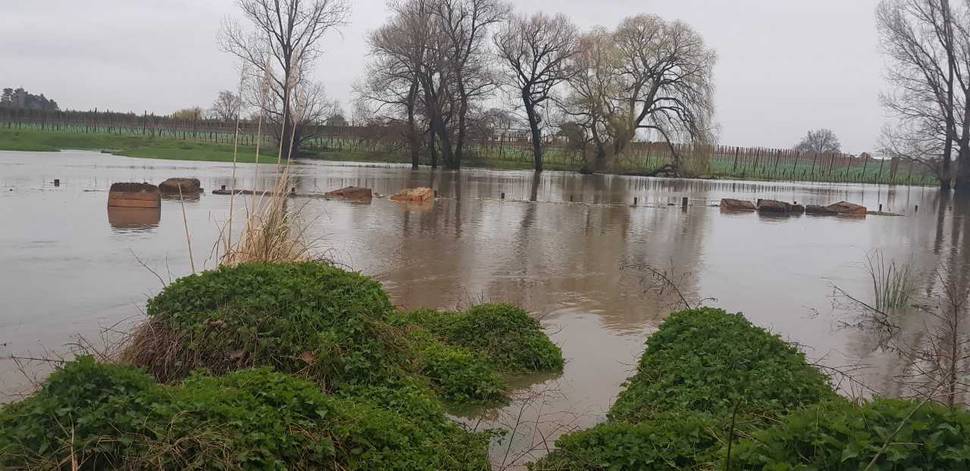 He said the combination could cause trees to fall down, causing more chaos on the roads, and potential power outages.
Napier is experiencing waste water issues, with reports of stormwater and sewage flowing onto streets.
CEO Wayne Jack said they were aware of the issue and had teams cleaning up the mess.
He said it was predominately storm water, however they were aware that there was some waste in the street as well.
Most schools in the region have opened despite the heavy flooding, with the exception of Kereru School, which is a rural school catering for 25 year 1-8 students.
In the 24 hours from Wednesday to Thursday morning Inland Hawke's Bay saw 191mm of rain.
In the same period Napier saw 43mm or rain and Hastings 66mm.
Hawke's Bay remains under a heavy rain warning, which has extended to Friday afternoon.
Metservice said: "A further 150 to 180mm of rain is expected to accumulate on top of what has already fallen about the ranges north of Napier, and 70 to 100mm elsewhere."