Mike Harold and Vince Payne are going full throttle as they prepare for a Dannevirke first, a wings weekend in Dannevirke featuring Topdressing Daze and a Tiger Moth fly-in.
The exhibition of Mr Harold's narrative paintings, Topdressing Daze, at the Dannevirke Aerodrome, in conjunction with the Tiger Moth weekend has already attracted plenty of attention.
"We're flying into aviation history with the exhibition and the Tigers," aero club member Vince Payne said. "The guys portrayed in Mike's paintings were the real innovators and like all our district's innovators, they put their necks on the line. But these pilots had their life hanging by a thread in the war so topdressing was just another challenge. They became a major part of farming in this region and played an important part in developing New Zealand's topdressing industry."
Mr Payne began flying in 1984 and gained his private pilot's licence in 1989, and when he saw one of Mr Harold's topdressing paintings he knew the exhibition "would fly".
"It's all about quietly growing aviation and keeping it alive in Dannevirke," he said. "One of the neatest things about aviation in Dannevirke is that we've the best grass airfield in New Zealand, with no landing fees, and now the aero club has just put a weather station online, which is ideal for pilots."
Mr Harold's 27 quirky artworks keep alive the stories of our pioneering aviators, the men who flew by the seat of their pants dropping "super" which helped grow the grass on the farms and the economy of our region.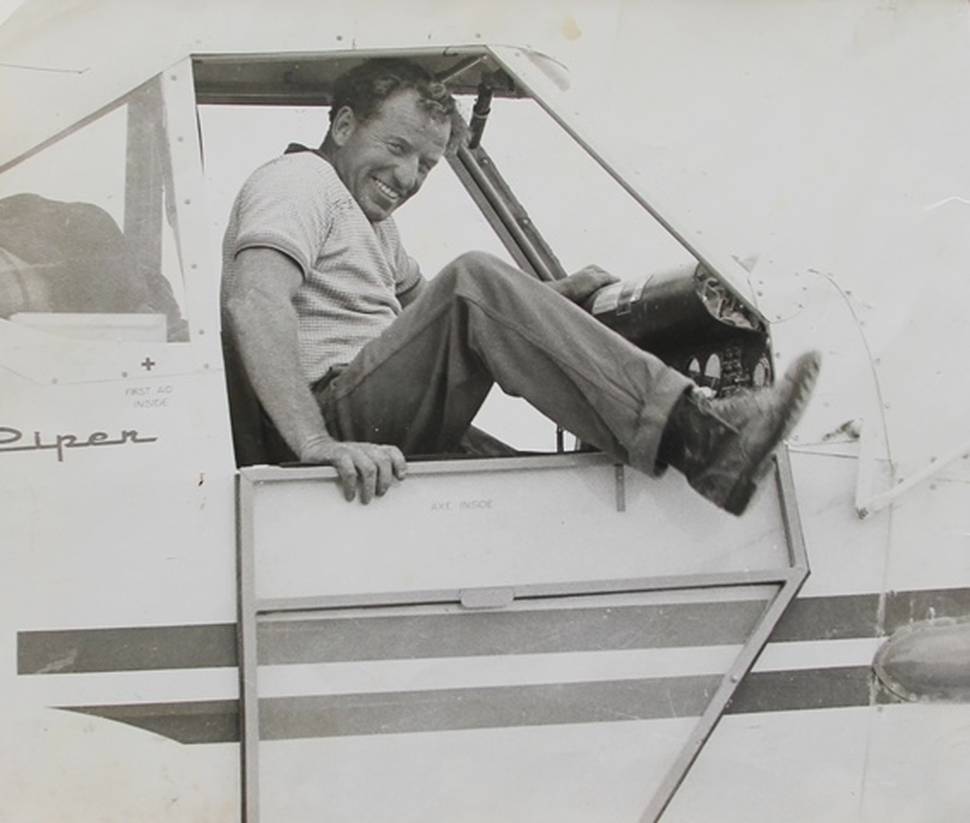 Mr Harold said he'd loved putting the Topdressing Daze collection together.
"This land was shaped by those people. They were living by the moment."
The extensive research he's carried out has been helped by The Topdressers by Janic Geeden, along with the stories of local pilot Vic Christie and Woodville's James Veale, who loaded planes while working for Air Contracts.
"It's been a delight to be part of it and finding the treasures - the taonga," Mr Harold told the Dannevirke News. "And it's been lovely to receive new material too, as I'm building a resource, thanks to the likes of Jim Crook from the Hawke's Bay who was a topdresser loader driver in the 1950s. It's been great to get his feedback and to hear his stories."
Mr Crook said the topdressing crew would set their clocks early (3am), but if by mid-morning winds grounded the Tiger Moth because low-flying conditions became too dodgy and the superphosphate spread could not be gauged accurately, it was time to pitch in and help the farmers.
"We could end up helping to drench the lambs," he said.
In gathering the stories of those pioneering days, Mr Harold found aerial topdressing was very dangerous with regular mishaps.
"But Tiger Moths were very forgiving. When they crashed a lot of the pilots survived."
A large number of Mr Harold's paintings depict Vic Christie, a real character in the community.
"His ability, especially in the Tiger Moth, was acknowledged as the best. He had a lot of intuitive knowledge which he shared with others."
Melanie Blundell, Mr Christie's daughter, travelled from Auckland to visit Mr Harold and was thrilled to learn more about her father through his research and paintings.
But a topdressing pilot's life wasn't just about flying. "It was also about competition in the workplace," Mr Harold said. "Convincing reluctant farmers they could grow grass thanks to superphosphate. It was about business survival and I've referenced this in the titles of my paintings."
With his artwork a way of telling the rich stories of our district and with more stories to tell, Mr Harold still has a wealth of treasures to commit to canvas and expects many more from this weekend's exhibition at Dannevirke Aerodrome.
Topdressing Daze:
* Exhibition at Dannevirke Aerodrome, Saturday, March 5 and Sunday, March 6. 10am to 5pm.
* Exhibition at Dannevirke A&P Showgrounds from Tuesday, March 8 to Sunday, March 20. 1pm to 5pm.
* There will be a limited edition book of the paintings, each with its own narrative, on sale for $35. Proceeds from the sale will go in support of the Phil Lamason Heritage Centre Trust.
* The Tiger Moths are expected to start arriving throughout Friday afternoon, weather dependent.