Hamilton Wanderers and Melville United were both defeated in the third round of the LottoNRFL, while Claudelands Rovers picked up positive results for its premier men's and women's team in a goal-filled weekend of winter football.
Claudelands Rovers v Cambridge
On Saturday, Claudelands Rovers premier men's team went up against Cambridge FC in a local derby that turned into a physical encounter.
Both teams sit at the top end of the table, but failed to produce any moments of quality to break the deadlock in the first half, with frustration starting to settle in with each set of players.
In the second half a last man challenge by Claudelands Johnny Konings sent the away side down to 10 men, and gave Cambridge the chance open the scoring with a penalty, which Jack Portegys converted.
Up until then the game had been a dogged display, but the goal had opened up the match and Claudelands began to push for an equaliser, with several good chances to pull themselves back into the game.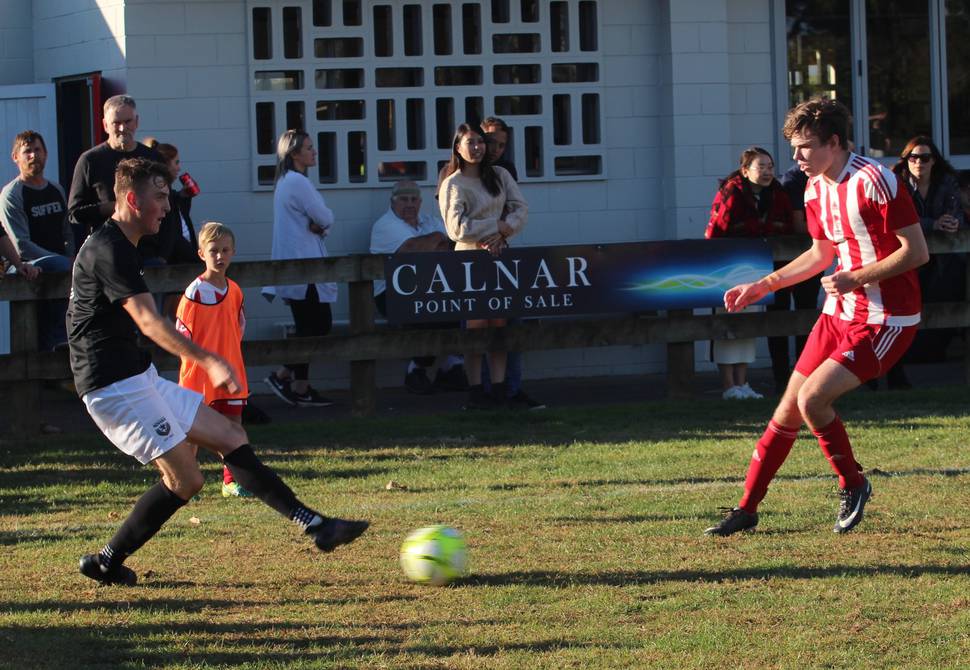 It wasn't until the 96th minute of the game when Claudelands were awarded a penalty did they find their equaliser. Bailey Webster holding back the nerves to score with the last kick of the game, both sides leaving with a point.
Claudelands Rovers Premier Women v Ōtumoetai
It is two wins in a row for Claudelands premier women side as they pushed past Ōtumoetai with a 7-2 victory on Sunday afternoon.
American import Natalie Dixon scored a hat-trick, scoring twice from a corner and one solo goal. Stacey Palmer forced a goal of her own, while a lovely team goal starting with a break-up of play from Paige McCloskey, and a defence splitting pass from Olivia Schuler allowed Palmer to lay the ball on a plate for Stella Neems to tuck home, her second of the season.
Rachel Porteous grabbed the sixth goal of the match after a defensive meltdown from Ōtumoetai, before Emily Woollaston scored a wonder goal of her own to bring up seven.
The game itself was a physical encounter, with both teams at times struggling to string successive passes together, but on the day it was Claudelands which was more clinical in front of goal.
Melville United v Manukau United FC
Melville United has had a harsh re-introduction b to the premier league, picking up one win in two games. On Saturday they fell 3-1 against Manukau United with the opening goal coming from Reece Day, after a delicious corner from Prince Quansah.
Melville brought the game back to level terms through veteran Mark Jones, but the lead did not last long as Sanni Issa scored Manukau's second.
There was more salt in the wound to come for Melville after their from striker Jama Boss added a third for Manukau minutes later.
In the second half, Melville had another chance to pull themselves back into the game after being awarded a penalty, however it was well saved by goalkeeper Keegan Inia, leaving the game to finish 3-1.
Hamilton Wanderers v East Coast Bays
East Coast Bays proved too strong for Hamilton Wanderers on a Saturday filled with goals.
Tommy Semmy was back in the squad for Wanderers and opened the scoring within five minutes, but Declan Sweeney and a double from Stuart Hogg left them trailer 3-1 at half time.
In the second half Dylan Burns added a fourth, before Derek Tieku grabbed a consolation for Wanderers with the game finishing 4-2.
Hamilton Wanderers Premier Women v Glenfield Rovers
It was a first defeat for Hamilton Wanderers premier women's team in the LottoNRFL, after Glenfield Rovers defeated them 4-1 on Sunday.
Shae Brady opened the scoring for Hamilton Wanderers, but in the second half Glenfield moved through the gears to score four unanswered goals.