Tauranga was united in grief over the weekend as the community stood in solidarity to show support for the Muslim community in the wake of the deadly massacre in Christchurch.
Flags flew at half-mast, local cafes closed, and vigils were held across the city to mourn the deaths of 50 people shot and killed at two Christchurch mosques on Friday.
People dropped off hundreds of flowers at the Tauranga Mosque to show support and express their condolences.
Many took a moment to stand in silence and pay their respects.
Families linked arms and mothers hugged their children, while others took a moment to pray in small groups.
A box of tissues was placed among the collection of tributes for people to pat away the many tears that ran freely.
Messages read "United we stand with you", "We are one community, we will not be divided" and "We are so sorry", while candles stood flickering on a nook on the fence.
Samira Hammad said outside the mosque that the fatal shootings had robbed the Muslim community of a place to come without fear.
"This is our holy place ... [but] it's hard to come without fear, and we shouldn't come with any fear," she said.
"We should be able to come and feel safer than at home or work. It is hard to think about how things will change ... it's hard to think about tomorrow."
Jason and Nina Palmer brought their son Christian to the mosque on Saturday morning.
"We felt compelled to show our respects," Jason Palmer said.
Nina had family in Christchurch and received a call from her mother asking if she had heard the news.
She said her father usually did the school pick up and had been affected by the lockdown.
She thought the shooting would knock back Christchurch - a city that had already been through so much.
"We bounced back from the earthquakes, and now this happens ... it's a tragic setback."
Amit Lal said he struggled to express how he felt about the situation.
"I am out of words to say. What can you say?
"Nature caused the earthquakes, but this is mankind."
He said the shooting would change how the entire world perceived New Zealand and that community support would be crucial for those who were directly affected in Christchurch.
Sky Sargent and Rachael Heke came to the mosque to lay flowers and pay their respects.
Sargent said the tragedy was "really sad" and it did not reflect New Zealand.
"This is our home, and this is not us."
Vigils were held on Mount Main Beach, Tauranga's Yatton Park and Te Puke's Jubilee Park on the weekend.
A combined churches prayer vigil at Holy Trinity Church at 7pm tonight.
Tauranga woman Stacy Wikaira, who organised the vigil in Yatton Park, said New Zealand was united in the face of this adversity.
"We're one country, and people all stand together as a multicultural and united country," she said.
Te Puke Diner owner John Shrestha said he had chosen to close the doors to the Jellicoe St diner on Saturday to mourn the loss of those who lost their lives.
"I never thought those kinds of things would happen in New Zealand where there is lots of harmony and peace.
"No matter your religion, it is about mankind. It is about love and humanity. You can't buy the love and peace, but you can buy guns."
Tauranga schools have also shared links on their individual Facebook pages to help parents address what happened in Christchurch with their children.
Matt Simeon of the Western Bay of Plenty Principals Association said it was important for parents to know how to help their children work through the tragedy.
The principal of Pillans Point School said his staff would have a morning briefing on Monday to address how they would handle the situation.
"It was a tough day for those people who have loved ones there. Everyone deserves the right to be free and safe in this country," he said. "My thoughts go out to all of the families affected."
Tauranga Mayor Greg Brownless said flags on all public buildings were half-mast to mark a country in mourning, on the direction of the Prime Minister.
Brownless was arranging for condolence books to be placed in a public area where people can leave messages of support for those affected.
The books would then be sent down to Christchurch's Mayor Lianne Dalziel.
National Party leader and Tauranga MP Simon Bridges was in Christchurch with Prime Minister Jacinda Ardern when he spoke to the Bay of Plenty Times.
Bridges said the police had been "doing a stand-out job" in particular. "They are real heroes ... nothing could prepare them for this."
He had been in touch with members of the Tauranga Mosque and would be visiting late next week. "This kind of thing should never happen ... we believe in freedom," he said.
Bay of Plenty National MP Todd Muller had visited the Tauranga Mosque with wife and children at the weekend and was visibly emotional as he spoke about the tragedy.
"I'm still deeply numbed ... it cracks our innocence as a country."
Labour list Tauranga MP Jan Tinetti said she shed a few tears when she lay flowers at the Tauranga mosque at the weekend.
"It is so moving," she said. "It is about standing with our community. We are all in disbelief."

YOUR MESSAGES:
"They were just praying. What did they do wrong?"
Sashi Brown, 44, and Malcolm Brown, 58.
"It sucks. If we had Muslim family in Christchurch, it could have been them."
Mehmet Gultelkin, 23.
"We need to plug-in to the idea that we're one ... that's the only thing we can do to rise above." Moana Bianchin, 51.
"I feel so sorry for them. I hope it won't happen again." Po Atibaed, 13.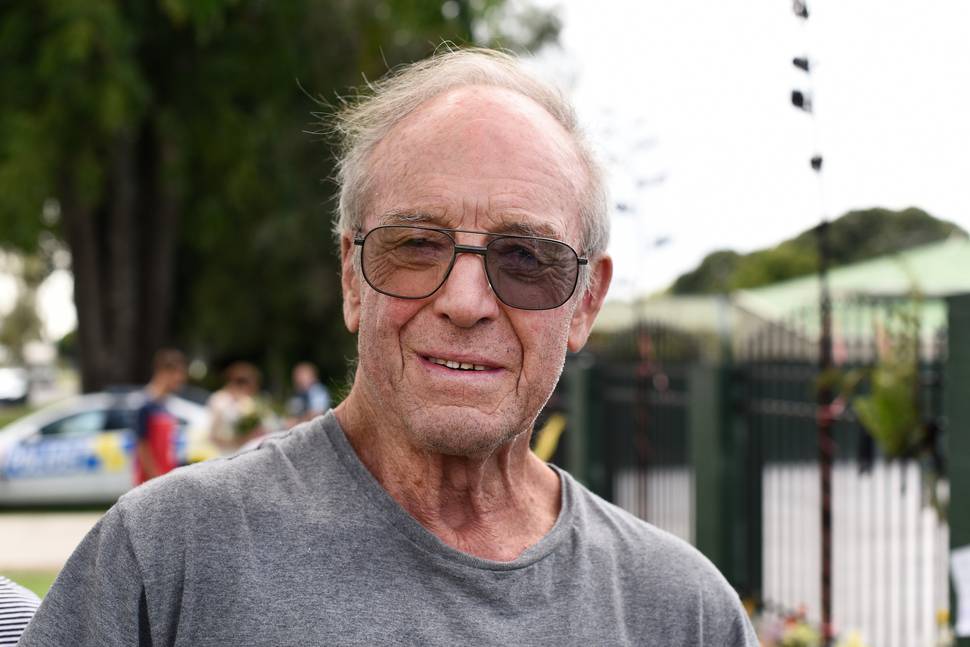 "I grew up in Christchurch a few metres from the mosque. For that to happen in my home town, it has really hit me. It is my home; it is our home. How much does Christchurch have to suffer?" John Ebert.
"We just wanted to put down some flowers to show our support." Anne Borchardt.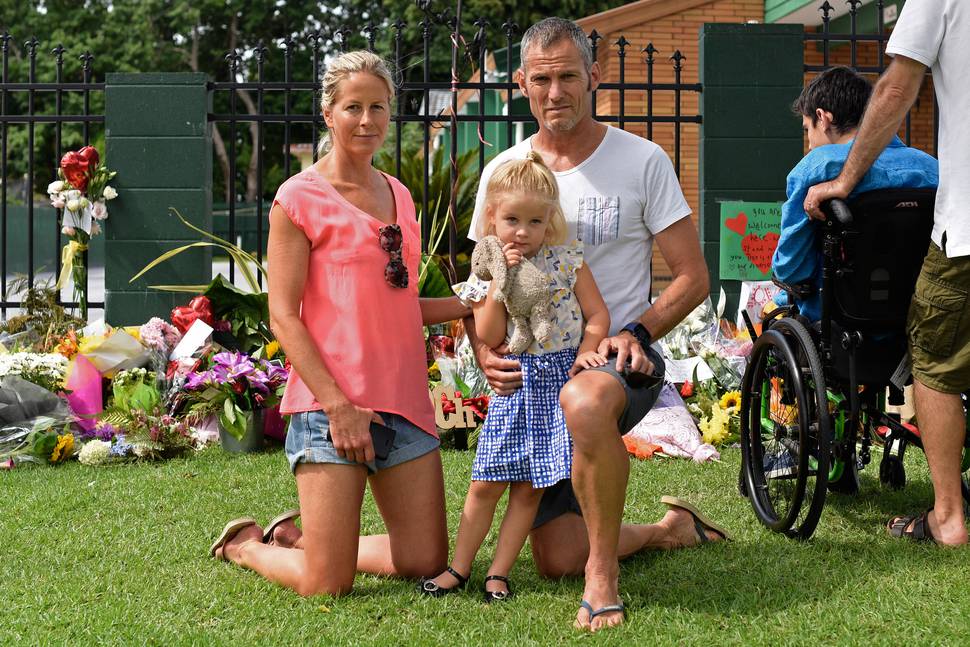 "It is so disturbing and sad. This is not New Zealand."
Kirsty Somers-Edgar, Scott Furness and India Furness, 4.
"We just want to say sorry and that you are so welcome here." Catherine Smalberger.
"New Zealanders are sensible and strong enough to know we won't turn this into an opportunity for hate." Mariette Steeghs.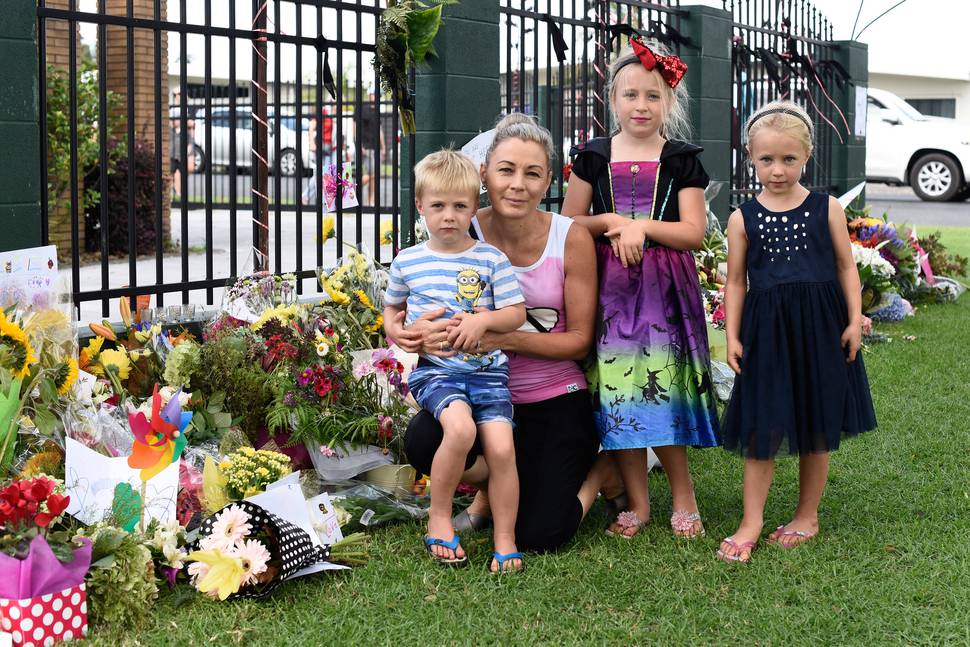 "We are so sorry. You are welcome here." Christie Goodspeed, Lily, 8, Sophie, 6, and Callum, 4.
"We have come to show New Zealanders are all one... We are Kiwis; we are all family."
Trevor Hetutu with daughters Jaide, 15 and Maia, 13.