"A stroke is not an illness, it's a way of life."
This was the realisation that set Welcome Bay man Mike Maynard on the road to resetting his take on life after he had a stroke at age 85.
The next step: Picking up a paintbrush.
About 8.10 in the morning on April 8, Maynard stood up from the kitchen table and said he felt dizzy, then walked into the kitchen. When he spoke again he slurred his words.
That was when his wife Ellie sprang into action.
"I knew instinctively there was something badly wrong. There was no time for an ambulance," she said.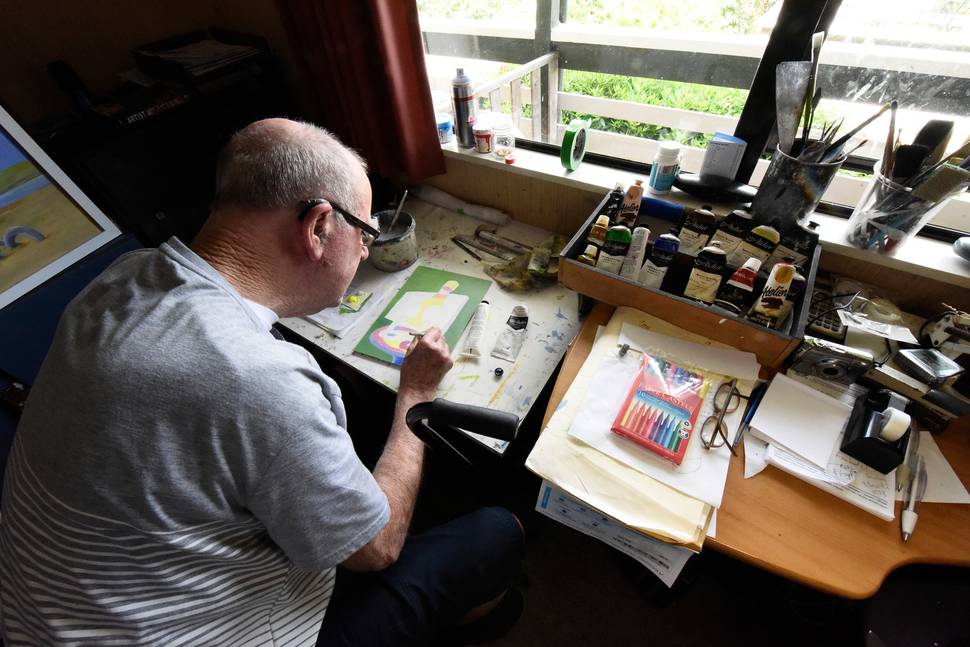 "We were at the hospital by 8.25."
He had a brain bleed so severe doctors said they should call for his daughters to come down from Auckland.
The Army-trained electrical engineer pulled through, however, and recovered in hospital for three months before he was allowed to return home.
His left side was immobile, he had balance issues and tired quickly.
Maynard said his first response to the prospect of trying to return to a normal life was to think: "I can't do this, I can't do that".
He soon realised he needed something to do to stay busy and keep his mind active. He considered the options for things he could do using just his right hand.
At the top of the list was illustration.
"I have been drawing lines on paper since I was born. I can't remember when I started."
Maynard started doing illustrations and painting - "if you want to be really flashy you call it art" - seriously after he retired about 20 years ago.
He does not like to call his work art, lest it be confused with any sort of conceptual art.
He started working with the Turning Point Trust, which works with people who have mental health or addiction issues, teaching arts, crafts, gardening and the like.
Post-stroke, painting was something he could right-handed do without feeling impeded.
He loved using his imagination to create an image, and exploring different styles and ways of looking at the world through a drawing.
Maynard, now 86, has painted landscapes and still life scenes, and explored fantasy and outer space.
Ellie said it had been a joy to see him out of bed and using his talent and his imagination and his physicality to produce his work.
The couple has started planning an exhibition, his first since the stroke, which they hoped to use to raise money for the Stroke Foundation.
He has seven pieces and hoped to double that number before the exhibit.
Ellie said they wanted to show that having a stroke did not mean life was finished.
"It can be the start of something new."