"Te Arawa took those trenches," wrote Private Winiata Tapihana from his hospital bed in 1915.
The 23-year-old from Maketū was describing the outcome of a deadly bayonet charge at Gallipoli, of which he took part in early August that year.
The letter, published in local newspapers back home, detailed the offensive blow by blow.
Tapihana, a member of the 1st New Zealand Maori Contingent, talks of "a shower of bullets like rain", men being mowed down "like a field of oats", and moments where the soldiers were crawling on their bellies "with our noses touching the ground".
After taking the first and second trenches, his company lay down and waited. Then they charged again.
"We knew this time we were going to face the machine guns."
Tapihana wrote that someone shouted out "Kia kaha" and then "Ka mate, ka mate, ka ora, ka ora".
"Well, something cold ran down my veins; with tears in my eyes, with my hand gripping my rifle, we shot out like whips for the Turks' trenches."
By the end of the attack, there would be "a big list of wounded", but the 5ft 8 lad from Maketū in the Bay of Plenty survived.
He was later sent to hospital with bronchitis. Gallipoli would not be the last time his courageous acts made the paper.
Winiata Rewi Tapihana (Tapsell) had enlisted for World War I at age 22, and would serve alongside several family members including his father, brother and uncles.
He embarked from Wellington on February 14, 1915, on the SS Warrimoo and landed in Egypt.
In his more than four years of service abroad, Tapihana would be involved in many major battles, including those at Gallipoli, the Somme, Messines and Passchendaele.
Possibly his most distinguished moment, however, came near the end of the war – a few days before the Armistice was signed.
On November 4, 1918, New Zealand soldiers liberated the small French town of Le Quesnoy, which had been occupied by the Germans for more than four years.
Tapihana was said by some to have been one of the first, if not the first, to make it into the town that day.
Official war correspondent Captain Malcolm Ross wrote in his report that a Māori from the Pioneer Battalion made it up the rampart "and his rifle was thrown up after him by a salvage officer".
The Māori was met with bombs, Ross said, and was later identified as being "16135, Winiata Topihana (sic) of Maketu, Bay of Plenty".
Another account also has Tapihana entering Le Quesnoy first – making it across a causeway using a timber plank. He shot one of the defenders before being forced back.
His brave role in that battle is a great source of pride for his whānau.
Two of Tapihana's sons, Homman and Petera, both aged in their 70s, travelled to Le Quesnoy this month with other family members to mark 100 years since it was liberated.
Petera and his wife, who live in Tauranga, sat with the mayor of the town at the official opening of the New Zealand War Memorial Museum there.
During the ceremony, Winiata Tapihana was twice acknowledged by the speakers.
Kim Reid, daughter of Homman, said it was "so moving and an absolute honour" to be in Le Quesnoy with family for the commemorations.
She said they visited the "exact place Koro Winiata got over the wall" and also went to the grave of Ropihana Tapsell, who was killed at the Battle of the Somme.
Homman, who is based in Paengaroa, carried a taonga from Maketū and placed it on Ropihana's grave at the cemetery in France.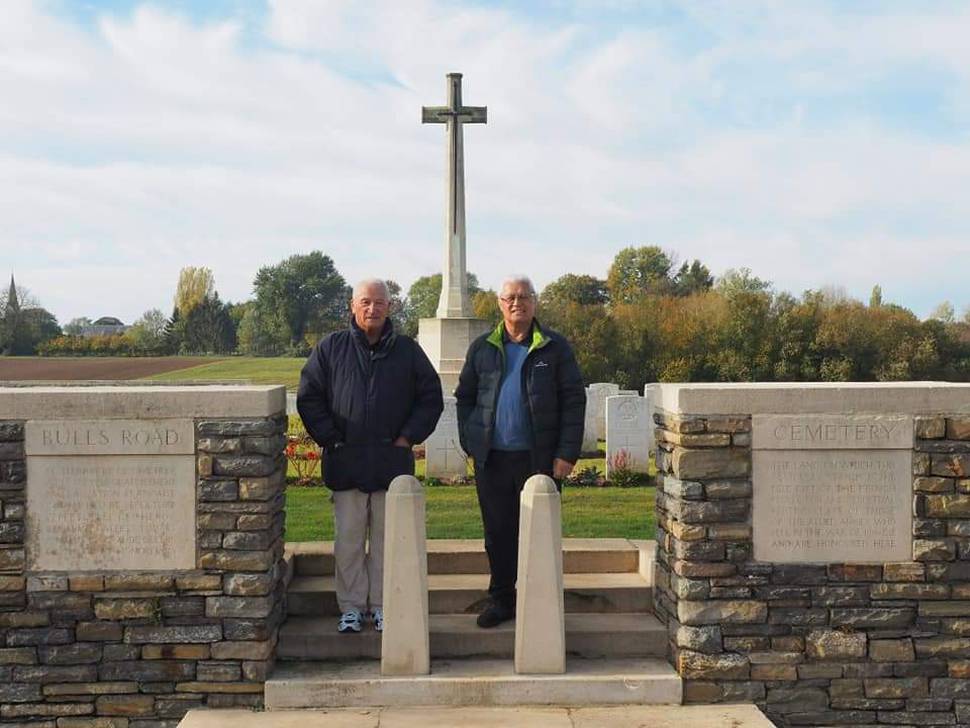 Back home in New Zealand, Katie Paul Tapsell has been researching and writing about her grandfather Winiata's story.
"I was 5 years old when my koro died. This research has helped me to connect to him and his extraordinary life," the 49-year-old from Rotorua said this week.
"It has brought our family together. The living links with koro are my uncles, aunts and mum. I loved listening to their stories about him. I'll pass these taonga on to my sons."
She said she wants to organise a family pilgrimage, to follow in her koro's footsteps at Gallipoli and the Western Front.
"We will not forget."
Tapihana continued to live a full life when he returned from World War I age 26.
He resettled in Maketū, married and had 21 children. He lived to the age of 84.
In 1921 he became a Māori All Black – another life-defining moment.
Tapihana's passion for rugby was evident in his letters home during the war.
When he wrote of that deadly charge at Gallipoli, he said: "I got the same feeling as I always got in the football field at Te Puke, with the fate of the game depending on the way I played."
His pride for his people and his love of home was also unmistakable.
"You can tell both Maoris and Pakehas that Te Arawa took those trenches on the fatal 6th, 7th, and 8th of August."
That message is still being shared by his whānau today.