An independent review into the safety of cyclists and pedestrians at Tauranga's $45m Maungatapu Underpass has highlighted 25 issues.
Tauranga City Council and the NZ Transport Agency asked for the review after a Bay of Plenty Times article raising concerns from cyclists using a newly established cycleway on Welcome Bay Rd, which cut across a busy free turn for traffic at Welcome Bay Lane.
Of the 25 issues raised, 12 related to the safety of cyclists. The dangers to cyclists using the cycleway at Welcome Bay Lane entrance from heavy turning traffic was singled out as "a major concern".
The report, completed by Christchurch company Viastrada, cost $16,500 and a draft was released to the Bay of Plenty Times only after a Local Government Official Information and Meetings Act request.
It recommended the cycleway's complete removal and construction of a controlled pedestrian and cycle crossing across Welcome Bay Rd in the area of Awanui Place instead.
Cyclists and pedestrians would be expected to cross the road again at the Hammond St intersection.
Cyclist Ivan Davie said although he would use the crossing, he doubted other cyclists would bother. Welcome Bay councillor Bill Grainger and head of Tauranga council's Transport Committee Rick Curach agreed.
Davie featured in the original Bay of Plenty Times story about the cycleway dangers, saying someone would be killed if something wasn't done.
The council and transport agency investigated and agreed the junction was dangerous and immediately closed Welcome Bay Lane until a more permanent solution was found.
"I'm safer now than what they had before and it seems to be working, so does there need to be more improvements?" he said.
"This is the most complex piece of road in the city. It's a challenge to find the right solutions that will work for as many different people as possible."
"You will get cyclists who will cross the slip road still. Maybe they shouldn't but they are not going to want to go through a crossing only to cross again down the road."
Grainger opposed the recommendation, which is yet to be decided upon.
"We have one way in and one way out. You start putting controls in ... traffic builds up a backflow. It's a bit like dominoes - it takes a while to flow again. Welcome Bay Rd certainly does not need for that to happen," he said.
"If a cyclist comes along, is he prepared to stop, push the button, wait for lights to change, crossover, go down the road 100m and do it all over again? I don't think so. For most people time is of the essence. They will say 'to hell with that' and continue on."
Curach said while the report was comprehensive and compelling, it also "makes me wonder how others got it so wrong at the design stage".
The changes to the roading came with the completion of the Maungatapu Underpass, which officially opened on June 22.
"I feel a lot of cyclists won't take that crossing option ... they will keep taking the direct route. The danger will still be there [at the slipway], possibly even more so because the signage won't be there. Cars won't be expecting cyclists to be there."
The report suggests the proposed solution for the cycleway issue could only succeed if an environment and facilities were built to encourage cyclists and pedestrians to want to use them. This required an "excellent level of service" to manage the signalised crossing.
"There is no point hoping that people will wait at the signalised crossing a similar length of time as it would take them to get to Hammond St, say. In other words, this will only work if the level of service is excellent," the report states.
On Monday, the transport agency's John McCarthy spoke at a council meeting about the safety issues, saying the design was dangerous.
"It was designed five years ago and back in those days we just bolted a cycle lane on the side and called it fit for purpose. The world has changed."
Council transportation manager Martin Parkes said the report validated the council's concerns and it was now talking with cycle advocacy groups and looking "very carefully" at the recommendations.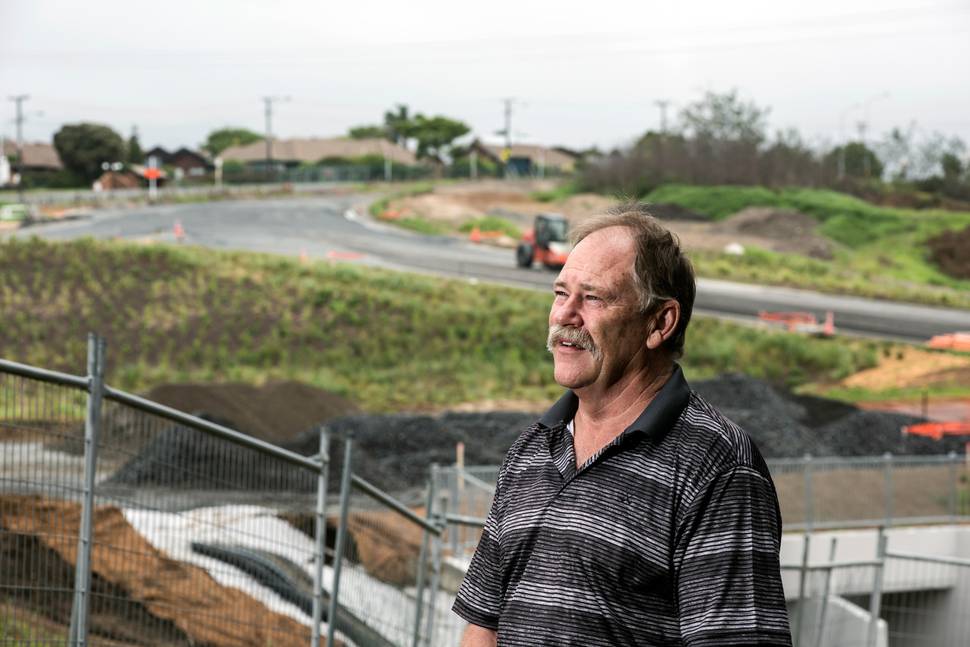 "Some are straightforward to implement, others will require more time. Some recommendations in the report have the potential to impact the flow of traffic, particularly during the morning peak. We need to understand what the wider impact will be on other people's travel.
"This is the most complex piece of road in the city. It's a challenge to find the right solutions that will work for as many different people as possible."
Parkes said the Welcome Bay Lane junction was the biggest concern.
"Addressing the immediate cycle safety problems at Welcome Bay will go a long way to unlocking the potential for more people cycling in the area."
Safety issues highlighted in the report include:
- Traffic cutting corner and missing traffic control devices at Welcome Bay Lane exit heading towards Harini roundabout
- Several issues with the Hammond St intersection including inappropriate stopping box, nowhere safe for a cyclist to wait and no indication the cyclelane is for turning right
- West-bound traffic moving into Welcome Bay Rd cyclelane while approaching left-hand turn at Hammond St intersection
- Merging lane on a bend on Welcome Bay Rd for east-bound traffic resulting in cyclists using footpath instead
- Very narrow shoulder for eastbound cyclists on Turret Rd after the Turret Rd Bridge, ahead of newly established cycle crossing into Welcome Bay Rd, which could result in a cyclist coming into "high-speed conflict"