The clock says 69 minutes. It's a 70-minute game.
The score is 30-all. You've just conceded a try under the posts after a charge down. Golden point extra-time looms.
This is how it was under the lights at Owen Delany Park in Taupo around 6.30pm on Saturday.
The Bay of Plenty Under-19s, looking to give this province its first national premiership rugby title in 42 years, were deflated. A seven-point lead over Canterbury had just evaporated.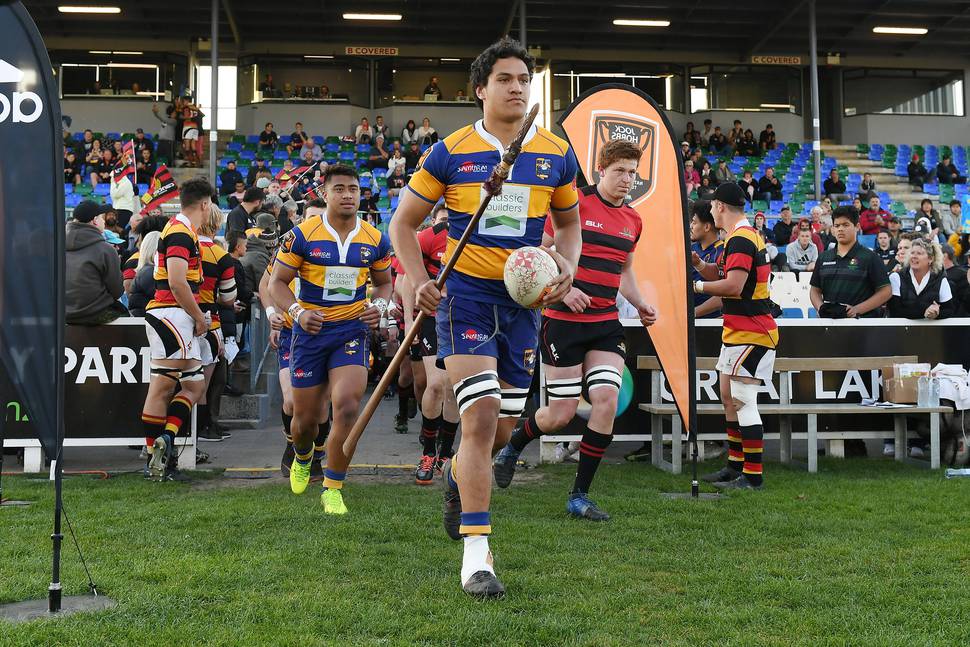 Kaleb Trask, already with two tries in the match and soon to be named the Jock Hobbs Memorial National Under 19 tournament's Most Valuable Player, restarted from halfway.
Canterbury gained possession and looked to get a passing movement going just outside their 22. Their very good loose forward Matthew Letoga passed to the right, as the Bay of Plenty defensive line moved up.
Read more: Rugby: Bay of Plenty face Canterbury in Jock Hobbs Memorial under 19 final in Taupo
Rugby: Bay of Plenty under-19s beat North Harbour in Jock Hobbs semifinals
Rugby: Bay of Plenty under-19s defeat Hawke's Bay at Jock Hobbs tournament
In a flash Jayjay Suemai, the Bay left wing swapped, timing his move perfectly. He picked off Letoga's pass and ran unimpeded to the line to score.
Game over. Bay of Plenty 35, Canterbury 30.
"I fell off my chair in the coaches' box," said Bay of Plenty head coach Mike Rogers.
It was a wonderful game of rugby which disproved the old adage that you can't win unless you have a dominating forward pack and a strong scrum.
Frankly, the Bay forwards were steamrollered in the set pieces. Scrum after scrum on their own feed went backwards. Twice in the first half they conceded penalties which Canterbury turned into points.
Then the Bay changed approach. Instead of the halfback picking the ball from the scrum, No 8 Gordie Lloyd was charged with extracting it on the back-pedal and feeding halfback Leroy Carter.
From such a move, the Bay scored two of their five tries through the brilliance of their backline.
The first, late in the first half when they were down 13-3 and looking the inferior team, came when Trask took a pass in the second phase and through sheer strength beat three tacklers to score wide out.
It was a defining moment. As Rogers said afterwards: "After 25 minutes it wasn't going too well."
Behind five points at the break, Bay of Plenty maintained their fearless, confident approach with ball in hand at the start of the second.
After controlled possession, the ball was moved right on the seventh phase to outstanding wing Emoni Narawa. He flicked an underhand pass to flanker Kohan Herbert. The Australian sidestepped to the left, beating three drifting defenders to score. Trask converted, the Bay were in front, and were never behind again.
Only three minutes later, Narawa was at it once more. He took the ball on the 10m mark, beat four defenders, made another underhand flick pass, this time to Cole Forbes who raced 25m to score. It was breathtaking.
But they weren't finished yet with the long-range scores. Another back-pedalling scrum, this time on their own 10m line. Gordie Lloyd picked it out walking backwards. He fed Carter who scooted through a gap. Narawa loomed on the outside. Carter passed but Canterbury's cover defence claimed Narawa. No worries. Kaleb Trask, running the inside support line, gathered the pass and crashed over in the corner. Brilliant.
Then Trask converted. The lead was 27-16 with 18 minutes to play. Game safe? No way. The opposition was Canterbury.
The red and blacks scored from a lineout drive and converted. 27-23.
Trask kicked a penalty. 30-23 with 3 minutes left. But a Cole Forbes clearance was charged down and Canterbury scored under the posts. 30-all.
What more drama could this match offer?
Well, thanks to Jayjay Suemai, one more final twist.
The result is the culmination of a Bay of Plenty Rugby initiative to retain top local talent like Trask and Carter and captain Kaipo Brown, and augment that with explosive recruited players such as Narawa, Suemai and Herbert. The mix produced something extra special in Taupo.
"I'm really proud of these boys," Rogers said.
"The vast majority are contracted to us for a while. It bodes well for Bay of Plenty rugby."