Walking into the Veal house, it's apparent photos play a big part of their family life.
Professional photos adorn the walls and special framed family pics are on display - there's even a less formal "photo board" which Leanna Veal prints out snaps and pins to the board to remind the children of their recent activities and fun times.
"This is where I print and keep current photos of what we are up to. It's easier than having to take a photo out of a frame which is too much effort for me! The kids also love seeing the photos and reminding them of all the cool things we have been doing."
Leanna lives at her cosy family home in Bethlehem with husband Andy, Josh, 9, Lachie, 7, Paige, 5, and Zach, 2. They've lived here for three years.
The couple were living in the United Kingdom and travelled for eight years before returning to New Zealand. Along the way they had collected a number of artworks and amazing location photos.
"One of them is a sunset photos of us on a felucca on the Nile in Egypt which Andy got made into a large three-piece aluminium photo for one of my birthdays. I love it as it reminds us of our pre-kid life and the cool adventures we had."
The minimalist walls are broken up by professional photos of their children.
"My favourite is a photo of Andy holding Paige when she was three months old, it's a big black and white one and we have this in our entrance. I just love the photo and all that it stands for."
Another prized possession is a special book that was given to them from dear friends as a leaving gift. It contains pages of pages of their London adventures.
After they had settled back and living in New Zealand, Leanna and Andy found the Bethlehem home. They initially liked their home because it had a tennis court, pool and a good layout.
But they knew much work would be required to truly make it theirs - and once again their weekends would be sucked up doing renovation.
"I just loved the feel of the place and the anticipation of what we could change to make it ours - there was so much to do. It had all the bones of a great property."
Leanna wanted an area with a separate TV room from the main sitting area.
"I wanted a place where we can hang out with the kids, Andy and I could sit at night once they were down in bed or where we can sit with friends when they pop in without the TV on in the background. We barely go into the TV room at all."
Since moving in, the Veals have repainted the entire interior, upgraded light fittings, relacquered the kitchen, created feature walls in the lounge and children's rooms, moved walls and upgraded the ensuite.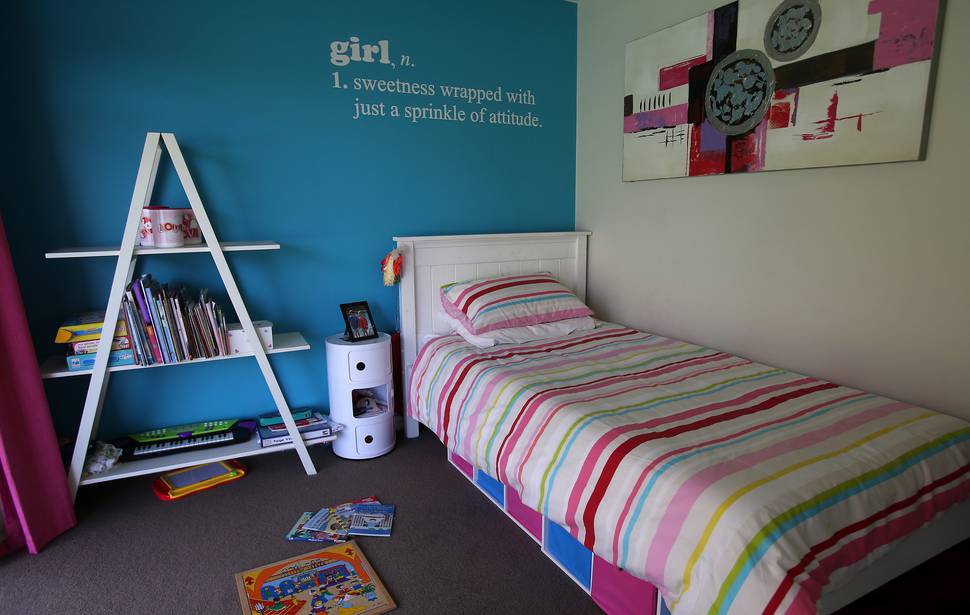 Outside, they have cut down trees, landscaped, resealed and painted the pool, paved the outdoor area, got rid of a huge outdoor concrete fire, pushed all the retaining around the pool area back to create a bigger area, built an entertaining area and created decks.
There's still work to be done. Leanna has a list that includes double glazing, carpet, recladding and reroofing, extending, building a guest house and two more rooms.
Leanna's favourite spot in the house is the sitting room with its comfy sofas.
"In the summer the sun shines in during the day and you can see most of the property. In the evenings when we are all home, it's a place where we all sit to chat, to have bedtime stories, do Lego, etc. In the winter it's right by the fire."
Andy's favourite spot would be the tennis courts which now has lights. They both love the pool area for entertaining during summer.
Leanna loves her kitchen. She can see everything that's going from there including the pool and tennis court.