"I suppose there's nowhere else down from here, so the only way is up."
Taihorangi Palmer is sitting in an old church hall on Ōhauiti Rd. He moved in on Monday.
"You should see the laughter on some of the people's faces that are in here," the 27-year-old says.
"Had you seen them a week ago on the street, you'd never see the smile that's seen here."
Read more: AIMS Games puts pressure on accommodation for Tauranga's homeless
Opinion: Innovative solutions needed to help Bay of Plenty's homeless
The hall is home – this week and next – to a group of people who desperately needed accommodation in Tauranga.
With two high school sports tournaments in town this past week and the AIMS Games kicking off tomorrow, the city's accommodation supply is at capacity.
On Monday the Bay of Plenty Times reported that groups working with the homeless and needy in Tauranga were calling for help, saying dozens of people who relied on the likes of motels for emergency accommodation were struggling to find a place to stay.
The Tauranga Moana parish of the Anglican Church has offered its hall on Ōhauiti Rd to Te Tuinga Whānau Support Services Trust and this week the Bay of Plenty Times Weekend stopped by for a visit.
Some paint is peeling on the outside walls of the hall, which appears to have been marked by many a winter season, and a clothesline is hanging on the front porch under cover.
A pallet sits outside the front, covering part of a muddy puddle.
The building may be old, but inside it feels warm and looks clean and tidy.
A handwritten note on a serviette, pinned to the door, asks people to "please remove your shoes".
Mattresses, blankets and pillows are piled up and pushed to the side, against the walls.
Those beds will be spread out over the wooden floors – "marae style" – at night.
Rules listed on a piece of paper are stuck to the wall – no shoes inside, no drugs or alcohol, keep shower time to a minimum.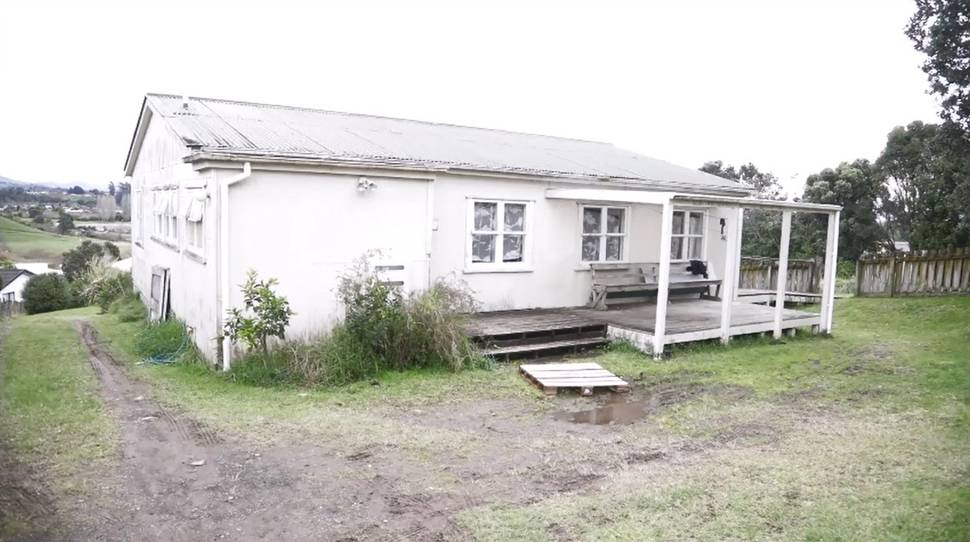 Starting last Saturday night, about 15 people, a mix of individuals and couples, have been sleeping at the hall. Sometimes there are fewer. Sometimes there are extras – last Sunday night there were more than 20.
The people running and maintaining the pop-up household are those staying there. Jobs and responsibilities have been picked up, and a routine is in place.
Palmer is one of the people who put their hand up to help look after the hall and assist with cooking. He stays during the day to "hold the fort".
"Because we consider it home," he says.
Palmer says he has been sleeping in a car for the past two weeks and, since leaving prison, has also spent time in motels, on the street and the occasional couch.
Asked what it means to be able to stay in the hall, he says: "Oh, you wouldn't believe it."
He says they play cards together at night, drink tea, tell jokes and watch TV.
"Some of us have made some awesome connections, and I think a lot of us will leave friends and will contact each other again because we're all on the same page."
Palmer says his aunty and his cousin, also staying in the hall, were in a motel but had to leave because of pre-bookings.
Te Tuinga Whānau coordinator Shane Peeni says about half of the people staying in the hall have been living in motels week-to-week.
Last Friday, the Bay of Plenty Times Weekend visited Morgan Thomas and her 5-month-old baby boy Kaia in their Tauranga motel unit.
The 32-year-old was on an emergency accommodation grant, which gets renewed by Winz every week if she meets the obligations.
Thomas had been told by the motel manager that all rooms were fully booked during AIMS Games week so she could not stay there unless there were a cancellation.
"He reckons every motel in Tauranga is booked."
She was one of those to contact Te Tuinga Whānau for help. She was relying on them.
"I have to take each day as it comes … I can only just live daily."
Those sleeping in the Ōhauiti Rd hall who aren't from motels are either waiting to be put into one or are homeless, Piki Russell, Te Tuinga Whānau social services manager, says.
"The biggest dilemma is that we're having a lot of people having to move out of the motels, so therefore it's challenging for those that are trying to get in, so there's no place for either," she says.
"This place here [the hall] has provided somewhere for people to go."
However, more people are still contacting Russell's team saying they have to move out of their accommodation because of pre-bookings.
"Thursday through to next Saturday will be the most people moving out," she says.
And so Te Tuinga Whānau is calling for support. They need more accommodation space.
"We just don't have the room," co-ordinator Peeni says.
"We don't have enough. We've only got one shower to accommodate these whānau. We only have one stove, three pots, and two frying pans to feed these people. So we need support; we need it now."
Some other churches have also been stepping up, delivering food and helping out at the hall in the evenings.
Mattresses, blankets, sheets and pillows continue to be donated by organisations and members of the public.
Russell says her team has realised that while the hall is an excellent space for singles and couples, when it comes to families and children, something else is needed.
That is why Te Tuinga Whānau has found Morgan Thomas and her baby alternative accommodation.
But there are still other families to help, she says.
The Ministry of Social Development's Bay of Plenty regional commissioner, Mike Bryant, says staff will work with any individuals or families who come to them for help in finding suitable accommodation.
"We've had three clients approach us due to being displaced as a result of their motel accommodation ceasing. In all cases, these clients had only recently moved into motels, and we were not able to book out accommodation over a longer period of time to cover the AIMS Games period due to the rooms being booked in advance," he says.
"We have been working with these three clients to find suitable accommodation and to date we have been able to find an alternative for two clients, including moving into transitional housing and a motel, which became available due to cancellations. We're working closely with the other client and hope to find a solution soon."
Bryant says the ministry cares about its clients and are here to help.
When it comes to Taihorangi Palmer, he says the ministry has been doing its best to support him and has linked him with social agency support, GP services and paid employment in the kiwifruit industry.
"We've also helped with other support as he's needed it, including a Transition to Work Grant for footwear, getting a cell phone, food grants, petrol and helping him with short-term accommodation," Bryant says.
"We remain committed to helping Taihorangi be safe, strong and independent – and if he's had a change in circumstances, like living in his car, we'd encourage him to let us know so we can help him further. We are keen to help him find more long-term, permanent and suitable accommodation."
Bryant says anyone who needs help can contact their nearest service centre or phone 0800 559 009.
"We're committed to ensuring anyone that approaches us has somewhere warm, safe and dry to stay."
In response to Bryant's comments, Palmer says: "I will follow that up to see if they are true to ongoing support because they continue to put matters off and I continue to wait for their support, that's my reply."
Read more: The Big Read: Milo Night, compassion on the streets of Tauranga