Ultra mad or ultra rad? Ultramarathon runner and doctor, Jo Petersen, reveals his passion for going long distance.
LOOK out your car window on a frigid night, and it's a flicker of light you'll see first.
Half a second later, comes the dogged determination of a man clothed in red, wearing a head torch, whose Hoka shoes are pounding at a steady rhythm.
While others are racing home to crank their heat pump, ultramarathon runner Dr Jo Petersen is heading out on a super-long run, whatever the weather.
When he's training, he runs for a "minimum" of two hours after work, and it's always off-road.
"I never train for specific terrain. I rely entirely on hills," the Whakatane GP says. "I'm time-strapped so I don't do a lot of mileage, but I do a lot of hills."
His ultramarathons have ranged in distance from a breath-sapping 45km to a jelly-legged 520km.
When racing, the 66-year-old has been known to struggle on for 15 hours without stopping.
Since 2004, he's run more than 10,000 racing kilometres on all seven continents, including Antarctica, and some 17 countries, from Costa Rica to Bhutan, the United States, Oman, Namibia and China.
In every event, Petersen has managed to win his age-group category and has achieved top five placings in several of them.
Before that, he competed in marathons, but when his two sons, Mark and Craig, grew up and left home, he upped his mileage.
Why push your body to such extremities?
Petersen is proof of "why not?"
With an athletic physique of 82kg and measuring 6'2'' (1.82m), he doesn't run around his Whakatane clinic, but he is a quick mover, he notes. He's competed for years without serious injury.
"Anybody can do it, it's just whether you want to do it," he says of ultramarathons and his all-out effort. "That's the big thing because it's hugely mental."
Furthermore, you have to believe in yourself, and pace yourself.
"You just have to have a lot of fortitude and grit. You play games with yourself on the way, because your mind keeps telling you to: 'Stop, slow down'. You fight that the whole time," he explains.
Most of us would require a good soak in the spa just thinking about the battle of running for hours on end, but there's something cathartic about running long distance, he reckons.
Petersen isn't your average runner though, or your average doctor. He's experienced and determined in equal measures.
He qualified at Wits University in South Africa, and before his move to New Zealand in 1994 was the chief medical officer of a 50-bed hospital at a remote diamond mine, owned by the biggest diamond producers in the world, De Beers.
De Beers established towns or "oases'" for their employees, including Petersen and wife Ann, a teacher.
The pair first worked on diamond mines in Namibia, then Botswana, and on the west coast of South Africa, which is surrounded by deserts.
As well as treating common illnesses, Petersen practised in paediatrics, obstetrics and became "the chief of everything", Ann says. He has delivered "a few hundred" babies and carried out the same number of caesareans.
He has diplomas in tropical medicine and recently completed papers on travel medicine and aviation medicine.
So far, he's had no luck convincing Ann (who has never run), or any of his colleagues at Whakatane's The Doctors' Phoenix to join him on his lengthy jogging jaunts. His whippet, Skye, will occasionally oblige.
"They say running is the best antidepressant and anti-anxiety remedy, and it is," he prescribes.
"If you're severely depressed, running's not going to get you out of your severe depression, but it is if you're mildly anxious or stressed, there's nothing to beat it.
"I've often said to people: 'If you're full of anger come with me, we'll go running for three hours. You'll come back as meek as a lamb because that's what it does to you.' You come back physically and mentally shot."
He was in his late 20s when he began to run, in his home country of South Africa. It was 1979 and pre-Mandela.
Like all South African white males, Petersen, who speaks English and Afrikaans, was doing two years compulsory national service for the army.
Soldiers had to take up a sport, and he chose tennis - an "easy" option.
One day, he and his tennis partner curiously watched soldiers running out of camp. "Marathon running," they were informed by a sergeant.
The next week, the pair switched sports.
They began to run out of camp, and into town. Once there, Petersen would sleep on the grass in the local park, while his friend would rendezvous with his girlfriend.
After two hours, the men would meet up again, and run back to camp.
"We did this week on week, and it was fantastic," Petersen says with a grin.
"Until about three to four weeks had gone by, and the sergeant asked how the training was going. 'Really good, we're really fit'," Petersen informed him.
"Oh, good," smirked the sergeant. "Because in two days time the army is having their marathon … 42km."
"Oh s***, We haven't run more than 2-3km," Petersen thought.
Somehow the pair made it through the marathon, and Petersen was surprised at how much he enjoyed it.
Nowadays, 39 years on, he'll travel to Mount Maunganui from Whakatane, where he'll power up and around Mauao four times in a row.
He also trains at Mount Ruapehu, and in the Rotorua Redwoods.
If it's dark when he wants to run, he'll wear a head torch, and if he's going off the beaten track, he'll take an emergency locator beacon.
He seldom carries a cellphone, and he doesn't wear a GPS watch.
He has a blue-strapped Swatch watch, which looks like a "Mickey Mouse watch".
He's isn't one for fancy things or technology. He's trying to escape all that when he goes bush. His favourite place to run is Whakatane's Nga Tapuwae o Toi walkway.
Occasionally he will listen to his iPod for a "boost" when doing endurance runs … John Denver, Chicago and Dusty Springfield are his favourite singers.
There are also podcasts. His youngest son put him on to neuroscientist Sam Harris.
He used to wear a lot of blue running outfits, but recently he moved to reds because he did well in his last race wearing red.
He wears the ultra gear label Salomon, but notes it's costly, and he'll wear the clothes out before replacing them.
Shoes, he goes through two pairs a year, and he wears the thickly cushioned Hoka brand.
Petersen's motivations for doing something that sounds deliberately unpleasant, are actually the opposite.
He uses the word "mindfulness" but says he never used to be like that.
"I used to be really, really competitive, but the competitive edge has gone a bit. I'm much more into relaxing and just enjoying."
Combining running with travel has been his "ultimate".
In Paris, Rome and Spain, he'd rise before 5am, and run around the city, taking in all the landmarks.
The streets were lonely, bar a few patrolling policemen.
In terms of events, he enjoys the multi-day ones, and he's befriended runners from all over the world.
As well as their race recommendations, he surfs the internet to find a country where there's a race he'd like to do, but these days, they have to be supported.
He's tried self-supported, but it was too difficult.
"They (race organisers) don't give you anything - just a tent and water at the end of each day. So with those races, you have to take your own food - that freeze-dried stuff, which I just couldn't eat."
He is a bit of an old-school Maverick when it comes to fuelling for races.
He doesn't do anything special pre-race, or afterwards. No massage, spa, or electrolytes.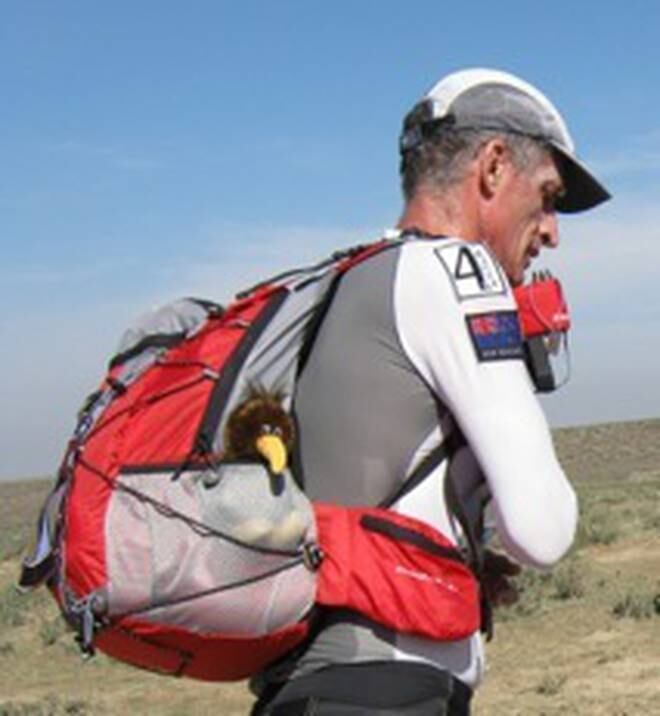 On race day, he drinks Coca-Cola, mostly for the sugar hit, but also for caffeine.
Before the last Tarawera Ultramarathon (he's done every one since 2008) he stayed overnight in Rotorua, and his dinner was McDonald's, Coca-Cola, a bar of chocolate and a banana.
"All the things you shouldn't be eating," the doctor tut-tuts. But, it's good fuel.
Nowadays after a race, he enjoys a beer (it's the only time he drinks), but he used to enjoy chocolate milk, as milk settles his tummy. Tummy troubles aren't uncommon for ultra runners.
In terms of race safety, there are always dangers. In the 2010, 250km Gobi March, one of his co-runners died as a result of heat stroke, when the temperatures got to 50C.
In the 2011, 520km Australian The Track race, Petersen was the only runner out of 35 to have a Spot personal tracker, which enabled wife Ann, a school teacher at Awakeri Primary School, to track where he was going.
Ann is his number one supporter and often travels with him.
Next year, they're going to walk the last 100km of the Portuguese Camino, which ends in Santiago.
Petersen will do a four-day race in Portugal, before meeting up with Ann to start walking.
"I hate walking," he half-jokes.
This year, he ran the 800km Camino de Santiago, from St Jean Pied de Port in France to Santiago on the west coast of Spain.
"I put my shoes on, and where other pilgrims walk, I just started running. It's like a natural thing. When I was doing the Camino, there were times I was reduced to tears of sheer gratitude. I was just so happy and thankful to be there, and grateful to be able to do what I was doing. I didn't have a worry in the world."
There have been many racing highlights over the years, with a marathon on Antarctica's King George Island being one of them.
It was a misty, sleety, fresh-aired affair on race day. The vast expanses of snow and the penguins, seals and whales made it a unique experience. That race - shorter at 42km - was also run by Tauranga's Westbay Real Estate agent Ross Steele.
When it comes to ultramarathons, there are fewer competitors, but thanks to the internet, the numbers are increasing.
When he ran The Track in Australia, he ran nearly 60km a day over 10 days.
He plans on continuing to run until he can't. "Only when I really have to," he says of giving it up. Ageing after all, should never be a barrier to staying active.
"I have an American friend, 78 years of age, and he still runs like a gazelle."
Of ultramarathons, he says: "People tell me they can't do it (but) it's just nonsense. It's just that they don't want to, not that they can't. Although you are entitled not to want to."
He tells the story of one of his patients, and a good athlete, who had an incapacitating stroke. The patient recently walked up Ohope Hill and down again - a 2km journey of solid determination, which took him 5.5 hours.
"And I thought to myself: 'There you go. Don't tell me you can't do things. Like my patient, if you really want to, you will."