A group of Tauranga airport residents and workers staged a loud protest yesterday in front of an industrial building they say emits organic dust that makes them sick.
Residents and workers of hangars located on airport land in De Havilland Way, Mount Maunganui, have complained about allergic reactions to the fine, inhalable dust for the last four years.
They say the dust comes from 101 Aerodrome Rd, an industrial-zoned building about 55 metres behind the hangars where various businesses store and handle animal feed, including palm kernel expeller, a controversial palm oil industry byproduct.
Previous monitoring of the site did not find evidence of any emissions that breached regulations, and the Bay of Plenty Regional Council has never taken enforcement action.
About 30 people gathered outside the building's gates at noon today with placards - "no toxic dust", "people before profits" - and air horns to make a stand against the dust issue.
Leading the protest was Colin Alexander, who said he suffered a severe allergic reaction to the dust last year.
He said he was happy with the turnout, and that he was prepared to continue protesting until the dust issues stopped. Since going public this week he had heard from other people around New Zealand having similar issues with organic dust, he said.
Alexander was supported by friends and clients of his aviation business, Solo Wings, other affected De Havilland Way workers and residents, and concerned community members.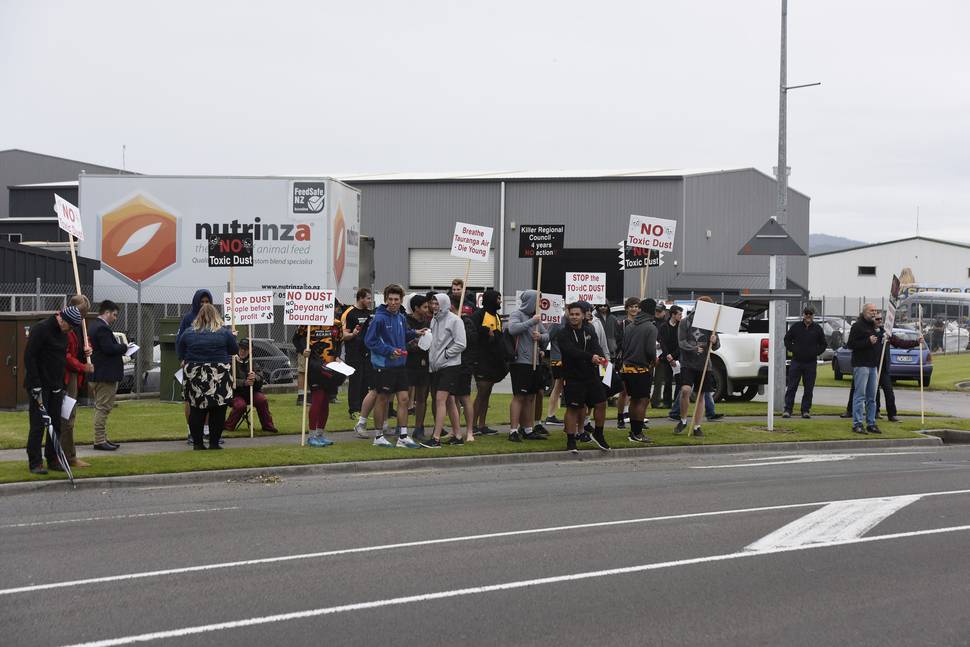 Among them was Mark Arundel, a pharmacist, gliding club member and Bay of Plenty District Health Board member.
He said that, as a health professional, he was concerned to see people suffering and it had been difficult to see the toll his illness had taken on his longtime friend, Alexander.
"This is about having a safe working environment."
He said the issue might be wider than first thought as trucks carrying material to and from the building often left a trail of dust in their wake.
"This may be an issue for all sorts of people along the route."
The oldest protestor was 88-year-old Sidney Selak, another friend of Alexander's.
Selak said his friend's illness "nearly killed him".
"There's no excuse for it," he said. "Where is the justice?"
The building's owner and the operators have defended their operations, saying they take the dust issue seriously and previous monitoring over the years had shown they were working within the law.
They were willing to work with authorities and residents towards a solution.
Toi Te Ora, the Bay of Plenty Regional Council and Worksafe were all looking into the dust issues.