A $6.1m project to turn Durham St and Durham Lane into a pedestrian-friendly student hub has kicked off with a blessing this morning.
The project is the first streetscape upgrade to take place as part of the Heart of the City programme to rejuvenate Tauranga City Centre.
Representatives of Tauranga City Council, the University of Waikato, tangata whenua and Ngāi Tamarāwaho and other groups met next door to the new campus construction site for the blessing at 8am.
University of Waikato kaumātua Tamati Tata, of Ngāi Tamarāwaho, led the group on a walk around the streets that will be transformed, saying a blessing for the safety of all those who will work and travel through there.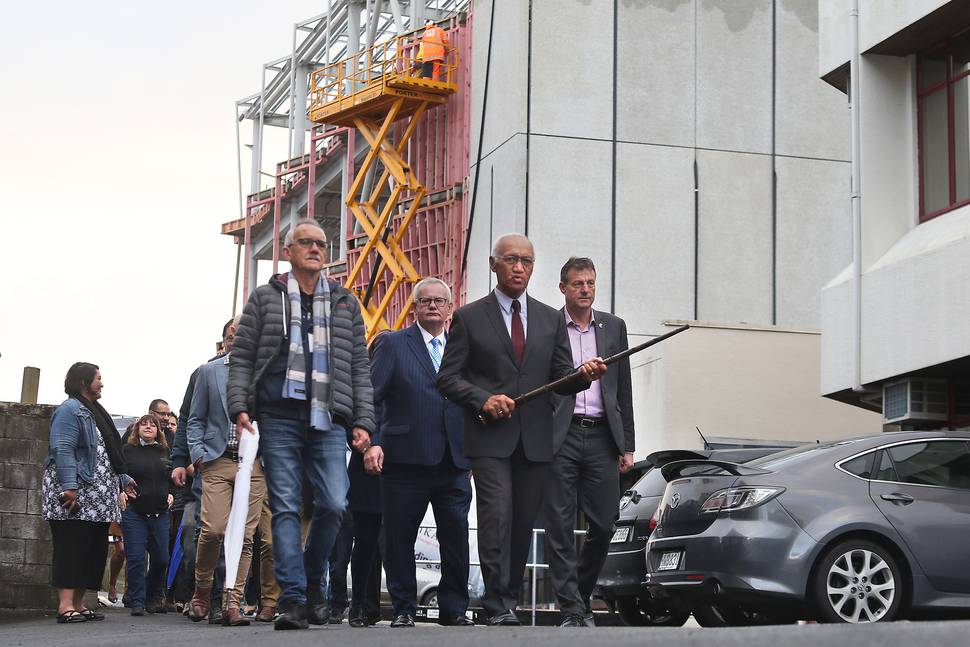 The street upgrades to Durham St and Durham Lane are a joint project between the council, the university - which is building its new campus in the area - and the New Zealand Transport Agency.
Deputy Mayor Kelvin Clout said it was a "major milestone" in the transformation of the CBD.
"This is a whole new era for us as a council. It is the start of what we are going to see in this city going forward."
He said there would be less emphasis on cars and more emphasis on people and alternative transport that was "the way of the future for our CBD".
Durham Lane - currently a patchy stretch of tarseal lined with the campus construction site on one side, service entrances of businesses and parked cars on the other - is expected to become an informal campus heart for students over time.
The council will wear the bulk of the cost, contributing $5.62m of the estimated $6.1m revamp pricetag.
The first stage will include most of Durham Lane and the raised carriageway section of Durham St, will be due to finish in April 2019, and the second stage in 2021.
Plans for the second stage include a bus interchange.
Durham Street today and artist impressions of how it could look post $6.1m revitalisation.