Fe Alma Demafeliz's upstairs office at Historic Village is an eclectic mix of mismatched furniture, coffee mugs, dog-eared posters and paperwork. Her narrow tan desk sits in front of a window with a scalloped lace curtain that stops about 5cm too short of the ledge.
The number of women coming here to Shakti - a women's refuge for Middle Eastern, Asian and African women - is up 30 per cent in a year.
Demafeliz, known as "Fem," is the co-ordinator for the central region office. She weaves herself around her unheated office offering muffins, rice crackers and a hot drink. She is feeling the cold.
She is delicate and waif-like. A size six and small in height; her black scarf stops at her knees.
She imagines what she must look like: "To most people, they look at me and think she's a nobody. Yes, I'm frail-looking, but if I pursue something, and if I know it's right, I will always push for it. I am small, but I am strong."
She arrived in Tauranga a year ago from the Philippines on a work visa. Her husband William James, and children Louise (13) and James Christopher (17), will join her once she obtains a residency visa.
Financially, she is worse off for being here.
She had a successful career in Manilla working across three universities - De La Salle University-Taft, De La Salle College of St Benilde, and University of Perpetual Help.
She's put her PhD on inter-racial relationships on hold. She's working for a severely cash-strapped organisation. And she's flatting. It's not been easy.
With few contacts in Tauranga, other than a sister and three friends, the 47-year-old spends most of her hours at work.
The isolation and the homesickness are "terrible", but the tradeoff for a better social, environmental and political lifestyle is worth it.
"If I'm on my death bed and I look back to this day, I don't want to say 'what if?' I tried while I had the chance. Coming to New Zealand will provide my children with the best life a parent can give."
She is an introvert who loves to research and work. She's lost weight since being here because of those demands - something she's chosen as "there's so much to catch up on".
"The emotional [toll] would be on my family. But my work, I don't feel drained or exhausted. I'm thankful. But my family are worried. They keep telling me 'slow down'. But Shakti doesn't make me work. I'm happy to do it."
On her office wall is a poster of a woman's dark, lighted eye. The words beside it read: Strength. Courage. Hope.
"Each time I struggle and find things really difficult, I just close my eyes and think of my children. It is because of my love for them I can carry on."
Her voice catches several times.
Every day her son never fails to text her: "Hi mummy, how are you? How was work? Stay safe there."
In the evening, he will text: "You go rest now, I'm sure you're tired."
She pulls out her Samsung phone to show off photos: "I'm a proud mummy ... Our children are very good-looking."
It is hard not to get emotional. She has not seen her son or daughter in a year, and reports from her husband that they are growing up and changing hits her heart hard.
"Our children understand the situation ... They are so kind."
Her move to New Zealand could be classed as unusual. Being submissive and serving your husband is strong in Asian culture. But Demafeliz has always been a bit of a "rebel" and has the support of her family to be here.
Each time I struggle and find things really difficult, I just close my eyes and think of my children. It is because of my love for them I can carry on.
"Then right after college, without my parents' knowledge, I took a masters in counselling."
She met her now husband, and they had a baby out of wedlock - a social taboo in Filipino society.
"My mum, she's so worried about me [in New Zealand]. But she's one of the people that also inspired me to do this job. She told me: 'Make sure if you find [a man], he will not allow you to lose your identity. He will give you the freedom to enjoy what you want to do'."
And she found that?
"I made sure. I'm an obedient daughter," she quips.
Her husband happens to be her best friend's brother. "I didn't know he had a crush on me when we were in college, and then 10 years later he pursued me."
Since living here, she's spoken to her husband - a former nurse turned corrections officer - daily.
She misses him.
"I really miss [our] time back there on a Sunday. We would go to the wet market. After that I would cook our lunch, do grocery, that is our date. Then after church, we would eat in our favourite restaurant. Yeah ... ," her voice trails off.
She must do something in Tauranga other than work?
"I wish," she says. "I wish I could bake; I wish I could cook, I wish I could cross-stitch, knit, sew. I'm an introvert person.
"Even back in the Philippines, my priority is my work ... Most [university] faculty members would run away from doing research, but I will always be excited." Co-workers would joke: "Oh she'll get sick if she doesn't do her research. I could be given a perfect attendance plus, plus. So I don't know, my life isn't that colourful."
Today is Saturday, and she's putting in unpaid hours to catch up. What time will she go home?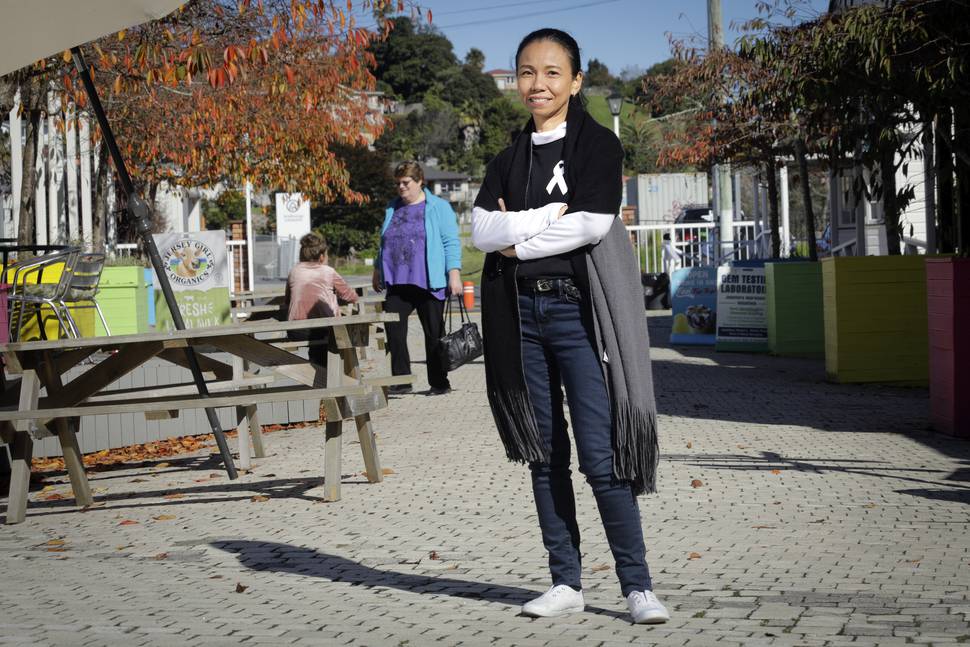 "I need to submit papers to the Ministry of Justice for the safety programme ... Maybe 2pm? Because I'll be doing a safety plan for one of our clients in the safe house [straight after]."
And Sunday, she'll have a day off?
"I'll have to return to finish my funding applications. Only lately because I'm learning at the same time because I'm new [to the co-ordinator role]."
So appreciated was she in her last job at the University of Perpetual Help, the president allowed her to stay on as a faculty member even though she resigned as dean. "Which is a privilege."
The eldest of seven children, she understands Spanish and French as well as speaking two languages.
She worked as a councillor for tertiary students at St Louise de Marillac in Sorsogon, before working as a counsellor for Filipinos married to foreign nationals at Manila's Commission on Filipinos Overseas, under the Department of Foreign Affairs (now under Office of the President).
She then returned to tertiary study and finished a masters in special education looking at sexual issues of children with special needs. She then pursued her PhD at De la Salle University-Dasmarinas, which is on hold while she works at Shakti.
She never planned to leave the Philippines, but a chance visit to Tauranga with her mother five years ago to visit her sister (a nurse here) inspired her to do so.
She is a parishioner at St Mary's Immaculate in Tauranga but has not wanted to bother the priest with details of her work. "He's a very busy man."
Shakti is not-for-profit and helps migrants with education and life skills. Its number one role is protecting women against domestic violence, though.
Social expectations and the threat of losing their work or visitor visa, which their husband sponsors, keeps many women in violent relationships.
"They cannot drive, they cannot speak English. How can they work? They don't even know how to swipe [an Eftpos card]. We've encountered some of them. They will stay quiet about the abuse just to keep the relationship because they would do anything to be in New Zealand."
Awash in tradition, saddled with pride and lacking decent resources to help, Tauranga is a city where Western traditions can't always save the broken-hearted.
With a police siren fittingly screaming outside, she says just half their clients leave their partner for good. There have been no deaths in the Bay of Plenty, but there have been some serious injuries.
One woman needed physiotherapy on her hand when she shattered a house window to escape her husband.
Shakti doesn't have the money to meet the needs of the 119 cases they get a year. It's a daily battle.
My son has said: 'I will show you that the sacrifice [of coming here] was worth it.' He would like to be a doctor someday.
"I always feel inspired," she says.
"I am excited coming here no matter how difficult the task is."