* One house lost in a major slip, with fears for another two
* Floodwaters and slips cut off coastal township
* Worst storm in decades shuts down sewerage system
* Cars floating down roads
* No power, petrol, internet, or escape
* School camps aborted as students seek refuge in emergency centre
Whangamata residents have been left with no power, sewerage system, petrol, internet or escape after a storm considered the worst in decades bore down on the small coastal town.
A major slip badly damaged one house on Chevron Cres, and a further two were left hanging in the balance yesterday . The latter two were holiday homes, but a local family are believed to have lived in the house lost in the slip.
Flooding and slips prevented access to and from Whangamata, preventing engineers arriving from Thames to assess the houses Chevron Cres.
One slip cut power to more than 6000 properties in the town, and hundreds more in parts of the Coromandel and Bay of Plenty also suffered outages due to weather.
Another large slip at Waireka Place destroyed six to seven years' worth of tree plantings by the local Lions clubs.
Most businesses shut up shop after the storm cut power, phone lines and the internet.
People camping at Wentworth Valley were completely cut off by floodwaters.
Civil Defence controller Garry Towler called on the community to donate food and blankets for people seeking refuge from the wild weather at an emergency centre, which had been set up in the town hall about 10am.
"We've coped very well. [This has been] the biggest storm in at least a decade."
The incredible amount of water overwhelmed the town's sewerage system, and flooded streets to the point cars were seen floating several metres down Chartwell Ave before stopping on a median strip.
The seaside town's MetService weather station failed during the storm.
Whangamata's volunteer fire brigade received its first call at 3.48am and by 12.30pm had completed 38 calls for help.
Firefighter Ralph Pitcher, who has been in the brigade for 50 years, said it was the worst weather event he had seen in decades.
MetService meteorologist Tom Adams said a rain radar estimate showed 200mm to 250mm in the 24 hours up to 2pm.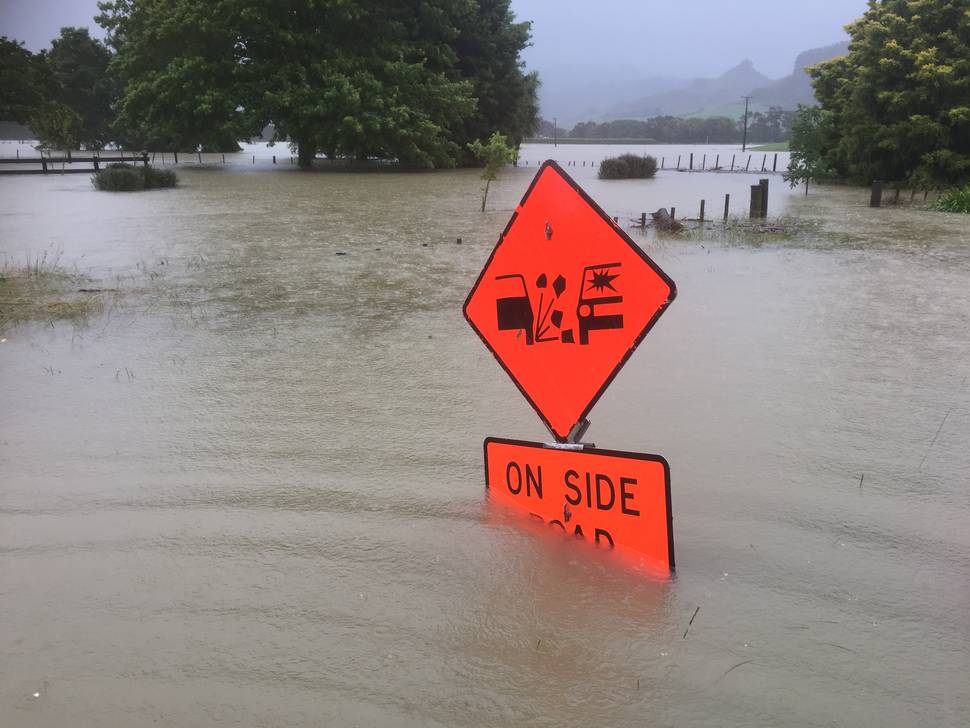 Nearby Golden Valley received 255mm in the same time frame "which is incredible", Mr Adams said.
By 6pm Golden Valley had received 257mm over the past 24 hours, with the heaviest rainfall at 7am on Wednesday when 41mm of rain fell.
Whitianga received 95mm of rain, of which 29mm fell from 8pm to 9pm Tuesday.
Tauranga received 100mm between 6pm Tuesday and 6pm Wednesday, with 24mm of that falling in one hour at 9pm Tuesday.
Tauranga City Council experienced some surface flooding, prompting 11 calls about 8pm on Tuesday. Spokesman Marcel Currin said it also received a few calls about tree damage and two requests for sandbags, but there was little else to report.
However, Western Bay of Plenty District Council was carrying out emergency works on a bank upstream along One Mile Creek which collapsed, exposing a building. Spokeswoman Corrie Taylor said there had been flooding issues around Waihi Beach and Katikati, including the Waihi Beach camping grounds.
The wild weather also forced luxury cruise ship Azamara Journey to cancel its scheduled berthing in Tauranga, with a spokeswoman for the liner saying the ship would spend the day at sea and carry on to Wellington, where it was expected to arrive tomorrow.

The outlook for Thursday
Heavy falls are expected to return to the Bay of Plenty today with southeasterly winds, potentially reaching up to 90km/h in exposed places.
MetService's Lisa Murray said: "Thursday will start off with cloud but showers will turn to rain and by Friday there could be some real heavy falls. Saturday will also have rain, heavy at times and it's much the same for Sunday too."