Bay of Plenty Times writer Juliet Rowan is on an Asia New Zealand Foundation media trip to India with three other New Zealand journalists. She writes about their second day in Mumbai.
Today I saw a woman hold a dish underneath a cow as it peed, then set aside the urine.
She was sitting outside a tiny ramshackle house and I can only assume she was keeping it as fertiliser.
When you have nothing, even waste becomes a commodity I guess.
Life for many in Mumbai appears to be one of severe deprivation but also of industry.
Things are repaired or reused, not chucked away, and I hear a whole slum survives on the rubbish of the airport. Street stalls are full of secondhand printer cartridges, car parts and whatever else you might need.
Today, we toured the city of 25 million from the comfort of an air-conditioned minivan, seeing extremes of wealth and poverty.
It was a hot 28C outside, and each time we walked around for more than 10 minutes, we were glad to return to the cool refuge of the van.
But for those who live in the slums, there is no such escape from the heat. It is daily and relentless. Air conditioning is a privilege of the rich - and indeed, so is proper housing.
Our guide was the delightful Vinita Rodrigues, who has shown tourists around Mumbai, or Bombay as she still calls it, for more than 20 years.
Dressed from head to toe in pale pink Indian dress, Vinita is a fountain of knowledge and says she grew up with the name Bombay, which means "Beautiful Bay", and prefers it to Mumbai.
The nationalist Shiv Sena party changed the name back to Mumbai, the local Marathi language moniker, in 1995 when it won a majority of seats in the state assembly. For Shiv Sena, Bombay had connotations of British colonialism but not for Vinita. "It's just the name I've always used," she says.
She tells us how the city was built on seven islands but is now one peninsula, thanks to vast land reclamation.
Mumbai is endless to a New Zealander's eye, with no single centre, just kilometres and kilometres of skyscrapers interspersed with low-rise buildings and the ever-present shanties.
At one point we cross a 5.6km viaduct called the Rajiv Gandhi Sea Link, which was built to ease traffic flows between two busy sections of Mumbai. There was nowhere for the viaduct to go on land so engineers built an eight-lane highway on the ocean.
One of the journalists on our trip suggests Auckland City Council should take note. A prime example of Indian ingenuity, the Sea Link is not the only gargantuan structure we see on the tour.
We also drive past Antilla, which has the claim to fame of being the most expensive private house in the world. Costing US$1.2 billion to build, the 27-storey monster is home to an Indian industrialist, his wife and three children. They have a live-in staff of 600.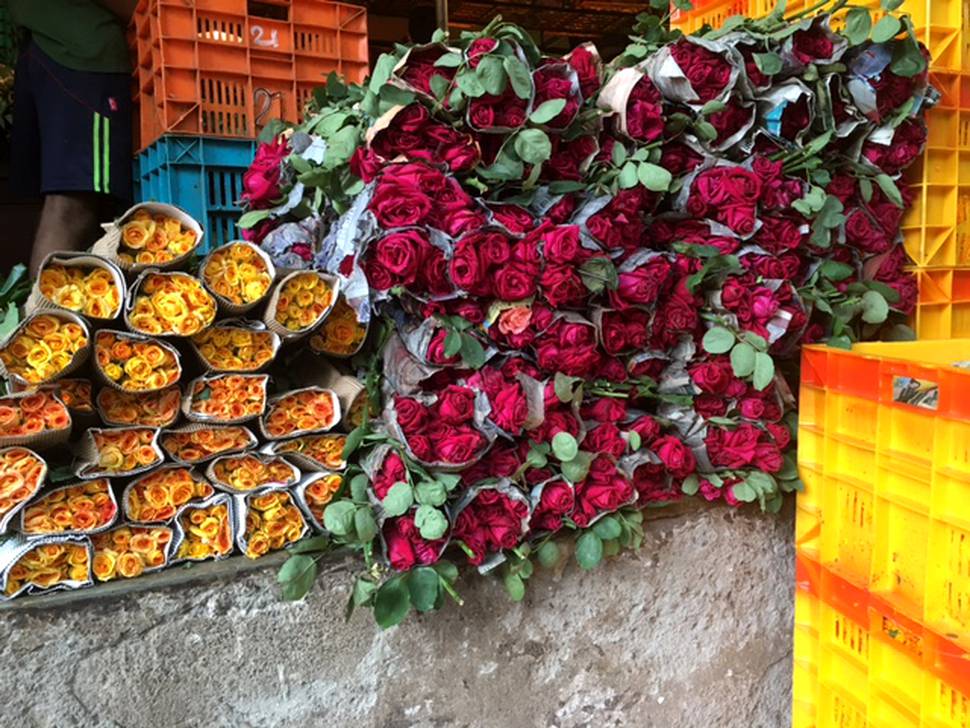 Antilla's size makes it impossible to photograph from the road but this link shows the gist.
I'm curious to know what the average Indian makes of such extravagance, knowing in New Zealand it would be derided.
Being Hindu, Vinita says, the majority of Indians believe in reincarnation and accept their lot in life. They believe their actions this time round determine the course of future lives.
As timing would have it, today is the first day of the 11-day Ganesh Chaturthi festival, and we see statues of the colourful elephant god of prosperity being paraded in the streets.
Ganesh is worshipped in people's homes and at community altars, before being carried out and immersed in the sea for good luck. The festival stretches 11 days and rivals Diwali for the title of biggest Indian religious party.
There are "last-minute gods" for sale today and Vinita says flowers, food and other offerings including money are needed. "Religion is big business," she says with a laugh.
Those who have a Ganesh in their house can expect a lot of visitors and it is considered bad luck to leave him alone at night. Immersing him in water is asking him to return and make one's life full of prosperity for the coming year.
Mumbai residents are 80 per cent Hindu, 18 per cent Muslim, and 2 per cent other, and Vinita says they live together harmoniously. She herself is Catholic but says the different religions participate in each other's festivals. "We pray to everybody to get what we want," she jokes again.
Our first stop is a flower market, where millions of flowers are passing hands in the face of the Ganesh festival. The smell is gorgeous and it is one of the most colourful places I've ever been. Even the ground is covered in beauty.
Next, we head to the Dhobi Ghat built by the British. It is a huge public laundry and still operates on a complicated system where the workers keep track of every item of clothing. Vinita says nothing ever gets lost and the whites come out sparkling. Seeing the murky wash water and rows and rows of jeans and shirts on the clotheslines, it is something of a miracle.
Later, we get photos in front of Mumbai Station, an impressive building modelled on St Pancras in London. Statues of a lion, representing Britain, and a tiger, representing India, sit at the gate, while Queen Victoria was removed from her plinth when the British left Bombay, and all statues of her were banned, says Vinita.
Almost the population of New Zealand passes through the station each day, with 4.5 million commuters coming into the city via the terminus.
We pass one of Mumbai's most famous parks where cricketing legend Sachin Tendulkar learned to play and we've already seen plenty of friendly games in strips of grass and dirt around the city.
A moving part of the day for me is visiting the Gandhi Museum. Based in the house where Gandhi lived from 1917 to 1934, it documents his efforts to help the poor and abolish the caste system.
There are photos of him through to his assassination in 1948 and his mantras line the walls: "All men are born equal and free," says one.
There are also fascinating letters from Gandhi to Hitler, Albert Einstein and other key figures in 20th century history.
At the Gateway of India, an imposing monument built on the waterfront to commemorate the visit of British King George V and Queen Mary in 1911, we turn into the spectacle and get lots of requests for photos.
One of our group has red hair and is especially popular, getting talked into paying 130 rupees for a souvenir picture of himself standing in front of the landmark.
When he asks how he will get a copy of the photo, the guy shows him a printer he is carrying in in his bag.
Now that, I think, is ingenuity.
# The Asia New Zealand Foundation is funding Juliet's travel to India. See her Facebook, Twitter and Instagram accounts for more images of the trip.