The number of medical callouts responded to by Bay firefighters has more than doubled in the past four years.
Figures released to the Bay of Plenty Times under the Official Information Act show the number of medical callouts local firefighters responded to in the Western Bay of Plenty in the past four years had increased 108 per cent.
The figures cover responses from firefighting brigades in Athenree, Greerton, Katikati, Maketu, Mount Maunganui, Omokoroa, Papamoa, Pukehina, Tauranga, Te Puke, Waihi Beach and Waihi.
In rural or isolated areas such as Maketu, volunteer firefighters were often the first to emergencies such as heart attacks and major car accidents.
This "first response" was formalised in a Memorandum of Understanding between the New Zealand Fire Service and St John in December 2104, which offered firefighters medical support and training.
Brigades at Maketu, Omokoroa and Pukehina were among 56 throughout New Zealand to have been offered the extra training.
Maketu fire chief Shane Beech applauded the move. He said there had been a notable spike in calls to medical events in recent years - especially because there was no St John ambulance based in the seaside town.
Mr Beech said the brigade's own data collecting showed about 3 to 5 per cent of calls in the past year were for house fires compared to about 55 to 60 per cent of calls for medical events. "I like to think fires are reduced because of the education that's out there. People are more aware and take more care to install smoke alarms, etc.
"But probably the increase with medicals is possible because in Maketu we have more elderly people. A lot of our calls are for over 60s."
Mr Beech said the extra training meant firefighters were now able to administer pain relief to patients such as crash victims.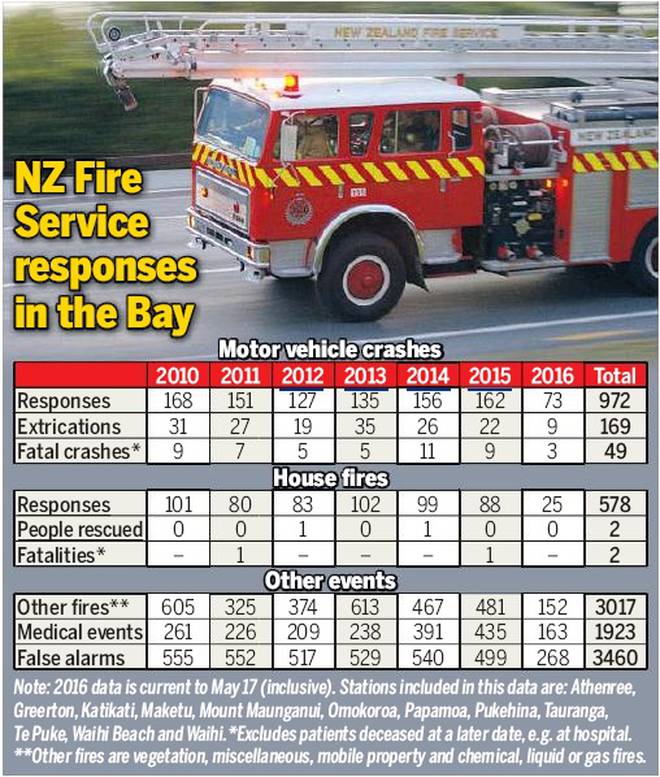 "It's a major win-win. It's a win for us but it's more of a win for the community."
Over the past four years, Western Bay firefighters had also experienced a 27 per cent increase in the number of crashes they were called to.
Last year firefighters attended 162 crashes compared to 127 in 2012. Of these, 22 people needed to be cut free from a wreckage. At least nine of these crashes were fatal.
In 2012 there were 19 people needing extrication and at least five people died in those crashes.
St John chief executive Peter Bradley said the memorandum provided a framework to make best use of the fire service and St John's resources. "St John ambulance still attends these incidents but if the fire service has a resource that is closer it can only benefit New Zealanders and patient outcomes to use that resource," Mr Bradley said.
Fire service national commander Paul Baxter said the updated agreement fit with the service's vision of providing a prompt, efficient response to all types of emergencies, not just fires, which have shrunk as a proportion of its overall work.
"We attend approximately 8000 medical emergencies a year, and this agreement will make our response to those medical callouts more streamlined and nationally consistent," said Mr Baxter.