The three plan options for developing Tauranga's civic centre all include the removal of council buildings.
The Civic Space Options report showed that refurbishing the existing Council Administration building, the Customer Service Centre building and the Council Chambers building was not cost effective or financially viable.
A recent independent estimate for remediating the buildings, including the library, to a basic level was $28.7 million.
General manager city transformation Jaine Lovell-Gadd said this cost is more than the buildings would be worth when the work was complete.
Since the discovery of toxic mould in the city centre buildings in November 2014, investigations have revealed significant weathertight problems and building services issues with all four of the buildings. Seismic reports show the administration and chambers buildings are moderate earthquake risk.
Three Master Plans would be proposed to elected members at a council meeting on April 27, the options ranging from least ambitious, mid ambitious to most ambitious. While the council buildings would be demolished, the library would be remediated in Option 1, re-purposed in Option 2 and demolished and rebuilt elsewhere on-site in Option 3.
The options also consider a museum, performance venue, city square, hotel, retail and hospitality activity and accessibility.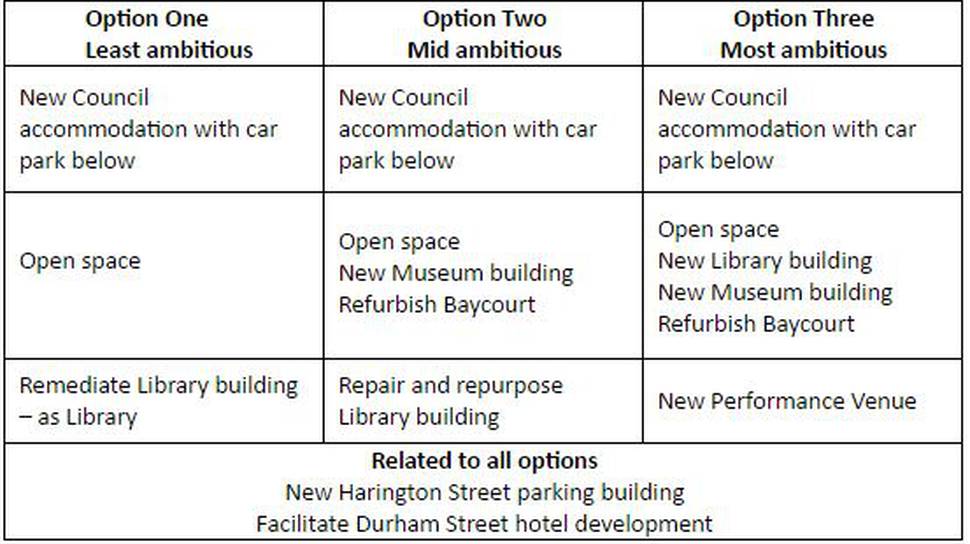 The time-frame for delivery of the mid ambitious could be five years and most ambitious was likely to be more than 10 years.
Elected members would be asked to approve funding for further work to be progressed on the Council Office accommodation, and agree to the Civic Space Options Projects team continuing to follow the three Master Plan option approaches.
They would not be making a decision about which option they prefer, as this decision will be part of a Long Term Plan Amendment.
The community would be invited to have their say on the next phase of the project through public consultation on the Long Term Plan Amendment in June 2016.
The time-scale for delivery of the Master Plan would be dependent on several factors including community support, affordability and value for money.
The Civic Heart community engagement from December 2015 to March 2016 confirmed community support for the proposed elements to continue being investigated.