Last Sunday I ran 5km in a fun run for the first time in my life-the Bay of Plenty Times Surf to Surf 5km Fun Run/Walk! I was questioning the "fun" part of it during the first 700m.
The bit was down the beach from the Mount Surf Club to Leisure Island... running on the sand is a cruel kind of torture.
Felt like I was on a treadmill, running my heart out and literally going nowhere!
Had the whole thing been like that I would've been out after 2km, max! After the beach slog we then headed back down the boardwalk and around the Mount.
I finished 58th out of 387 competitors! Side note: some of them were children. Second side note: some of them were elderly. Third side note: more than half of them were walking.
But still, I'm claiming it!
I finished in just under 28 minutes. The guy who won it did it in 16 mins 30 seconds!
That's insane - 3.5min per km is the time of an insane human if you ask me!
It was definitely harder than I thought it was going to be - warm day, undulating ground and how horrible are those new steps round the Mount where that slip was?
Vicious.
But my favourite part ofthe day was post-race, standing at the finish line, lathered in Mount Maunganui sunshine, on the cusp of proper summer and watching hundreds of people finish something they'd all worked so hard for.
There was an 11km and half marathon as well and those people get ALL of my congratulations and admiration.There's something that's hard to putin to words about the look on someone's face in the peak of pain just before the finish and the instant change crossing - literally -a line in the sand provides!
The word describing my face is... red!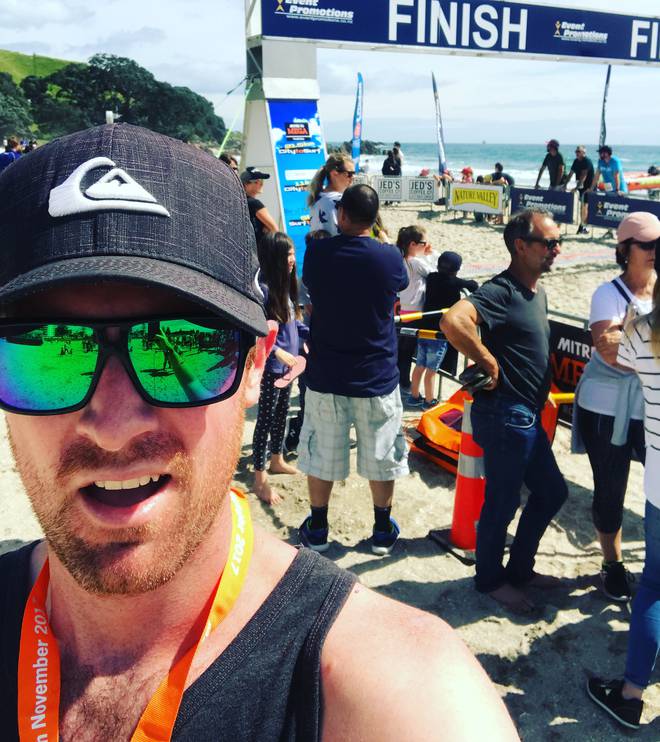 But behind that redness was a pretty cool little feeling of accomplishment and relief it was finally over!
Will Johnston is host of The Hits 95FM Day Show. Live and localfrom 9am-3pm, every weekday in the Bay of Plenty.