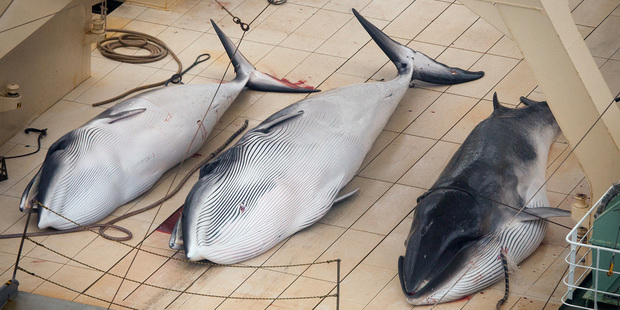 In this photo taken on Sunday, Jan. 5, 2014 and supplied by Sea Shepherd Australia, three dead minke whales lie on the deck of the Japanese whaling vessel Nisshin Maru. AP photo / Tim Watters.
Anti-whaling group Sea Shepherd says it is pursuing the Japanese whaling fleet after finding all five of its vessels in the Southern Ocean, along with evidence of whale kills.
Foreign Affairs Minister Murray McCully said reports by Sea Shepherd that whaling occurred in NZ sovereign waters were factually wrong.
"New Zealand has responsibility for co-ordinating search and rescue operations in a large area in the Southern Ocean, however these are international waters and not within New Zealand's maritime jurisdiction.''
Is action needed to stop Southern Ocean whaling? Here is the latest selection of Your Views:
(Note: You must vote 'Yes' or 'No' for your comment to be considered for publication.)