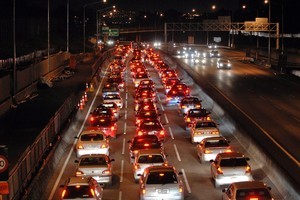 Fuel tax and road-user charges are set to rise as the Government looks for more cash to iron out kinks in commuter rail networks and to fund a "tide" of new highway projects.
Transport Minister Steven Joyce has released the Government Policy Statement on Land Transport Funding 2012 which details plans to invest about $36 billion over the next 10 years in state highways, local roads, public transport road policing and road safety promotion. But the new plan increases spending over the initial three years, beginning in July next year.
Money available for public transport services rises by $140 million to help support the upgrade and expansion of the metro rail systems in Auckland and Wellington.
Is a new fuel tax the best way to fund transport projects? Here is the latest selection of Your Views: