He shattered New Zealand's America's Cup dream with one of the greatest comebacks in sporting history - and wouldn't mind a second round in the boxing ring. Steve Deane catches up with an Aussie battler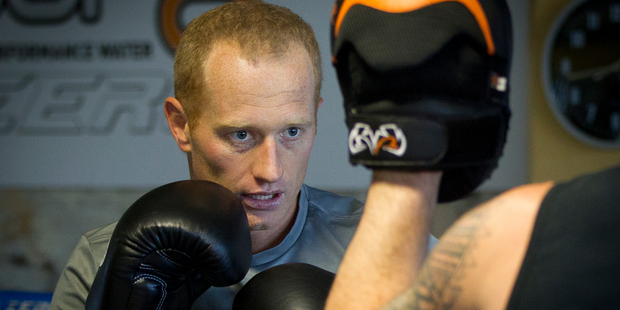 Jimmy Spithill ducks smoothly as Chris Martin's padded left hand flies over his wiry 1.83m frame. On the way back up, Spithill unleashes a crisp left hook to the body.
Given his recently found status as one of world sport's greatest counter-punchers, the Oracle helmsman's proficiency with the boxing gloves comes as no real surprise. But his footwork during a ring session with veteran trainer Martin looks too polished to be entirely natural, and there's a snap to his punches that only comes from being properly coached. The man who came off the ropes to break Kiwi hearts in San Francisco in September has clearly boxed before.
"You grow up with the red hair in Australia and you have a target on you," he confirms after finishing a punishing 60-minute session at Auckland's Boxing Alley. "At some point you just say 'righto, enough is enough, it's time to fight back now'."
Having a left foot three sizes bigger than his right and hailing from a tiny enclave 35km north of Sydney that could only be accessed via boat wouldn't have helped much on the bullying front, either.
So as a teenager, Spithill joined the North Sydney Police Boys' Boxing Club and began practising the art of fighting back. Like many champions, Spithill credits boxing with providing much needed guidance and discipline.
"It really kept me on the straight and narrow at a critical time," he says.
It's late November, 2013, and Spithill is on a flying visit to Auckland. Workout over, he and Martin hand over their cellphones so the Herald can take a couple of digital scrapbook snaps. Then Spithill's on the move again. He's got somewhere else to be, so we'll talk in the car on the way to the Viaduct Harbour apartment where he's staying while in town for the 40th birthday party of his best mate's wife. Constant motion appears to be his natural state.
He may pilot the world's fastest yacht but his driving is unremarkable, save a navigational issue that coincides with a question about what he might have said on board as Oracle turned near certain defeat into a campaign-saving victory in race 13 of the regatta.
Kiwis will never forget race 13 - the day the clock ran out with Aotearoa in sight of the finish line in what would have been a Cup-clinching victory.
September 20, 2013, Friday afternoon in San Francisco. Saturday morning in New Zealand, the day Oracle turned a two-mile deficit in the abandoned race into a crushing victory about an hour later. Oracle had already won race 12, but race 13 was the day the comeback that never stopped really started.
The Herald recalls hearing a chuckling Spithill saying through the on-board audio: "I can't believe this" as the boat named USA cruised to the finish line.
Spithill doesn't recall saying it, he insists, as we swerve across two lanes of traffic.
Oracle was like a fighter in the corner (he likes boxing analogies) ducking, weaving, taking shots, but preparing to come back swinging. Besides, Oracle's routing software - which one would assume to be fairly handy - had indicated a finish inside the 40-minute time limit in race one was highly unlikely.
But a six-minute delay to the start created some uncertainty.
"During the race I'm looking at my watch and I'm like, 'this doesn't make sense, the time limit should be up now'. But I wasn't saying anything because I would have looked like the biggest fool [if I said] something, then they go on to win."
Tactician Ben Ainslie was in possession of the race committee radio and as soon as it crackled into life, Spithill knew what the message would be. But not even a cocky Aussie in charge of a syndicate called Oracle could have predicted the chain of events to follow that fateful transmission - six more consecutive victories that would break one nation's heart while capturing the attention of another; happenings that had both seemed utterly implausible a few days earlier.
We Kiwis wallowed, but in the country that lends the Cup its name, Larry Ellison and Sir Russell Coutts' vision had come to fruition in spectacular style.
"A lot of people questioned it, but man, didn't it come off?" says Spithill.
"The comeback brought people back to watching it and then when they saw the new Cup they were like 'this is awesome'. It really captured mainstream America. It's not elitist. It's not a whole lot of big, unfit guys on the boat. This is athletes going head-to-head and taking serious risks every day."
Being an imported national hero didn't stop Spithill being feted as he did the rounds of America's late-night talk shows. The celebrations went on for months. By the time Spithill washed up in Auckland in November he felt like he was living an instalment of The Hangover movie franchise.
So back to the gym he went. Back to the familiar routines learned in his teenage years and maintained as a professional athlete. Spithill really is an athlete, that much is clear as Martin puts him through his paces. The America's Cup was as much a physical clash as it was mental and technological, he says.
"Look at someone like Rob Waddell. If he is saying it's pushing him to the edge, it's tough."
Spithill talks about wanting to kill his opposite, Dean Barker, during the regatta. At the final finish line, though, one of his first thoughts was how tough the defeat was going be on Barker and his crew.
"When you go through a battle like that, you've almost got some sort of a bond," he says.
So he was hoping to catch up with Barker for a beer to shoot the breeze during one of his frequent trips to New Zealand. Spithill spends a lot of time in this country, where he holds a decent property portfolio. He met his wife here, got married in Queenstown and cut his America's Cup teeth on the Hauraki Gulf.
"I love New Zealand. It's a really big part of my life. I'd love to bring my family up here. We'd be back here if we weren't doing what we are doing."
What he is doing isn't likely to change any time soon. The emergence of an Australian syndicate as the new Challenger of Record isn't tempting the kid who caught the Elvina Bay ferry to school each day, to jump Oracle's ship.
Along with good mate Larry and Russell he's fully focused on a Cup three-peat.
He's blown out from his fighting weight of 81kg to around 86kg but long before the next defence rolls around in 2017 Spithill will be back in peak condition. Oracle, unsurprisingly, employs a boxing trainer to help with conditioning. Spithill swears by the training.
"It's really good for hand-eye co-ordination and reflexes. More importantly, you have got to make decisions when you are exhausted. If you get it wrong in boxing it is pretty obvious what is going to happen."
He's been in the ring before, winning his lone amateur fight as a 17-year-old, and is seriously considering stepping in again after being approached to appear on a Fight For Life card. His schedule didn't allow it in 2013 but this year could be a real possibility, he says.
"I'm all about getting out of your comfort zone and what better way - in front of your mates, going head-to-head with another great athlete? I'd love to do it."
Given the pain he inflicted on this country, finding a willing opponent shouldn't be an issue.