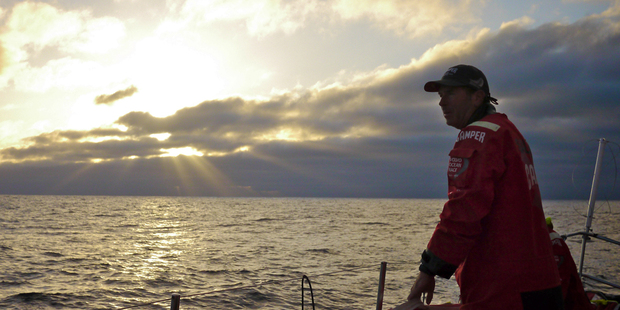 As we approach the turning mark of Sao Miguel in the Azores we have the whole fleet within sight. Yet again the intense racing that has marked this whole Volvo Ocean Race is evident again as we battle for every boat length.
After a couple of days of fast reaching from Lisbon where the Juan K boats again showed their reaching speed by opening up a gap of 15 miles on us, we are fortunate that the Azores high has allowed us to claw that back down to just six miles.
With another 100 miles of upwind sailing to the turning mark in a very pleasant 10-knot of wind, there are still some more opportunities to close down the leaders.
Once we round the island in the early hours of tomorrow morning, another session of fast sailing will slowly unfold as we chase as advancing low-pressure system.
There might even be a chance to break the 24-hour record and we are all certainly looking forward to some fast downwind sailing yet again.
In terms of sail changes this leg has been pretty quiet, with only 3 changes so far. Hence the crew are well rested which will come in handy as we push the boat hard for the last run into Lorient.
This is an important leg for us to try to claw back points on the leaders and can be under no illusions that we will be pushing this boat as hard as it is possible to do... and then some.
As a side note you know you are getting to the end of the race when the freeze-dried meals do not taste any good any more. I think I might be finally over the freeze-dried. I am certainly looking forward to some fresh French food when we get to Lorient.
Spirits on-board the Camper are good and we are all in a fighting mood and keen to show the other teams our transom.