Key Points:
Cyclone Debbie has struck the north coast of Queensland, making landfall between Bowen and Airlie Beach
The Category Four storm reached Australia's east coast just after midday today, later than expected
Forecasters warn the cyclone could take 18 hours to pass with emergency help unlikely until Wednesday
Cyclone Debbie's "destructive core" has finally struck the north coast of Queensland, bringing devastating gale-force winds with gusts of 275km/h, record-breaking rainfall and surging tides threatening widespread floods.
After battering the typically idyllic Whitsunday Islands for five straight hours, the eye of the Category Four storm slowly closed in on Australia's east coast before making landfall between Bowen and Airlie Beach just after midday.
Premier Annastacia Palaszczuk described the cyclone a "one in a hundred year event", warning residents across the 1000-odd kilometre stretch of picturesque coastline to bunker down and wait for the dangerous storm to pass.
"What we have seen is rainfall in excess of 210 millimetres that has fallen within the past hour. This is equivalent to a one in a 100 year event... we are seeing unprecedented levels of rainfall in that area," Ms Palaszczuk said.
"This is going to be a very frightening day for a lot of families in regional Queensland."
Weatherzone in Australia has declared "Touchdown!" in a tweet minutes ago.
Forecasters warn the cyclone could take 18 hours to pass and remain a Category 3 as late as 5pm, with emergency help unlikely to be available until Wednesday morning when affected regions are freed from lockdown.
The powerful core of the storm cell struck the typically idyllic Whitsunday Islands just after 8am this morning, as terrified residents in the mainland towns of Proserpine and Airlie Beach bunkered down and hoped for the best.
Whitsunday Councillor Jan Clifford called the cyclone "one mean, big b***h" as she took shelter at her Airlie Beach home - contending with power cuts, snapped trees and chunks of debris flying down her street.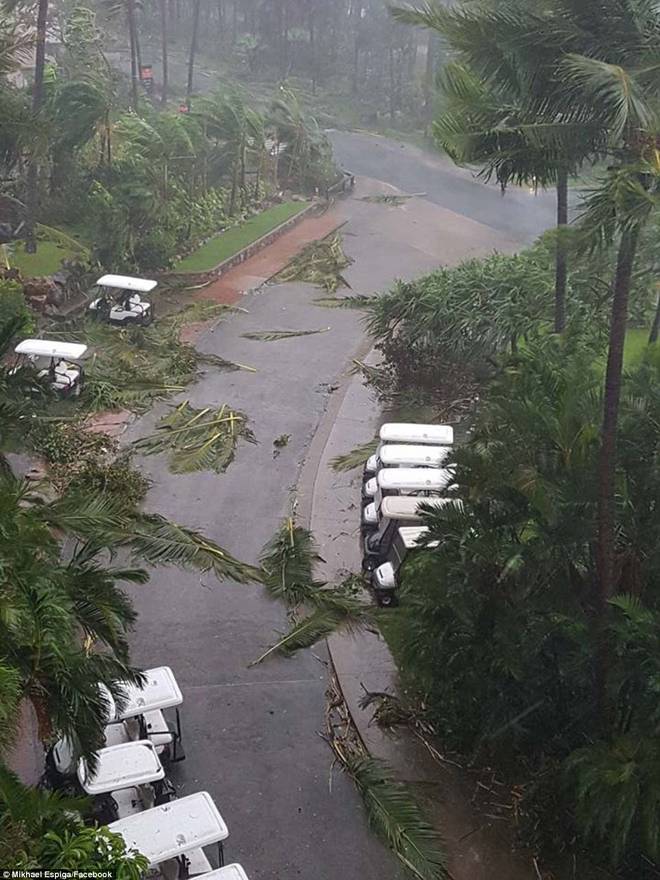 Ominous satellite images and footage from the International Space Station showed the immensity of Debbie as seen from outer space, with swirling grey clouds stretching 1000 kilometres closing in on Australia's east coast.
Police Commissioner Ian Stewart says Debbie is taking its time and fears the cyclone and the storm surge it's generating will span two high tides - the first just before 10am in Bowen and the second 12 hours later.
That's bad news for low-lying communities, where homes could be swamped with sea water.
"With the speed of this cyclone being so slow we're probably now going to go through two tidal cycles, so we'll see a high tide, a low tide and another high tide tonight," Mr Stewart told ABC television.
"And during that time, sadly, that core might still be passing over the coastal areas."
Premier Annastacia Palaszczuk has also warned of a possible second tidal surge and warned Debbie's slow progress means the danger is unlikely to pass today.
"This will not pass during the day. For the next 12 hours, I need families to remain safe and remain where they are," she told the ABC.
Low-lying Mackay, where 25,000 homes have been evacuated, is considered particularly at risk from the storm surge.
The Bureau of Meteorology warned that 18 to 24 hours after the cyclone made landfall it would still be at Category One strength.
- AAP