President Donald Trump will not attend the White House correspondents' dinner this year.
Trump announced his decision on Twitter late Saturday afternoon. The dinner is scheduled for April 29.
He tweeted: I will not be attending the White House Correspondents' Association Dinner this year. Please wish everyone well and have a great evening!
Shortly after Trump's tweet, the president of the White House Correspondents' Association, which sponsors the annual event, said in an email that the dinner would take place even without Trump's attendance, reports Washington Post.
"[The dinner] has been and will continue to be a celebration of the First Amendment and the important role played by an independent news media in a healthy republic," WHCA president Jeff Mason said.
"We look forward to shining a spotlight at the dinner on some of the best political journalism of the past year and recognizing the promising students who represent the next generation of our profession."
Since Trump's inauguration, calls to boycott the annual event have grown louder amid his increasingly fraught relationship with the press.
In response to those concerns, the White House Correspondents' Association released a statement earlier this month, saying the dinner would continue to take place.
Liberal comedian Samantha Bee announced in January that she was planning an alternative event on the same night for "journalists and non-irritating celebrities from around the world." (Its tentative name: "Not the White House Correspondents' Dinner.")
Credit:
Twitter / @realDonaldTrump
Questions about whether the dinner was appropriate existed before Trump took office. The event is an annual gathering of journalists and the people they cover, typically headlined by the sitting president.
The White House Correspondents' Association awards $100,000 in scholarships at its annual dinner, according to its website, and recently started a mentoring program that pairs working journalists with journalism students.
Trump has attended the dinner before.
In 2011, then-president Barack Obama roasted Trump at the dinner - five minutes of jokes directed at the man who had raised questions about whether Obama was born in the United States.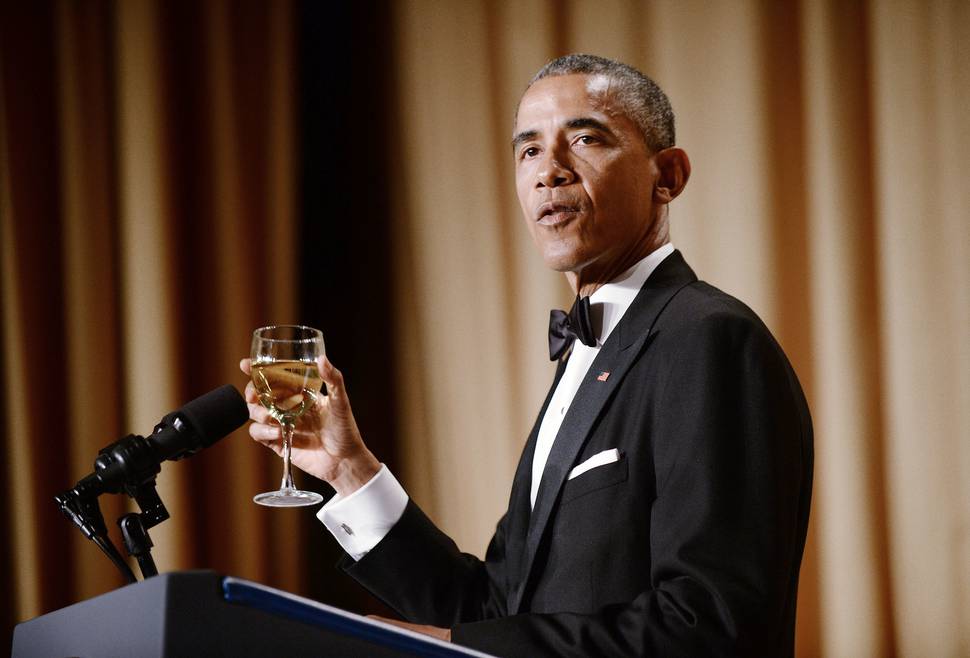 "No one is happier, no one is prouder to put this birth certificate matter to rest than the Donald," said Obama, who ultimately had released his birth certificate.
"That's because he can finally get back to focusing on the issues that matter, like: Did we fake the moon landing? What really happened in Roswell? And where are Biggie and Tupac?"
At the time, Obama joked about Trump's experience to lead the nation.
"All kidding aside, obviously, we all know about your credentials and breadth of experience," Obama said.
"For example, no seriously, just recently in an episode of 'Celebrity Apprentice,' at the steakhouse, the men's cooking team did not impress the judges from Omaha Steaks.
"And there was a lot of blame to go around but you, Mr. Trump, recognized that the problem was a lack of leadership and so ultimately you didn't blame Little John or Meatloaf - you fired Gary Busey.
"And these are the kinds of decisions that would keep me up at night. Well-handled, sir. Well-handled."
Obama ended his roast talking about the change a President Trump would bring to the White House.
Then he flashed a picture of the then-hypothetical Trump White house, emblazoned with pink neon and gold columns, with bikini-clad women relaxing in the fountain outside.
Winners and losers
Winners
Thomas Perez:
He wasn't the first major candidate in the race (that was Keith Ellison). And he wasn't the most dynamic candidate in the race (that was Pete Buttigieg). But Perez understood something very important: The Democratic establishment still has lots and lots of power within the party committees. Perez was the establishment (and Obama)-preferred candidate, and that still matters in a group like the DNC. Perez will be one of a handful of Democrats entrusted with rebuilding the party.
Pete Buttigieg: The Mayor of South Bend, Indiana, dropped out before any votes were cast yesterday. That was smart. He wasn't likely to come close to either Perez or Ellison, and that might have slowed the momentum and buzz he clearly built. Buttigieg won rave reviews with his emphasis on middle America and how Democrats can start winning there again. Buttigieg is already being talked about as a Senate or Governor candidate in 2020.
Losers
Bernie Sanders/Elizabeth Warren: The two most prominent voices of liberals in Washington made very early endorsements of Ellison. The goal was to end the race before it started, discouraging other serious candidates from running. Didn't work. That should raise real questions about just how much clout the Sanders/Warren wing of the party has.
Republican Party: Republicans had hoped that Ellison would win, believing his strongly liberal record and past controversies would give them a useful punching bag. Perez, while quite liberal, is not the lightning rod Ellison would have been. Washington Post
The Trump Log
•It's just over a month into Hillary Clinton's historic presidency, and Milo Yiannopoulos works as a Starbucks barista, the Koch brothers have fled the US and the first woman to occupy the Oval Office is the exacting policy wonk that millions of Americans expected. Her approval ratings are skyrocketing, her news conferences "oppressively intelligent," "boring" and "too sane". And Donald Trump is on the verge of being charged with treason by the Department of Justice. This liberal fantasy on steroids arrives courtesy of Hillarybeattrump.org, a satirical news site designed to dive deeply under the skin of Trump and anyone who supports him. The site channels the Onion's humour, the National Enquirer's whacked-out headlines and the Huffington Post's progressive indignation. The site's founder, a 30-year-old East Coast writer, said Hillarybeattrump is meant to serve as a refuge from reality for liberals. But mostly, she said, it's a chance to troll the opposition whose party actually won the presidency.
•The Kuwaiti Government could pay up to US$60,000 to Trump's hotel in Washington for a party that will be an early test of Trump's promise to turn over profits from such events to the US Treasury. The Kuwait Embassy is hosting an event to mark their National Day.
•A senior Republican congressman agreed that a special prosecutor should investigate Russia's alleged interference with the 2016 presidential election. Representative Darrell Issa became one of the few Republican representatives to publicly state the need for an independent investigation into Russia's reported election meddling. This comes as Democrats have increasingly pushed for an investigation into Trump associates' ties to Russia.
•French President Francois Hollande has used a visit to Disneyland Paris for its 25th anniversary to push back at Trump for insulting the City of Light. Hollande touted the attractiveness of the Paris resort as a tourist destination. Without mentioning Trump's name, he said: "I may send a special ticket to one of them, so that he at least comes to Euro Disney and understands what France is". Trump commented that a friend of his no longer comes to the city as "Paris is no longer Paris".
- additional reporting AP