A bus carrying Taiwanese tourists on a trip to view cherry blossoms flipped over on an expressway ramp in Taiwan's capital last night, killing 32 people and injuring many others, officials said.
The bus was carrying 44 people when it crashed Tuesday night on the No. 5 expressway, the Taipei city fire department said. It said authorities were still trying to determine the cause of the accident.
Reports said the top of the motor was torn open and some of the passengers tossed out, according to Daily Mail.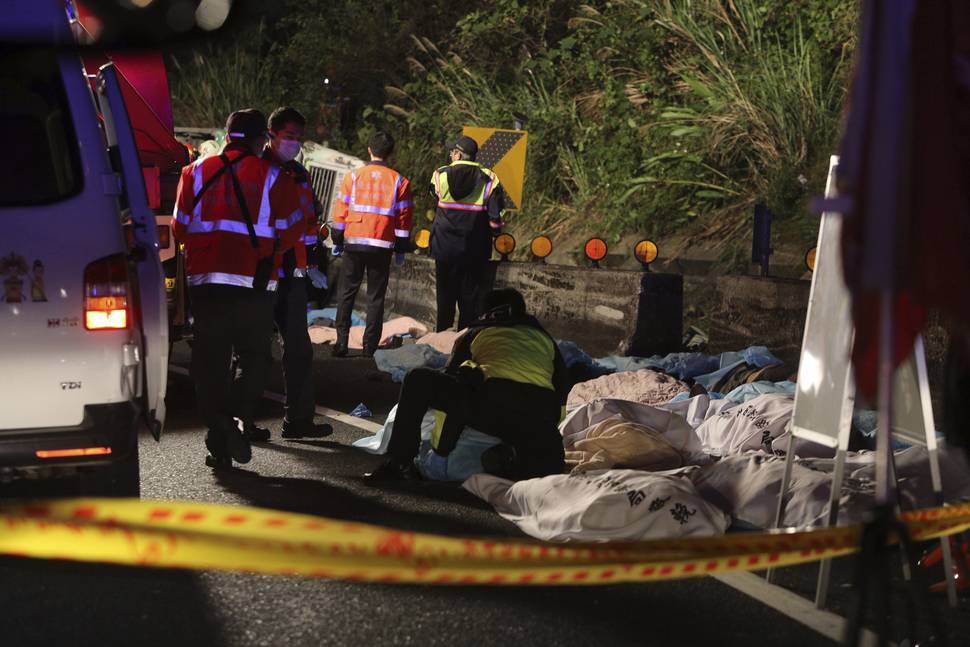 Many passengers were trapped under the crushed bus, and rescue personnel used a crane to pry the vehicle open.
"It happened on a curve, so the bus flipped and that could be due to excess speed," said Tu Bing-cheng, a Taipei city official. "The whole frame of the bus changed shape, got crushed and left no openings."
Thirty-two people, all Taiwanese, were confirmed dead and the remaining passengers were sent to hospitals for treatment, Tu said.
According to reports, the bus driver was 19 years old and belonged to an agency that runs tours across Taiwan.
Police are investigating whether the bus was speeding at the time, according to local media.
A cabinet statement said the island's premier, Lin Chuan, "expresses his condolences to people killed in the accident and instructs the health ministry... to make all efforts to save the injured".
An emergency response centre has been set up to deal with the aftermath.
This comes after a bus accident in Taiwan last July killed 26 tourists from mainland China.
Investigators said the driver of that bus intentionally set fire to it in a suicide bid before it veered into a crash barrier.
Su Ming-cheng, who was driving the group to the airport, was drunk when he poured petrol over the driver's seat and on the floor near the exit before sparking the fire with a lighter, investigators said in September.
The incident prompted Chinese authorities to demand the island take measures to improve safety for mainland visitors.
- AP, Daily Mail